Amp-up your beloved grilled cheese with a few more ingredients to take the sandwich from juvenile to extraordinary.
By Marissa Sertich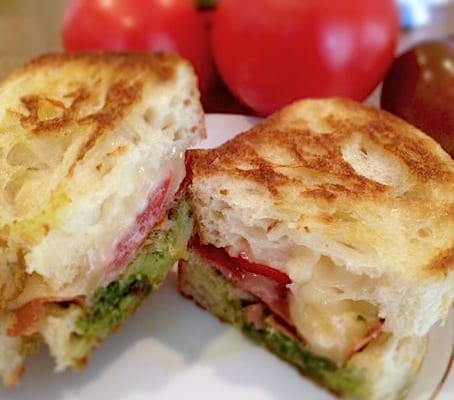 When the leaves start falling and the air gets that unwelcomed chill, I get my hibernation on – a cozy couch, a big mug of something warm and a buttery bite of deliciousness.  While pot of chili is nice and a bowl of chicken soup delightful, nothing says a bundled-up fall evening like a warm, buttery, grilled cheese sandwich.  Enjoy a childhood favorite with an added touch of adult sophistication.   Amp-up that beloved flavor with a few more ingredients to take the sandwich from juvenile to extraordinary.
Although it will always have a special orange-rubbery place in my heart, skip the Kraft Single for a bit more depth – Fontina – an Italian cow's milk cheese, Gruyere or Comté – a Swiss cheese, known well for baking and fondue, or Emmentaler – a medium-hard yellow – all melt smoothly and add complexity to this once simple sandwich.
This grilled cheese adds spicy pesto for color and oomph, tomatoes for that juicy pop, and crispy prosciutto for mouth-watering crunch.   Just a few minutes in a hot oven and prosciutto becomes bacon's daintier Italian cousin.  
Place it all on thick slices of buttered brioche, toast it on the griddle and you've got a grilled cheese fit for the coziest arm-chair evening.
Print
Spicy Grilled Cheese Pesto
Author:

Marissa Sertich

Prep Time:

20 mins

Cook Time:

5 mins

Total Time:

25 minutes

Yield:

6

1

x
3 oz

Fresh Basil

4

ea Garlic Cloves, Peeled

2 tsp

Salt

2 tbsp

Red Chili Flakes

1/2

c Olive Oil

1/3

c Smoked Gouda
Instructions
In a small pot, boil water and blanch the basil for a few seconds until it becomes bright green. Strain the basil and shock it in a small ice-bath.
Place basil, chili pepper, cheese, garlic, oil and seasoning in a food processor. Blend until very smooth
Remove from the food processor and store in the refrigerator until needed.
Marissa Sertich
Marissa Sertich Velie is a New York based pastry chef and graduate of the Culinary Institute of America. She passionately documents her adventures of baking and eating her way through the fascinating (and sometimes nutty) underbelly of the American pie. Velie has a Master's degree in Food Studies from NYU.