Faster than takeout, this sweet and spicy Sriracha chicken is more flavorful, too.
By Claudia Willner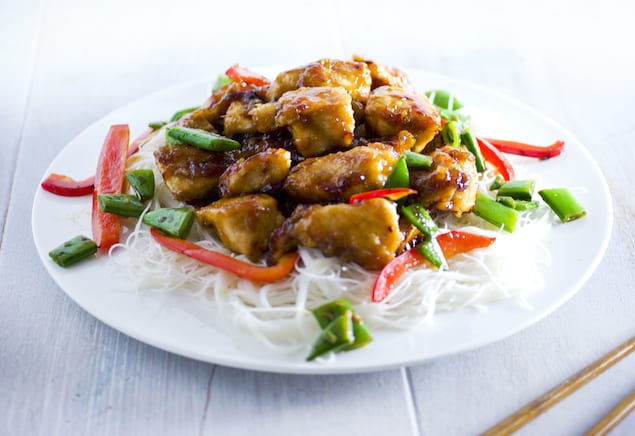 Honey sriracha chicken has the perfect balance between sweetness and spiciness! The great part is you can easily adjust the flavor or spiciness to your preference. If you like it hot like me go heavy on the sriracha and even add some chili or red pepper flakes. If you are more on the mild, sweet side favor the honey.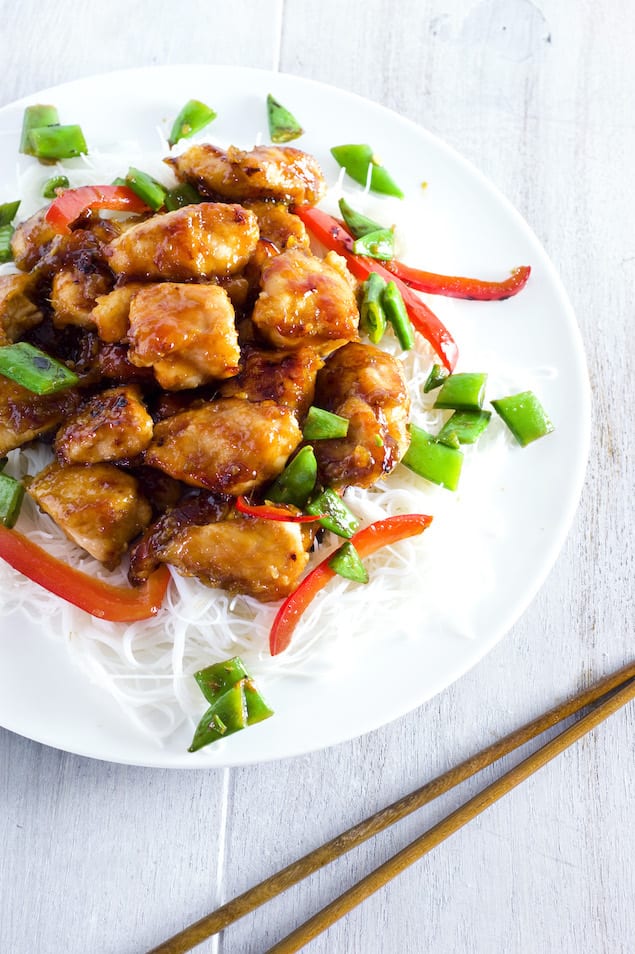 Rice goes really great with it. But for my preference I choose some vermicelli noodles and lots of veggies.
If you love sriracha sauce you can even sprinkle some over the top at the end!
See Also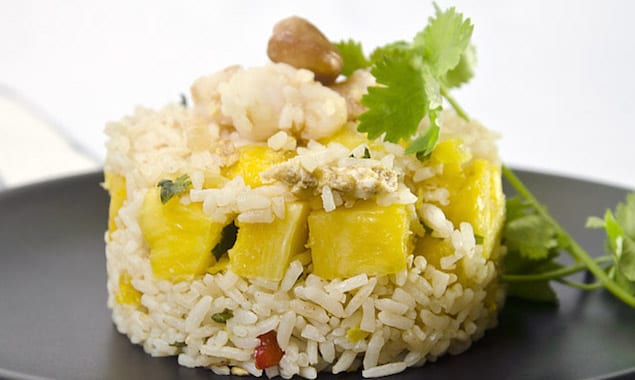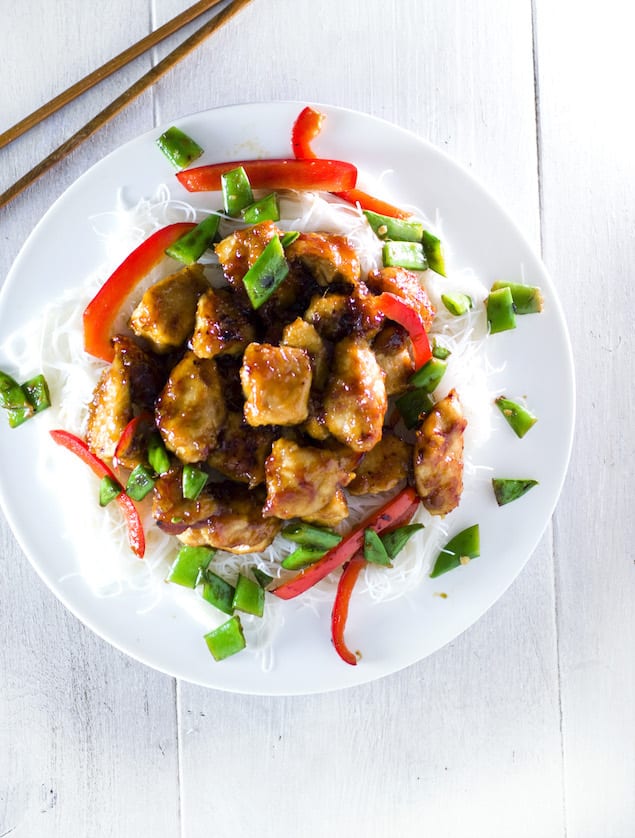 Super easy Sriracha & Honey-sweetened Chinese Chicken. Ready in under 20minutes and cheaper than take out!

Spicy Honey Chicken with Rice Noodles
Faster than takeout, this sweet and spicy Sriracha chicken is more flavorful, too.
Ingredients
4 chicken breasts, diced
⅓ cup cornstarch
2 Tbsp oil, (sesame)
1 cup water
2 Tbsp sriracha
5 Tbsp soy sauce
2 Tbsp garlic, minced
1 Tbsp ginger, grated
¼ cup sugar
2 Tbsp honey
2 Tbsp cornstarch
1 Tbsp water
sugar pea (optional)
red peppers (optional)
crushed red pepper flakes (optional)
Instructions
In a small bowl whisk together 2 Tbsp cornstarch and 1 Tbsp water until dissolved.
In a sauce pan over medium heat combine 1cup water, sriracha, soy sauce, garlic, ginger, sugar and honey. Stir and bring mixture to a boil.
Add cornstarch mixture into your sauce and stir until thickened. Set aside.
Add chicken and ⅓cup cornstarch into a plastic zip bag and seal it. Shake till your chicken dices are evenly coated with cornstarch.
Add sesame oil to a pan over medium heat. Add the chicken and sauté until nicely browned and cooked through.
Set chicken aside and add your preferred vegetables to the same pan and stir-fry for a couple minutes. Add a pinch of salt.
Put the chicken back into the pan, add the sauce and stir to coat.
Serve over a bowl with rice or vermicelli noodles.
Garnish with crushed red pepper flakes or sesame seeds.
Claudia Willner
I'm Claudia, a passionate cook and baker from Switzerland. On my blog you will find delicious homemade recipes, useful kitchen tricks and all kinds of ideas for homemade little things. Enjoy!