Spiced and Swirled Chocolate Bread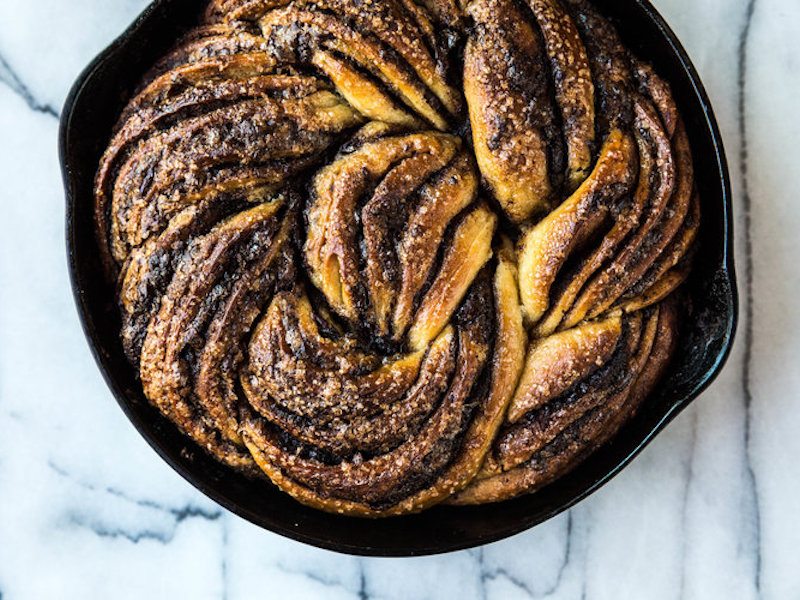 This yeasted sweet bread is filled with a warm spices and chocolate and weaved into a beautiful swirl design that blossoms when baked.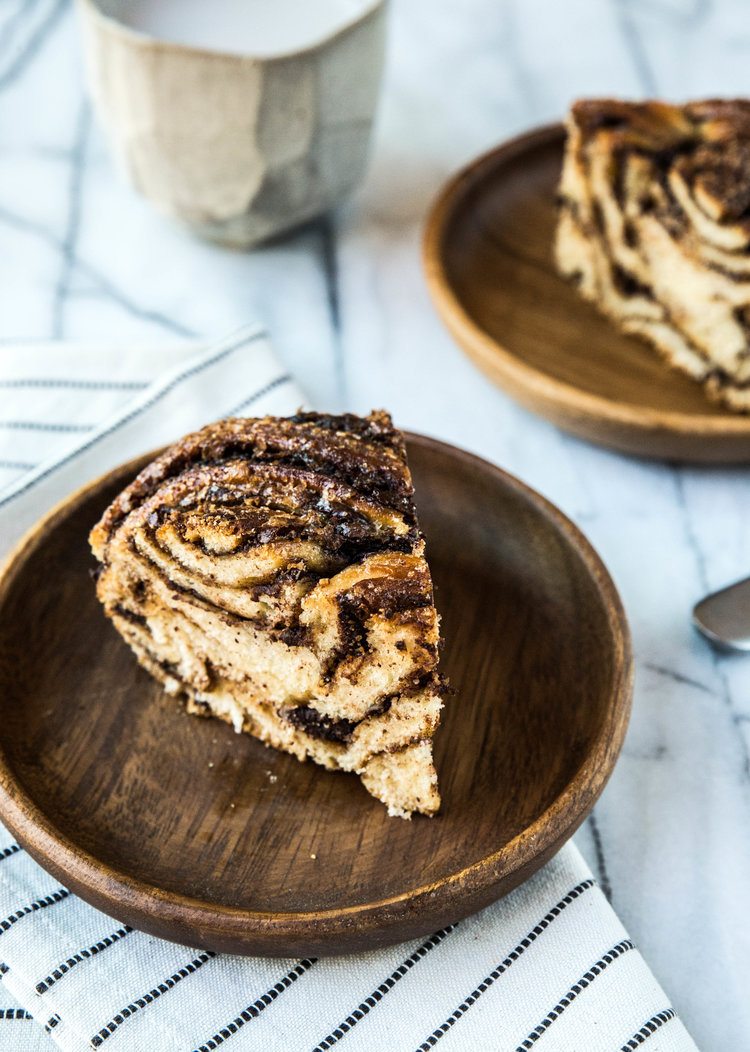 I've been nestled indoors, sitting near the fireplace and curling up in knitted blankets. It's been a quiet autumn so far, with weekends and evenings spent close to home. When the sun appears, I'll head back outdoors, but for now I feel content with a book in hand and a mug of warm cider nearby.
To bring this cozy feeling into the kitchen, I wanted to create a bread that would incorporate these comforts of the season. I kneaded together a rich dough, made with butter, milk, and egg . After rising, the dough is spread and swirled with warm spices and melted chocolate. The dough is cut, twisted, and sprinkled with raw sugar for sweetness and texture. The bread can be served for breakfast or dessert, but either time of day it is enjoyed, it will carry the warmth of the season through.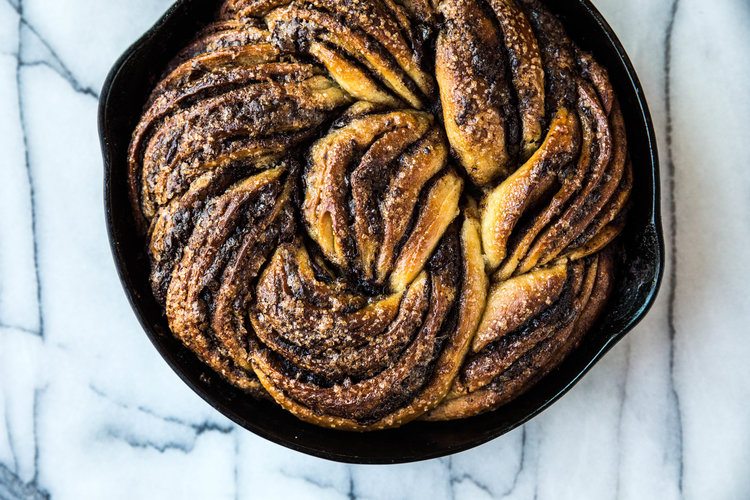 Spiced Chocolate Swirled Bread is a sweet breakfast bread. A rich dough is rolled out and spread with brown sugar mixed with ground cinnamon and cardamom. Finely chopped chocolate is sprinkled evenly on top before the bread is rolled, cut in half, and twisted. After baking, the top of the bread is golden brown, with raw sugar to provide a crunchy texture. The bread is best served warm, either plain or with a scoop of ice cream.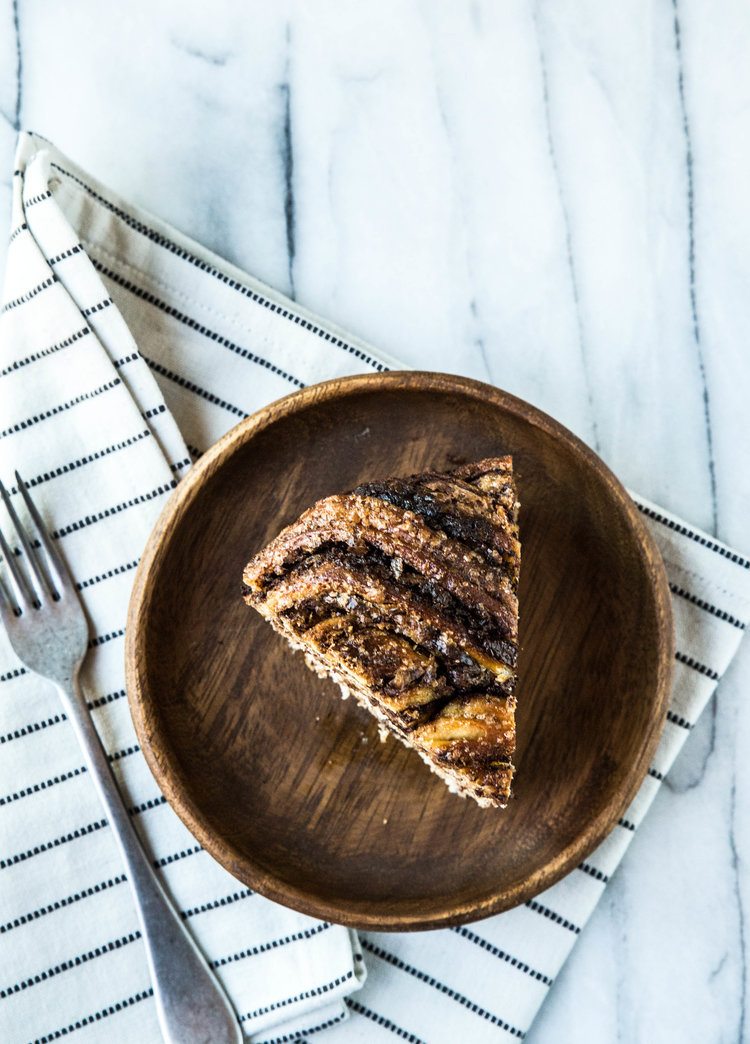 Click here for the filling recipe.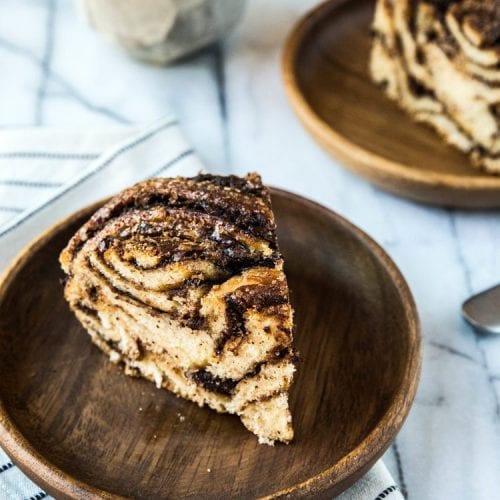 Spiced and Swirled Chocolate Bread
Kristin Rosenau
This yeasted sweet bread is filled with a warm spices and chocolate and weaved into a beautiful swirl design that blossoms when baked.
Ingredients
Dough
1/2

cup

120 ml milk

3

tablespoons

43 grams butter, melted

2 to 2 1/4

cups

250-280 grams all-purpose flour

1/4

cup

50 grams granulated sugar

1

large egg

2

teaspoons

active dry yeast

1/2

teaspoon

salt
Filling
Click the link above for the recipe.
Instructions
Dough
Warm milk and butter until about 100 degrees F (38 degrees C), or until slightly warm to the touch. Transfer to a large mixing bowl and add 2 cups flour, sugar, egg, yeast, and salt. Fold together until the batter forms a dough. If the dough is too sticky, add more flour by the tablespoonful until it begins to form a ball. On a lightly floured surface, place the dough and knead until smooth and elastic, about 5-8 minutes. Form into a ball.

Transfer the dough to a lightly oiled bowl. Cover and allow the dough to rise in a warm environment until doubled in volume, about 2 hours.
Assembly
Preheat oven to 375 degrees F (190 degrees C).

In a small bowl, mix together the filling, click the link above.

On a lightly floured surface, roll out the dough to approximately an 11 x 15-inch rectangle. Using an offset spatula, spread the brown sugar mixture uniformly on the dough, leaving a 1/2-inch border around the edge. Sprinkle the finely chopped chocolate evenly over the mixture. Starting lengthwise, roll the dough until coiled.

Using a sharp serrated knife, cut the coil in half lengthwise and face the inside upwards. Pinch together one end of the dough and twist the two long strands, facing the cut side upwards at all times. Pinch together the remaining end. Form the dough into a circular shape. Transfer the circle to a lightly greased cast-iron pan or 9-inch round cake pan. Brush with the beaten egg and sprinkle the raw sugar evenly over the top. Bake for 25-30 minutes, or until dark brown and fragrant.

Run a knife around the outside of the pan and allow to rest for 15-20 minutes before serving.
Kristin Rosenau
Kristin Rosenau is a baker and science teacher with a serious sweet tooth. She began an affair with butter and sugar fresh out of college and her love for baking has only matured since.The voice behind the blog Pastry Affair, Kristin develops recipes for the home cook, combining classic recipes and homespun flavors with a dash of honesty.