A different version of focaccia made with spelt flour that is still delicious and soft, but easier to digest.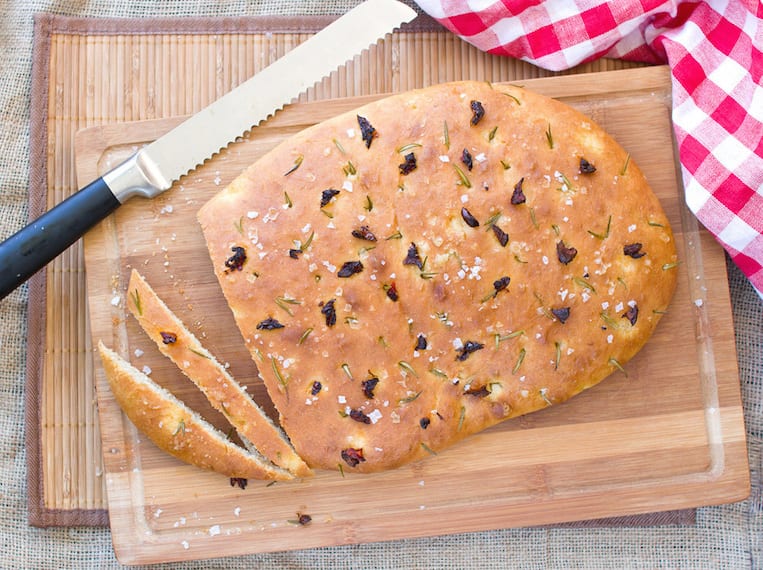 Dealing with gluten-sensitivity is not easy and trying to find my way through dietary do's and don'ts has been a bit of a struggle. And, to be honest, using gluten-free flour as a substitute in my baking hasn't always delivered the type of results I'd hoped for, so I've been indulging in a long drawn out pity-party (with an occasional full-blown rant) over my reduced food choices. But, not all is lost! I have discovered spelt and with it, the potential for a lot more food freedom.
Spelt is an ancient grain – 6000 years ancient in fact – with a long list of advantages to its name. It hasn't been messed about by commercial processing practices, has an impressive array of nutrients, and is much easier to digest than wheat. While it does contain some gluten, that gluten operates very differently to wheat gluten. You see, while wheat gluten gets stronger the more you work it, spelt gluten starts breaking down as you work it – this is what makes it so much easier for us to digest. Many people who can't eat wheat gluten, can tolerate spelt gluten, though it's not recommended for those who are celiac.
Spelt flour is clearly a wonderful substitute for wheat flour, but you should know that when it comes to recipes, it's not necessarily a straight-forward exchange. Spelt flour has a different absorbency to wheat flour and therefore the balance of liquid to dry ingredients may need rejigging. Also, baking with spelt flour won't always guarantee the same results as baking with wheat flour, given its weaker gluten structure – this is why you'll find a lot of recipes combine both spelt and wheat flours for better stability. Anyway, if you're interested in using spelt in your baking, I recommend you do some research.
As focaccia typically includes standard wheat flour, I had to go find a gluten-free version to make. I ended up working from this recipe.
So, how did it go? Well, it was an interesting experience, for sure. Spelt feels quite different to wheat flour in that it's softer and more tacky to work with. As I said, you barely have to knead it at all, so the whole dough making process was over almost before it began. To be honest, it all felt a little alien and I had my doubts about the results as I put the bread into the oven.
As it turned out, I needn't have worried… Not only did the bread bake beautifully, it looked and smelled fabulous and sliced cleanly (no crumbly mess). Inside the loaf, I discovered an ultra tender and airy crumb structure, while the exterior was delightfully chewy. The taste was even better – WAY better than wheat flour bread I thought, with an ever-so-slight sweetness to it. And, best of all, no ill-effects afterwards – in fact, I felt great! As such, I have fallen in love hook, line and sinker.
Print
Category:

Baking, Bread, Pane

Cuisine:

Italian
2 cups

spelt flour (you can use white, whole or any combination – I used organic white)
One envelope (7 g / 1/4 oz dry active yeast)

1 cup

warm water

1 tablespoon

honey

1 tablespoon

extra-virgin olive oil (plus extra for brushing on)

3/4 teaspoon

salt
Toppings of your choice (e.g. salt flakes, sliced olives, sun-dried tomato, rosemary)
Instructions
In a large bowl, combine the spelt flour with the yeast, water, honey, olive oil and salt and stir until a dough forms.
Turn the dough out onto a lightly floured surface and knead just until smooth, no more than 1 minute (you'll find the dough is quite tacky and kind of gloopy, but that's as it should be).
Oil the bowl and return the dough to it. Let the dough rise, covered, in a warm, draft-free place until almost doubled in bulk, about 1 hour.
Line a baking sheet with parchment paper. Punch down the dough, then transfer it to the baking sheet and press it into a 12-by-8-inch oval. Brush with a little olive oil (about a teaspoon). Press small indentations all over the dough and sprinkle with your toppings. Let the dough stand uncovered for 45 minutes, until slightly risen.
Preheat the oven to 190°C (375°F). Bake the focaccia for about 25-30 minutes, until lightly browned all over. When tapped, the loaf should sound hollow. You can, if you like, brush on a little more oil over top of the loaf while still warm.
Susan Knaap
I'm Susan - food lover from the best little country in the world - New Zealand. I'm an 'accidental' cook who fell into it, hook, line and sinker when I turned the big 5-0. Not exactly sure why it happened; perhaps some previously defunct piece of DNA came good. Anyhow, I'm making up for lost time and spending countless hours in the kitchen cooking up a storm. Desserts are my Archilles heel, followed closely by good old-fashioned baking - it's good for the soul; not so much for the waistline!