Kale and Garlic Shrimp Salad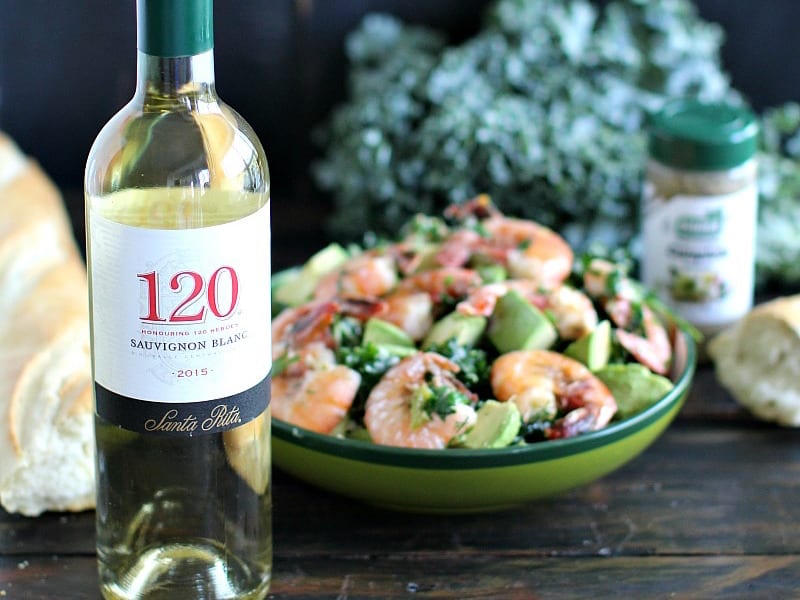 PARTNER POST: Dive into the 120 days of summer with Santa Rita wines that pair perfectly with the foods of the season, straight off the grill.
Loaded with citrus and creamy avocado, this kale and garlic shrimp salad is just what your summer dinners call for.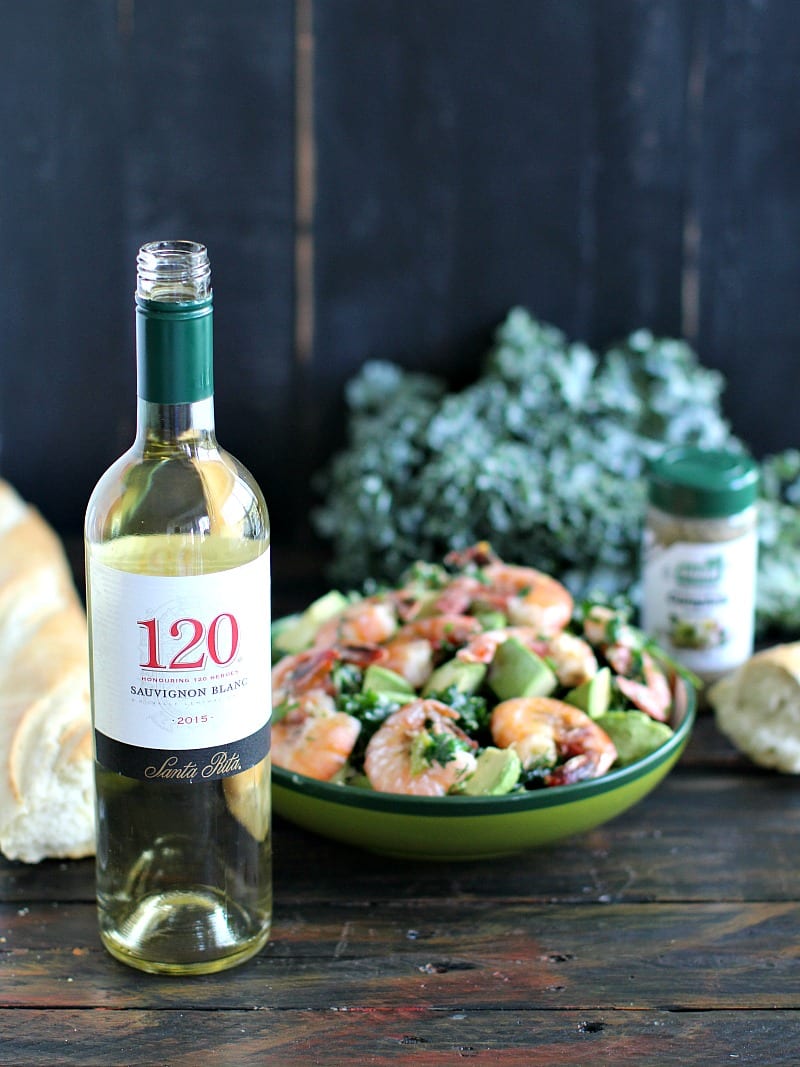 I highly recommend making this Shrimp Garlic Kale Salad and enjoy it on the porch with a cold glass of Santa Rita Sauvignon Blanc. Best way to spend a summer evening!
I like to keep my summer meals light and super easy to make, so I can spend more time outside enjoying the weather, my family and friends company. This Shrimp Garlic Kale Salad is absolutely delicious, filling, hearty, its very easy to make and its bursting with flavor. Starting with fresh kale that was massaged in oil, lemon juice and lots of minced garlic. The kale gets very tender and garlicky with a beautiful citrus aroma.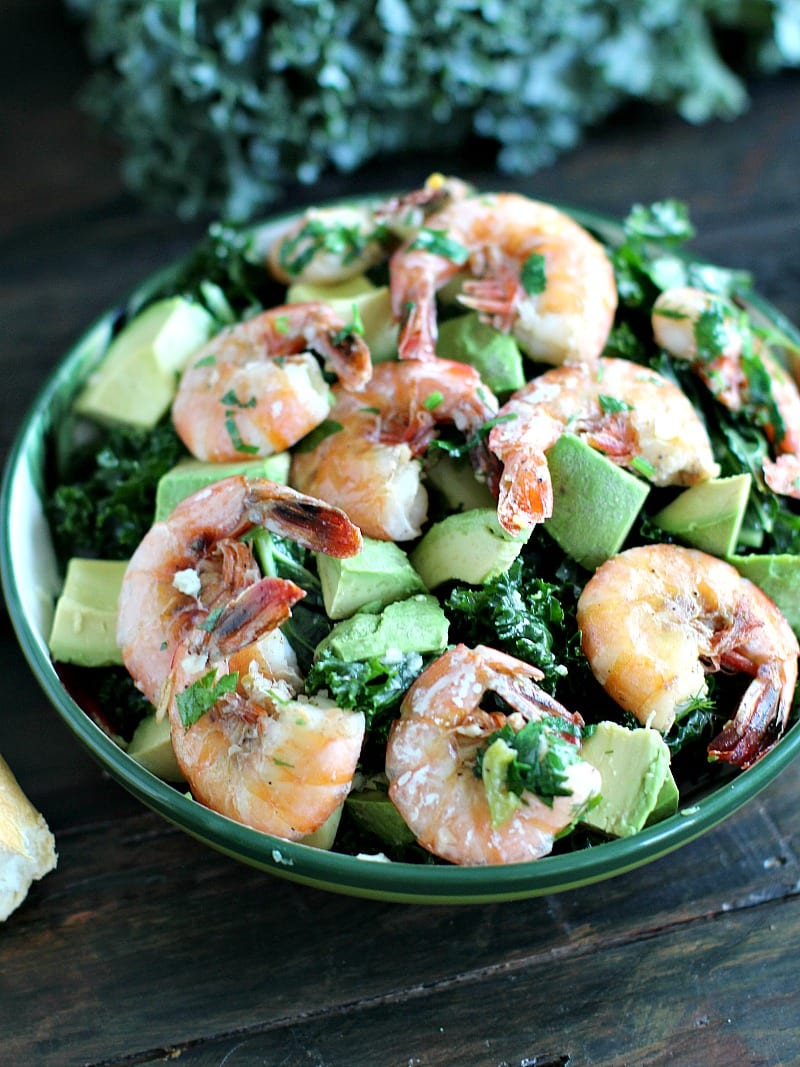 Add some 120 Santa Rita wine into the mix and you have a beautiful meal! 120 Sauvignon Blanc is a fresh, fruity wine dominated by tropical and citric fruit such as grapefruit, lime and lemon peel complemented by white peach notes and distinctive variety herbs increasing complexity and lifting fruity sensations, a very interesting aftertaste amid smooth fruit and fresh acidity with a lingering and persistent finish.
120 Hero's Salute Red Blend is a deep, dark ruby-red color that features blueberry, plum and Cassis fruit aromas along with spices and vanilla, coffee and tobacco notes from the barrel-aging. The palate has a sweet attack and evolution, with good volume, depth, and a fruity finish that leaves a refreshing mouthfeel.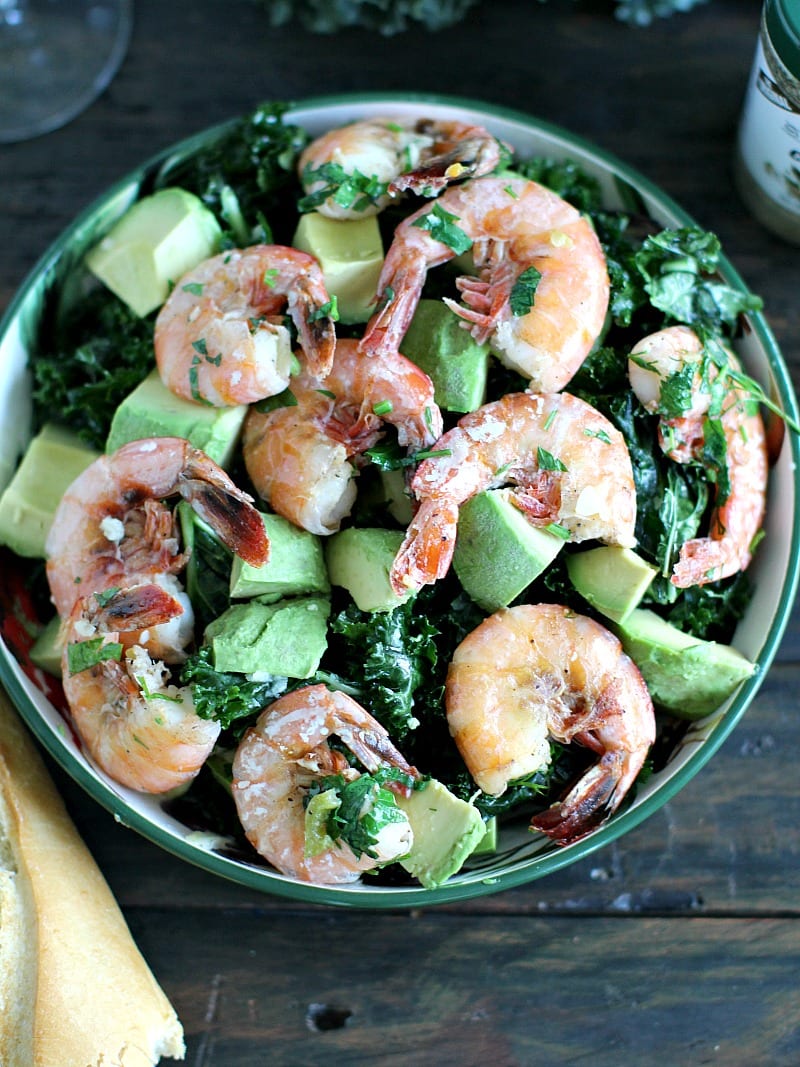 The shrimp has been cooked in a splash of delicious 120 Santa Rita Sauvignon Blanc, Badia spices, lots of fresh herbs and garlic.
Garlic kale topped with shrimp cooked to perfection, buttery avocado and served with a glass of wine is how I want to eat all summer long! Oh and definitely have some crusty, fresh bread on the side, you know, for dipping purposes!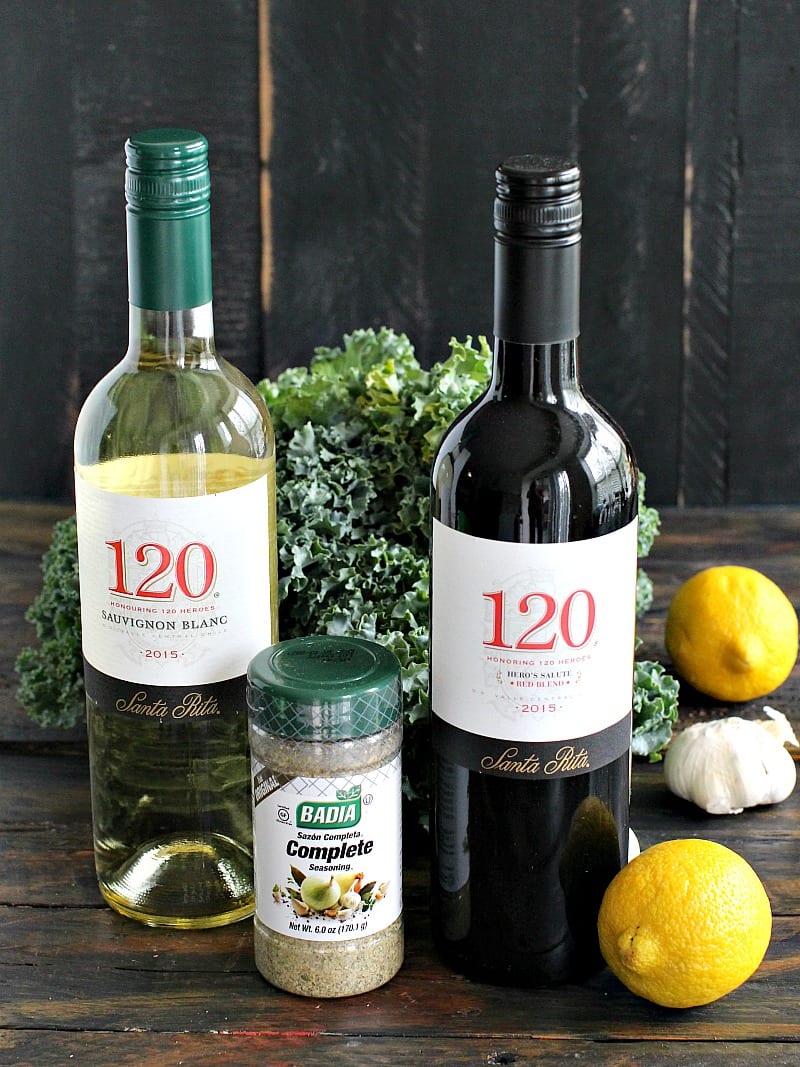 For more grilling inspiration with Santa Rita, check out this grilled Chilean chicken and pebre sauce.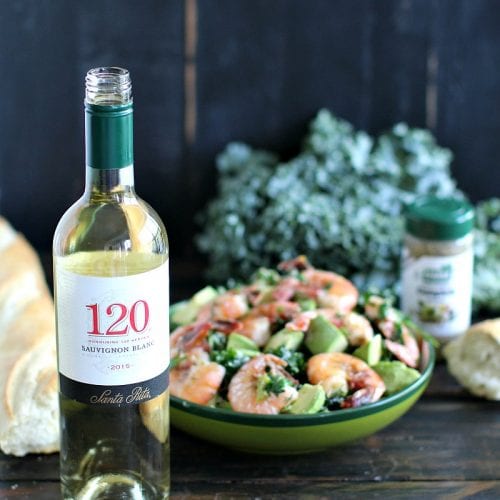 Katalina Kastravet
Ingredients
For the shrimp:
1

pound

medium-large shrimp

peeled or unpeeled (we prefer ours unpeeled)

1

garlic head

minced (head not clove)

2

tablespoons

unsalted butter

½

cup

of 120 Santa Rita Sauvignon Blanc

Juice of ½ lemon

1

fresh jalapeño

chopped

½

cup

fresh basil

chopped

½

cup

fresh parsley

chopped

½

teaspoon

Badia Complete seasoning

Salt and Pepper
For the salad:
8

large kale leaves

2

avocados

peeled and sliced

4

garlic cloves

minced

juice of ½ lemon

2

tablespoons

olive oil
Instructions
Clean the shrimp, peel if preferred. I prefer to cook the shrimp unpeeled as it retails more flavor, and to peel during the eating process.

In a large nonstick heavy skillet over medium-low heat add the butter, when it is melted and barely starts to simmer add half of the minced garlic and Badia spices, cook for 1 minute and add the shrimp. Cook for 4-5 minutes, stirring occasionally. Add the lemon juice, chopped jalapeño and white wine, sprinkle generously with salt, pepper. Cook for 4 minutes and add the rest of the garlic, chopped basil and parsley, stir gently and continuously until the shrimp is just cooked, another 3-4 minutes.

Taste the mixture and add a little more salt if needed.

Remove the stems from the kale leaves and discard. Chop the leaves and add them to a large bowl, top with olive oil, salt, pepper, minced garlic and lemon juice. Massage well with your hands. Let the kale stand/marinate for 5-10 minutes.

Distribute the chopped kale into 2 salad bowls, top with shrimp and sliced avocado pieces.

Serve with fresh bread.
Katalina Kastravet
Hi, I am Katalina, the blogger behind Peas and Peonies where you'll find delicious recipes and lifestyle stories. My kitchen creations are usually with a twist, combining simple ingredients to create decadent, unique and innovative flavor combinations within a doable timeframe. Join the deliciousness!