Take a classic Southern pecan pie to the next level with a perfectly flaky crust and simply sweet filling.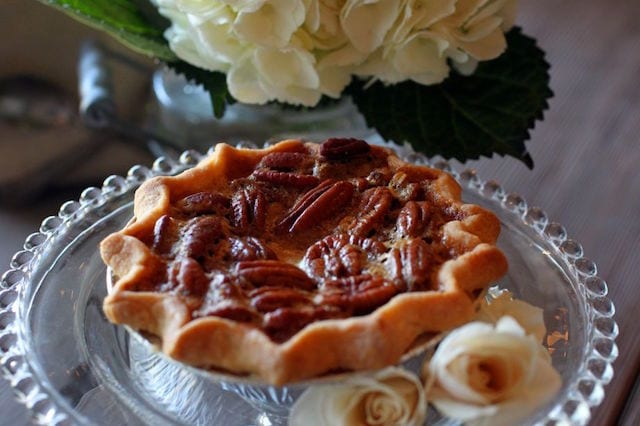 Elizabeth Chambers Hammer is a Journalist, Entrepreneur, and Co-owner of BIRD Bakery in San Antonio. and brings a contemporary approach to her grandmother's classic desserts. An innovator in the kitchen, Elizabeth is known for piling her rustic apple pie high with freshly sliced apples seasoned with all the right spices and covering it with a flaky crust drizzled with praline.

Southern Pecan Pie
Author:
Elizabeth Chambers Hammer
Recipe Type:
Baking, Dessert, Pie
Ingredients
BIRD Pie Crust
2 cups all-purpose flour
½ teaspoon kosher salt, heaping
1½ tablespoon granulated sugar
2 tablespoons vegetable shortening, chilled
½ cup very high quality unsalted butter, cold or frozen cut into ¼ –inch squares
4 tablespoons ice water
Pie filling
1 stick butter, room temperature
½ cup light corn syrup
½ cup dark corn syrup
2 tablespoons organic honey
1 cup granulated sugar
3 large eggs, beaten
1 teaspoon lemon juice
1½ teaspoon pure vanilla extract
1 cup pecans, chopped
dash of salt
Instructions
Pie Crust
In a food processor, combine flour, salt, and sugar. Pulse to combine. Add shortening and butter and pulse 6 times until mixture resembles coarse meal (if necessary, add up to ¼ cup of water, 1 tablespoon at a time). To ensure a flaky crust, do not over-process.
Transfer half of the dough onto a piece of plastic wrap. Shape dough into a ¾ inch thick and wrap tightly in plastic.
Refrigerate for at least an hour and up to 2 days before rolling out. Repeat with remaining dough. Makes 2 disks.
Using a pairing knife, trim dough to a 1-inch overhang and fold under to form a rim. Crimp edges with fingertips and transfer pie shells to refrigerator to chill.
Pie Filling
Preheat oven to 425 degrees. Place butter in a medium saucepan over low heat until it is golden brown. Set aside.
In a large bowl, whisk together corn syrups. Add eggs, honey, sugar, lemon juice, vanilla and salt (in that order).
Incorporate butter and mix well. Scatter pecans evenly over bottom of crust, then pour in mixture.
Bake for 10 minutes, then lower temperature to 325 degrees and bake for approximately 40 more minutes, or until crust is golden and filling is set.
Remove from oven and let pie cool completely, 5 to 6 hours. Serve with whipped cream. Enjoy!