Simple, Satisfying Butter Chicken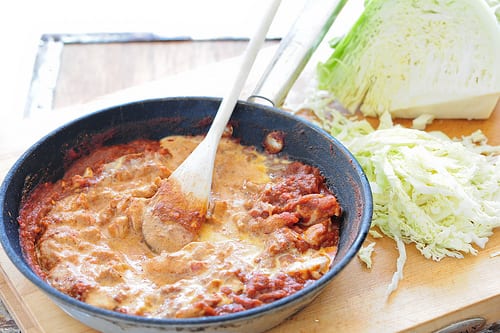 The secrets to perfect butter chicken, no take-out required. With this recipe you can adjust the heat to your liking and enjoy a night in.
By Jules Clancy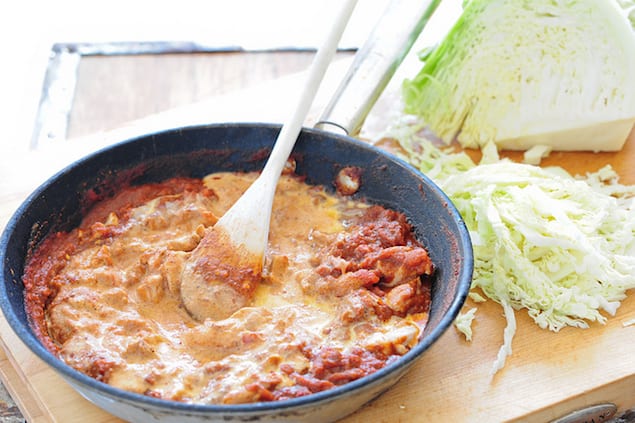 Are you looking for a way to prepare your favorite restaurant-style Indian food? My college job as a waitress in an Indian restaurant taught me two very important life lessons. First, I am hopeless when it comes to waiting tables. And second: Indian food is delicious.
Butter chicken was my first Indian food love. In restaurants, though, butter chicken can be super greasy. So it's much better to enjoy it at home when you can control the amount of cream you add. You also get to have the freedom to turn up the chili heat.
For a vegan version, you could replace chicken with tofu, a drained can of chickpeas, or 1/2 head of cauliflower. Replace cream with coconut milk.

Simple, Satisfying Indian Butter Chicken
The secrets to perfect butter chicken, no take-out required. With this recipe you can adjust the heat to your liking and enjoy a night in.
Ingredients
450g chicken thighs
2 tablespoons garam marsala spice
1–2 teaspoons chili flakes (crushed red pepper)
1 can tomatoes (400g/14oz), chopped
2–3 tablespoons whipping cream (35% milk fat)
Instructions
Bash out thighs a little with a saucepan to tenderize. Chop into chunks.
Heat a few tablespoons olive oil in a large skillet over a medium high heat.
Brown chicken for few minutes each side.
Add garam marsala and chili. Stir for a few seconds.
Add tomatoes and their juices. Simmer for about 5 minutes.
Stir in cream and bring back to a simmer.
Taste and season with salt, pepper and a little sugar if you like it sweet.
Jules Clancy
Jules Clancy is a former Food Scientist turned Author and Simplicity Lover. She only writes recipes with 6-ingredients or less. She lives in Australia blogs about 6-Ingredient Dinners over at Stonesoup.