Simple Crusted Quiche with Smoked Ham
Here is an easy dish that is festive for a brunch. And because a quiche is so versatile it is perfect for using up any leftover vegetables you have in the fridge. This is great for breakfast but equally delicious for lunch or as an appetizer.
By Simone Van Den Berg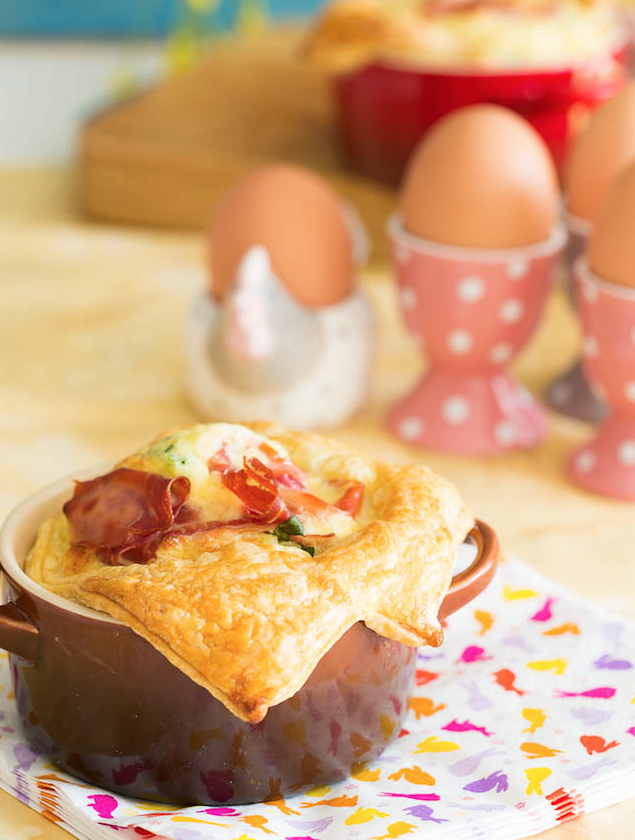 So here is a superquick (well minus the oventime) dish that is easy en festive for easter. And because a quiche is so versatile it is perfect for using up any leftover veggies you have lying around in the fridge. This is good for breakfast but equally delicious for lunch or as an appetizer!

Simple Crusted Quiche with Smoked Ham
An easy quiche with puff pastry and smoked ham that is festive for brunch. And it is perfect for using up leftover veggies.
Author:
Simone Van Den Berg
Ingredients
4-6 pieces of puff pastry, defrosted
50 gr arugula
100 gr green peas, frozen
few mint leaves
2 eggs
125 ml double cream
50 gr grated parmesan
few slices of smoked ham
Instructions
Preheat the oven to 180C. Take a few small ovendishes ( I used the little creuset ones) and line each form with one square sheet of puff pastry. You might need more then one sheet if your forms are a little bigger.
Take a bit of arugula and cut it into smaller pieces. Put a bit of that on the bottom of your pie. Divide the peas on top and sprinkle with a bit of mint. Don't use too much mint as it is an overpowering taste, so a little goes a long way.
Whisk the eggs together with the double cream and add the cheese. Season with salt and pepper. Pour your egg mixture over the peas and arugula and divide the hamslices on top.
Bake your quiche in the oven for about 30 minutes
Simone Van Den Berg
Simone van den Berg is a Netherlands based freelance food photographer and food blogger. She has a passion for cooking, food and travel, which she shares on her blog Simone's Kitchen and of course right here on Honest Cooking.