Cooking by what each season has to offer is something that should come naturally to us. It's easy to find ingredeints for recipes when the items are in season, it's usually the flavors our bodies crave anyway, and it's what all the cool chefs are doing, right?!
We recently dove into Season: A Year of Wine Country Food, Farming, Family and Friends, a beautiful cookbook put out by Jackson Family Wines. Written by their chefs, Justin Wangler and Tracey Shepos Cenami, and their culinary gardener Tucker Taylor, this book will inspire your weeknight meals and your casual or elegant dinner parties.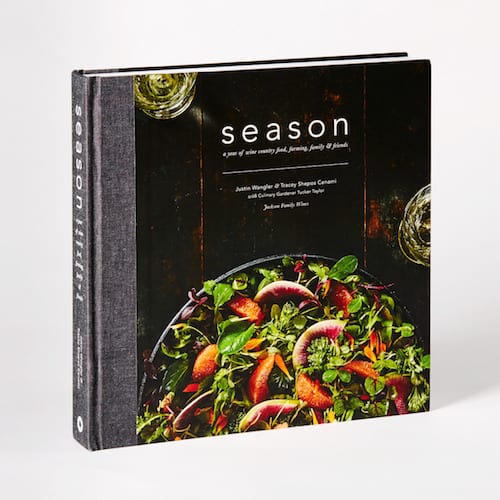 Broken up by seasons, we headed straight to the winter chapter to get inspiration for a seasonal dinner party. And we are so excited to keep revisiting its pages throughout the year, discovering new tips and flavors for each season.
The winer segment starts out by listing favorite foods that are in season. Looking to make a salad? Check out this list and pick a few items and toss them with your favorite greens. Easy!
This chilly season is all about getting cozy, so it's not wonder the cookbook team chose to focus on the words "comfort" and "joy". What could be cozier than that? These recipes will help us to slow down and enjoy those spaces and people around us. Make a day of it and escape to your warm kitchen to bake or braise for a few hours. We find this so rewarding!
Click HERE to purchase your own copy of this cookbook. It's one that we keep turning back to, and we don't say that too often.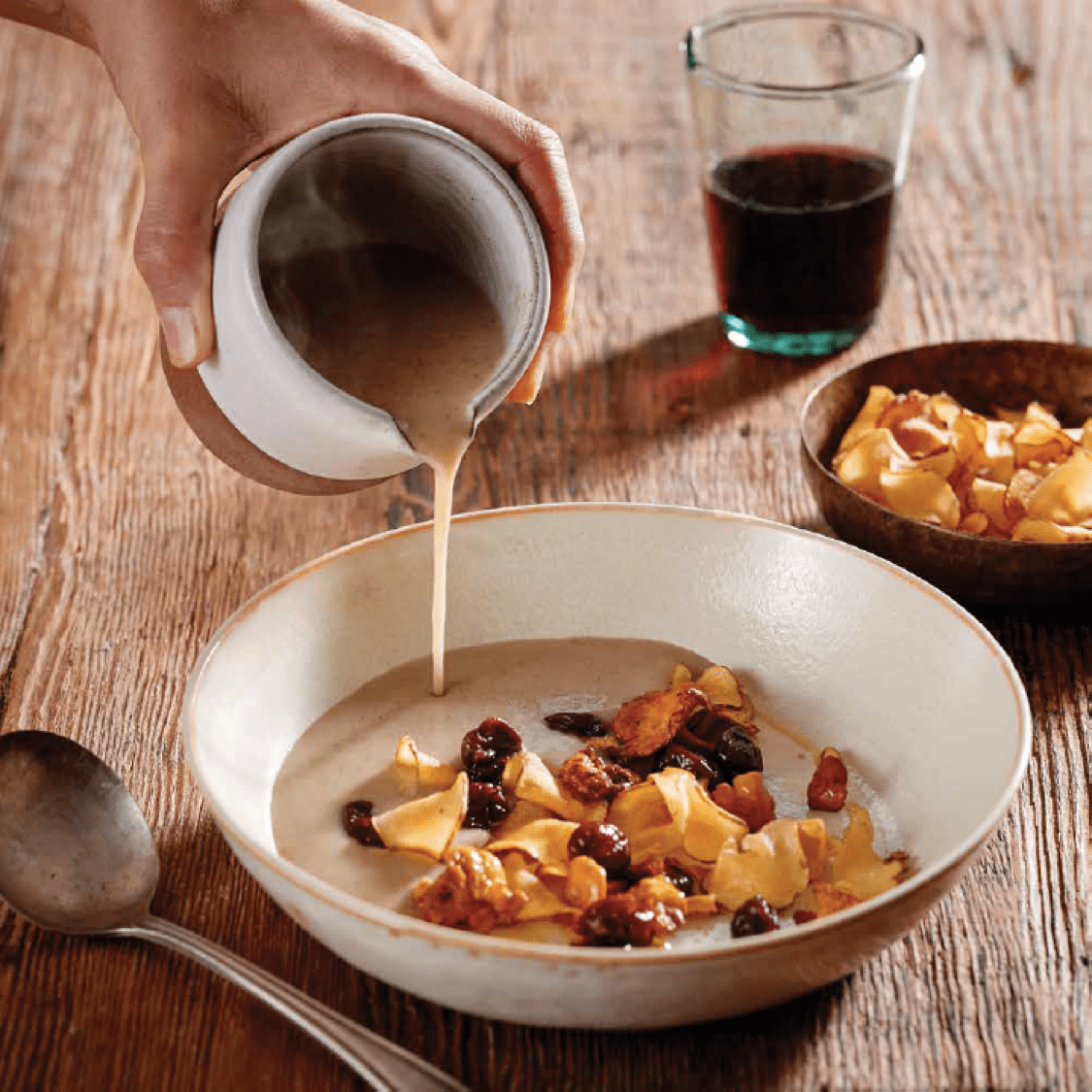 Mushroom and Sunchoke Soup with Sweet-Sour Cherries
This flavorful soup relies on a mushroom broth and roasted sunchokes for earthy, creamy, sweet and savory flavors that are oh so cozy. It's a perfect dinner starter with a garnish of dried cherries and crispy sunchoke chips. Pair this course with Hartford Court Land's Edge Vineyard Pinot Noir. An earthy Pinot and mushrooms makes for such a delicious pair!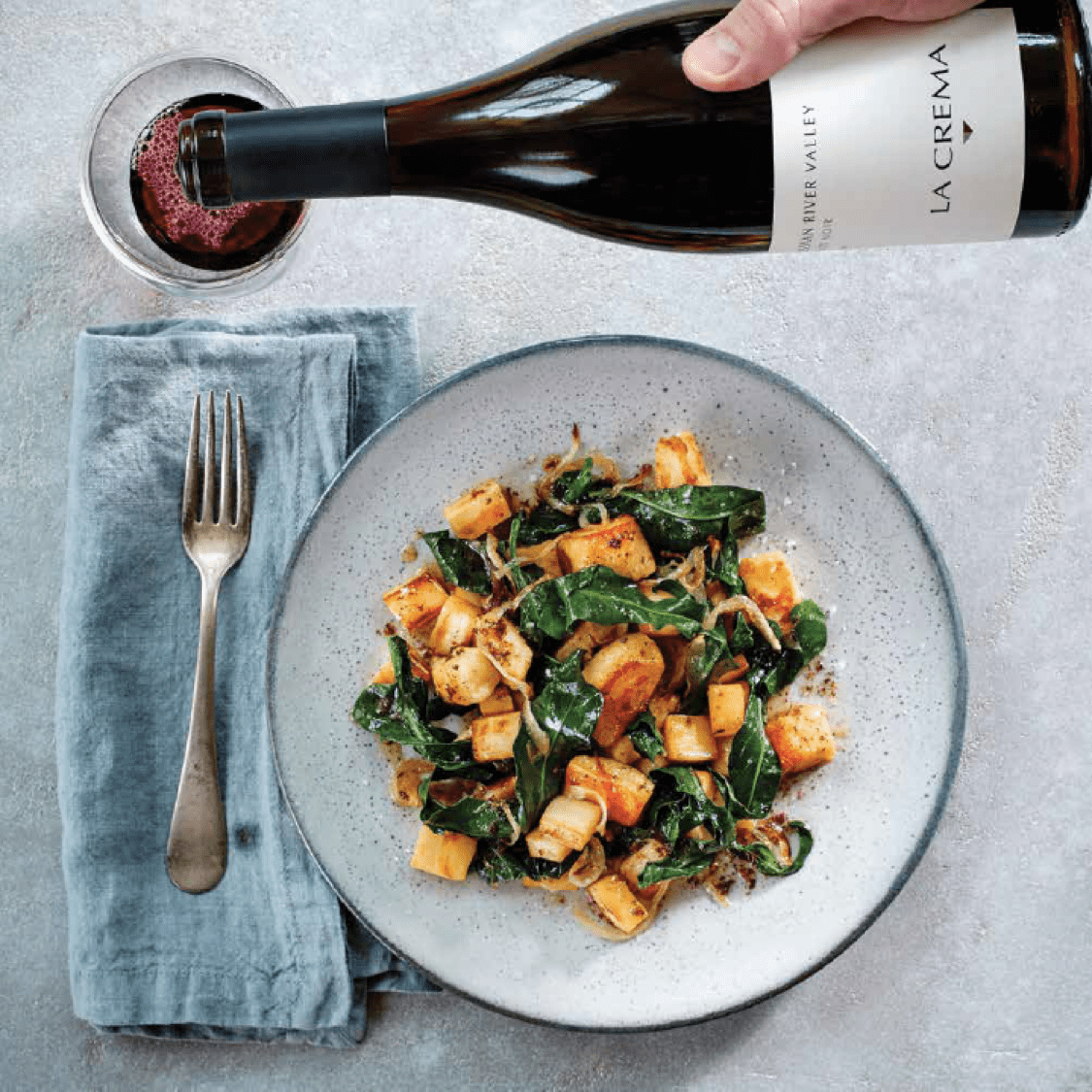 Gnocchi with Spigarello, Parsnips, and Caramelized Onions
The cookbook authors recommend using older, drier potatoes to create the perfect gnocchi, so take note! And always test a few in a pot of boiling water to make sure the texture is right before you cut them all. Boil and then brown them in a pan for both a soft and crispy texture. This dish also highlights exactly why we love caramelized onions so much. They're such a simple ingredient that can really perk up a dish. Pair this starchy side with La Crema Russian River Valley Pinot Noir. With riper fruit notes, this sweet and savory wine is the perfect sip to pair with the sweet caramelized onions and parsnips with the savory gnocchi and herbs.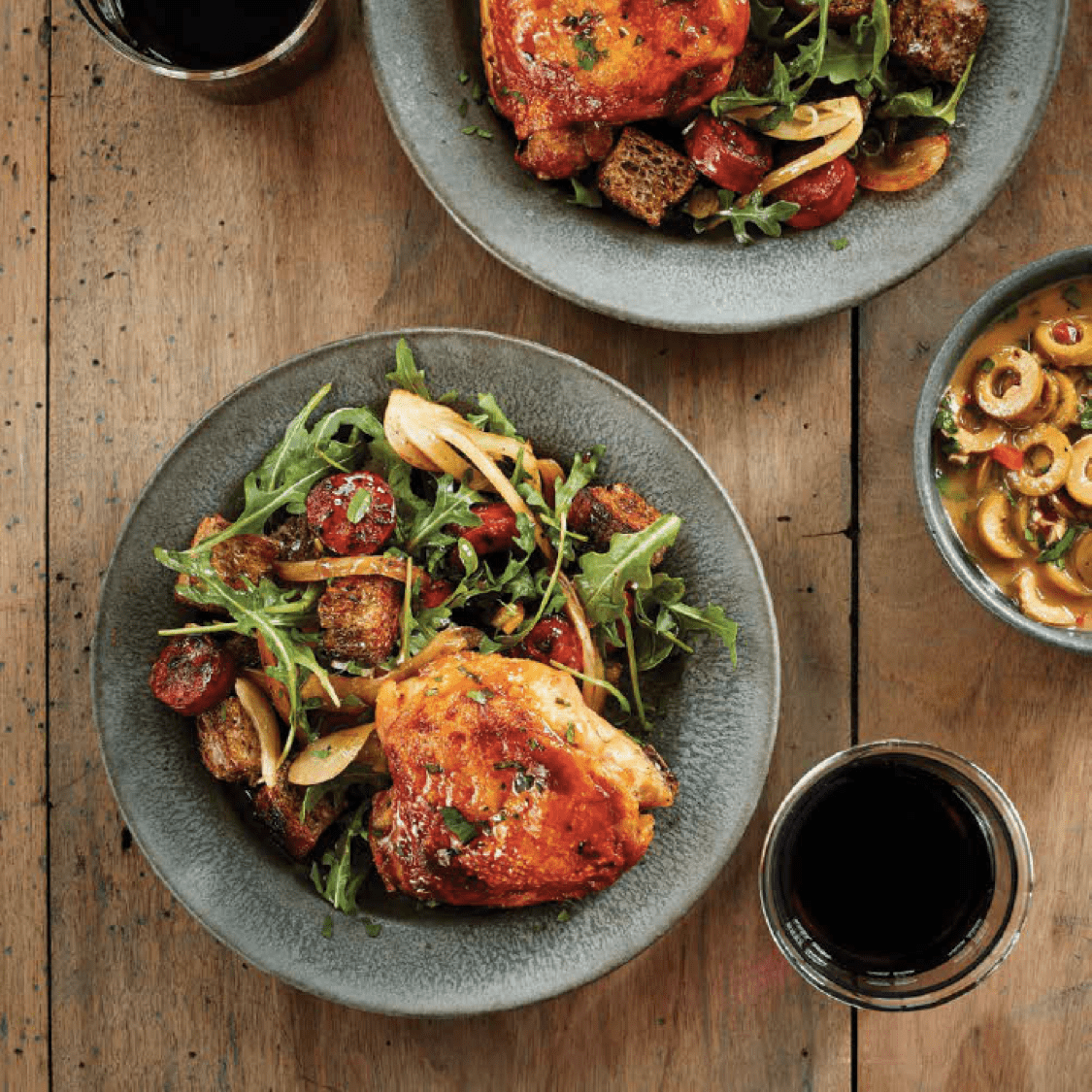 Crispy Chicken Thighs with Chorizo and Fennel Bread Salad
For a dinner party main dish, we love serving chicken. It's approachable, affordable and if you do it well, your guests will absolutely be blown away. Chef Justin recommends using chorizo, instead of the more usual bacon, in this dish to really pack great flavor. Serve with a bold garlic pan sauce and a skillet panzanella. It's a satisfying main dish that even comes with greens! Serve this course with Kendall-Jackson Jackson Estate Seco Highlands Chardonnay. With creamy flavors and notes of citrus, this wine can play well with the bright and fatty flavors of the chicken. Check out the full chicken recipe below!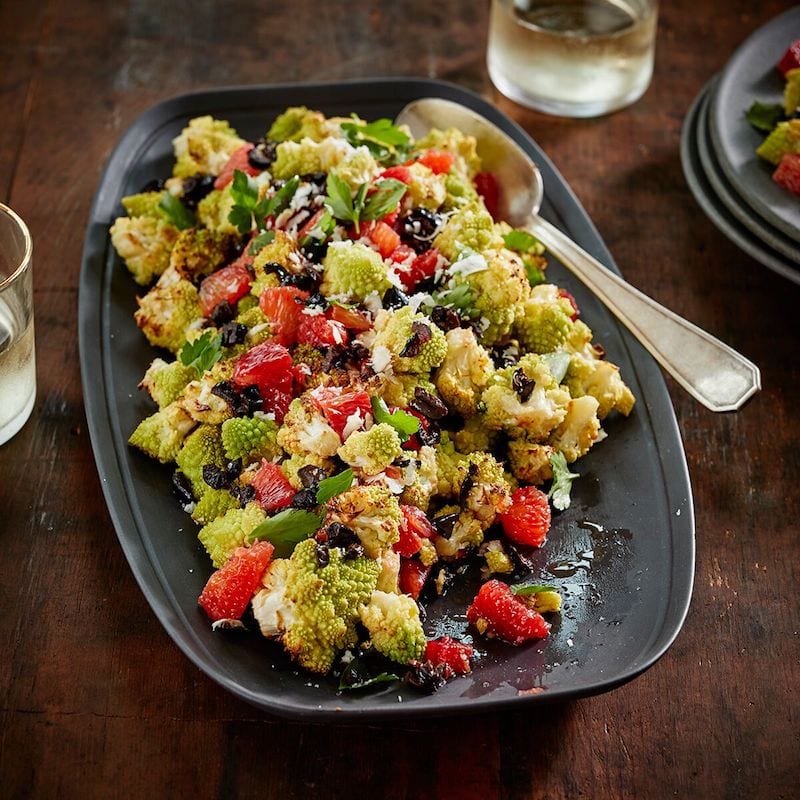 Roasted Romanesco with Blood Oranges and Black Olives
Vegetables can feel so boring in the winter, but this recipes proves otherwise. Warm and with bright colors, this is a stunning dish to serve to guests. Put a bottle of Arrowood Alexander Valley Sauvignon Blanc on the table with this side dish and even the chicken. It's balance of fruit and acidity in the bottle is perfect with the roasted flavors and citrus of the side dish, plus is pairs well with the crispy chicken too.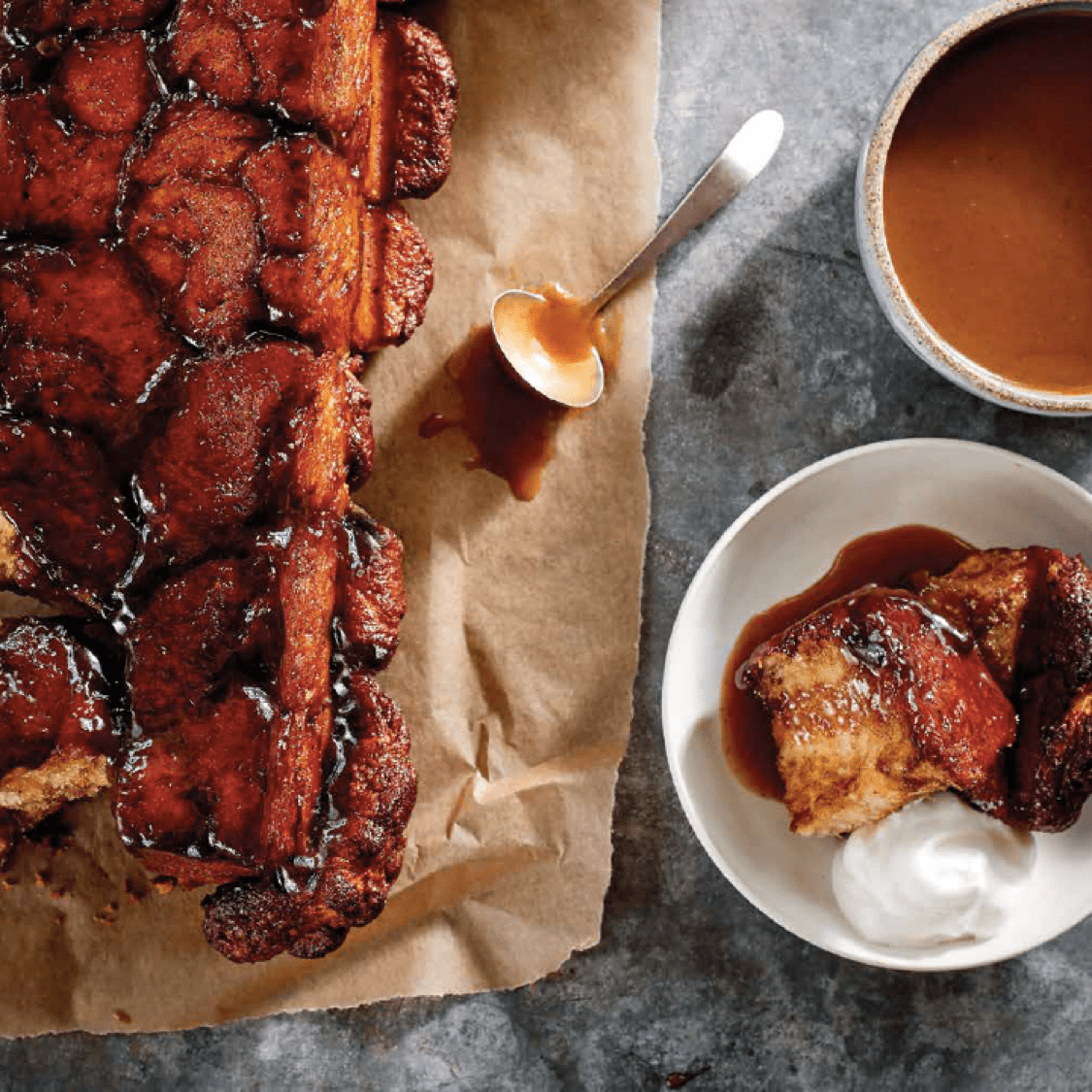 Brioche Monkey Bread with Warm Caramel Sauce
What could be more playful and satisfying on a cold winter's night than a warm monkey bread with a drizzle of warm caramel and a scoop of vanilla ice cream of whipped cream?! This is such a sweet way to end a dinner party. Start with making the caramel sauce the day before and then start the easy brioche dough recipe in the book that can be made the day of. Serve the sweet bread warm with Kendall-Jackson Grand Reserve Late Harvest Chardonnay. This sweet, rich wine is perfect with the yeasty notes from the bread and the sweet caramel sauce.
Print

Crispy Chicken Thighs with Chorizo & Fennel Bread Salad
---
---
---