Biscuits and gravy casserole has all of your favorite components of a good old Southern breakfast baked into one dish. It's great for cozy winter breakfast.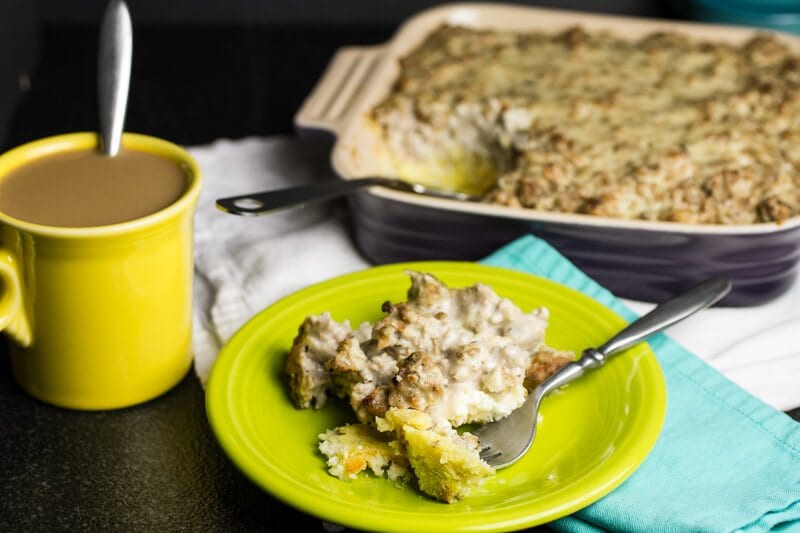 These days, my family's special winter breakfasts consist of typical Southern breakfast fare…biscuits, gravy, bacon, eggs, and sausage balls. I started thinking about how I could combine all of that (sort of) into one dish…and that's how this Southern biscuits and gravy casserole was born.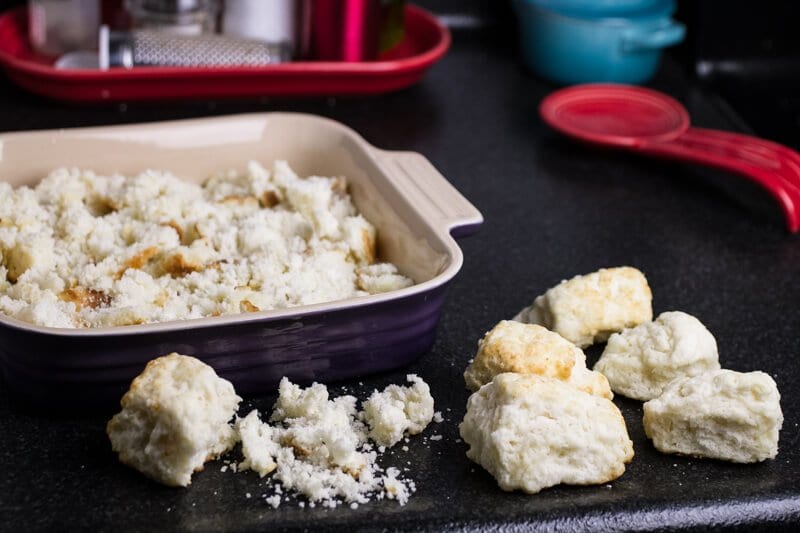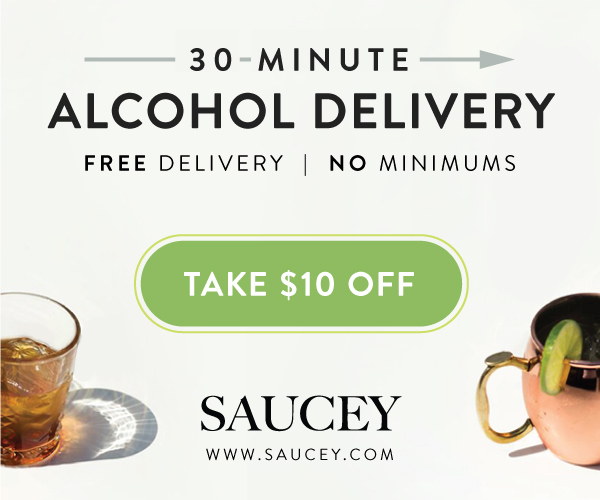 As I was researching biscuits and gravy casserole, I found a common theme: canned biscuits. One recipe was made with powdered gravy. Sorry…this Southern girl does not do powdered gravy. If you want to use pre-made biscuits, that's between you and the Lord??. Just please do me a favor and make the gravy from scratch!! I promise that it's one of the easiest skills you can ever master, and your tastebuds (and family) will thank you.
I made my own sausage, and I've included the recipe here. Feel free to use store-bought sausage, though. No shame. I just wanted to share my recipe for homemade sausage here because it's gooooood. And, like the gravy, it's extremely simple to make – just mix some herbs and spices into ground pork. Done.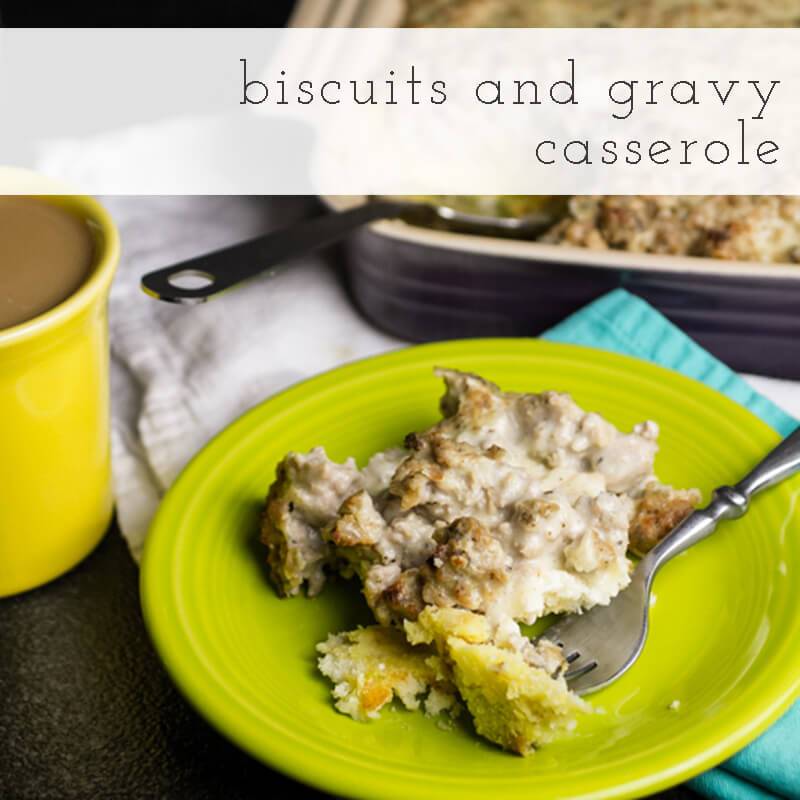 Biscuits and gravy casserole turned out to be everything I dreamed that it would be. Biscuits and sausage gravy and eggs, all baked up in one-dish for the most Southern breakfast casserole you've ever eaten. Amen and amen.
Click her for my biscuit recipe.

Biscuits and Gravy Bake
Ingredients
10 biscuits, baked a few days ahead (can use homemade, frozen, or refrigerated)
6 eggs
1¾ cup milk, divided
½ teaspoon salt
¼ teaspoon ground black pepper
1 pound breakfast sausage
¼ cup flour
Additional salt and pepper to taste
For the breakfast sausage
1 pound ground pork
1½ teaspoons dried sage
1 teaspoon dried marjoram
½ teaspoon brown sugar
½ teaspoon kosher salt
¼ teaspoon cayenne pepper
¼ teaspoon ground black pepper
Instructions
Preheat the oven to 400 degrees. Crumble the biscuits into a 9-inch square baking dish. Whisk the eggs, ¼ cup of the milk, and the salt and black pepper together in a medium bowl. Pour over the crumbled biscuits and press the biscuits down to submerge them into the egg mixture.
If you are making your own sausage, combine all breakfast sausage ingredients in a large bowl, being careful not to overwork the meat.
Preheat a 10-inch skillet (I used cast iron) over medium heat. Add the sausage and cook until no pink remains and mixture is lightly browned. Sprinkle with the flour and cook for one minute. Gradually pour in the milk while stirring constantly to combine. Cook until thickened. Add salt and pepper to taste.
Pour the gravy over the biscuit and egg mixture. Set the baking dish on a sheet pan. Bake for 30 minutes until the eggs are set. Serve immediately.