With a sprinkle of salt on top, these sweet potato muffins are studded with chocolate chips and are such a delicious way to kick off the day.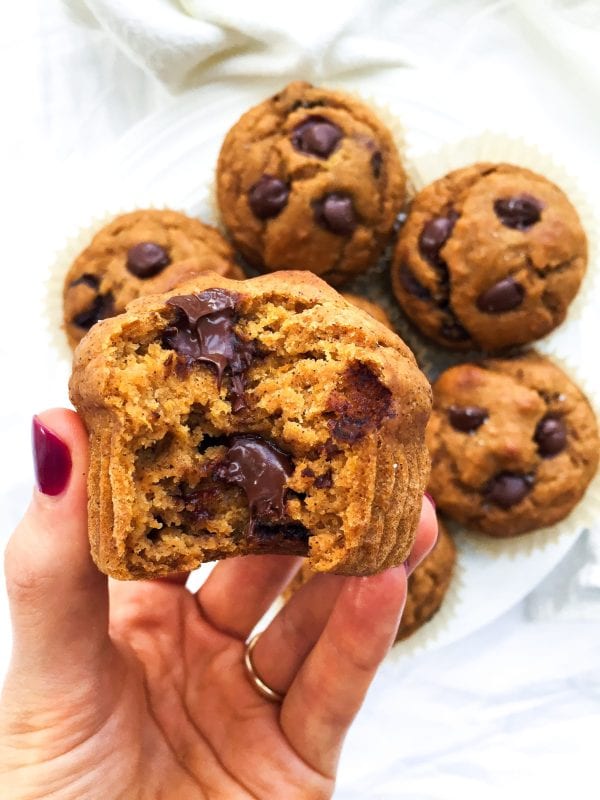 Chocolate chip sweet potato muffins are on repeat in our house and for good reason! Roasted sweet potatoes pack delicious flavor plus lots of health benefits. These loaded muffins are perfect for breakfast, snacking or a healthy dessert!
Let's not forget about the year-round MVP root veggie… sweet potatoes! We've seen them made into loaded nachos, toasts with all kinds of toppings, stews, chilis, fried and stuffed with all the goods… so why not bake them into something sweet?
Growing up my family NEVER ate sweet potatoes. It actually wasn't until college that I learned how amazing they are. Even then I was mostly just eating them in fried form… but my life was forever changed.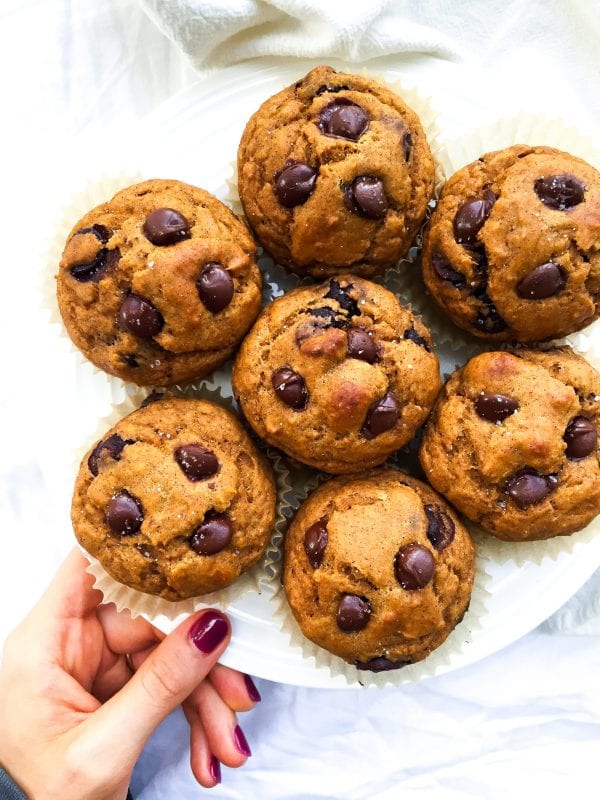 There's so much debate on instagram on whether you're team sweet or team savory when it comes to breakfast, and I'm a sweets gal 100%!
Before making these muffins, you'll need to roast up some sweet potatoes in the oven. Roast 4 medium sized sweet potatoes at 375 degrees F for 45 mins. First, you'll need to poke holes in sweet potatoes with a fork and place them on a baking sheet. Allow them to cool for 10 minutes then remove skin and mash out exactly 1 ½ cups of the sweet potato!
I have only tried this recipe with sweet potatoes, but I'm fairly confident you could sub for pumpkin and possibly banana. The banana mash would be much sweeter that the sweet potato mash so you may want to reduce some of the sugar if you go that route!
I love eating these chocolate chip muffins fresh out of the oven with some almond milk or warmed up in the microwave the next day. You can also freeze them to have on hand! I love freezing my baked goods and chopping them up on some ice cream. Like I said… I'm all about my sweet treats!
Click here for the recipe.
Elizabeth Yontz
I am a twenty-something food + healthy lifestyle blogger learning to navigate the real world. I recently graduated from Samford University and proudly call Birmingham, AL home. In my spare time, you'll most likely find me daydreaming as I scroll through instagram + various blogs, creating something in the kitchen, or exploring the outdoors (camera in hand of course). Got questions? I'd love to chat! elizabethyontz@gmail.com