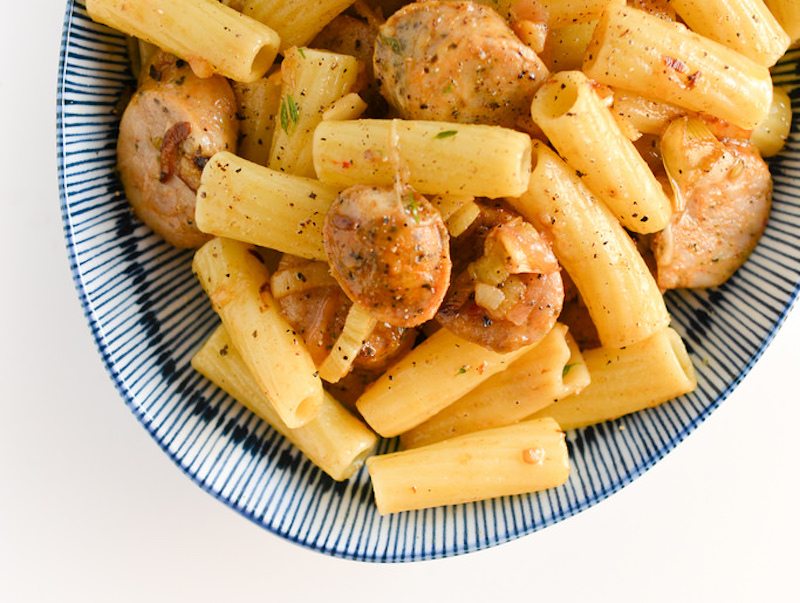 This simple, hearty meal is bursting with flavor caramelized fennel and Italian sausage. Any one else think pasta is their #1 comfort food?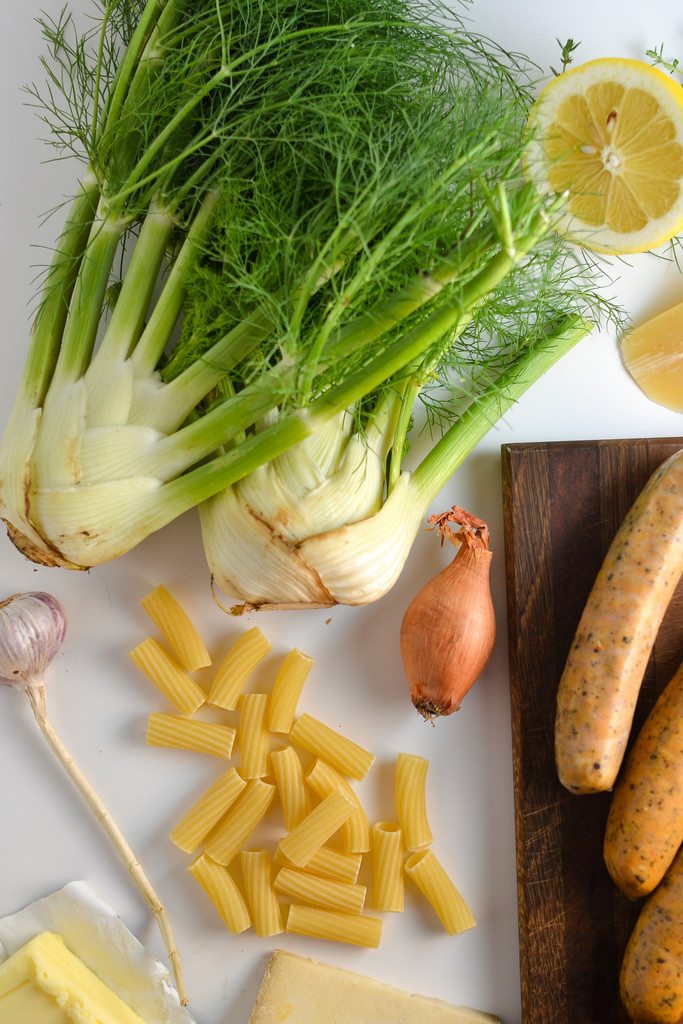 It's always the loose ends recipes that turn out to be gems.
The ones where you're just trying to use up the last of what's in the fridge—in my case, before a six day vacation—and you stumble across something that's worth writing down and repeating. This was most definitely one of those.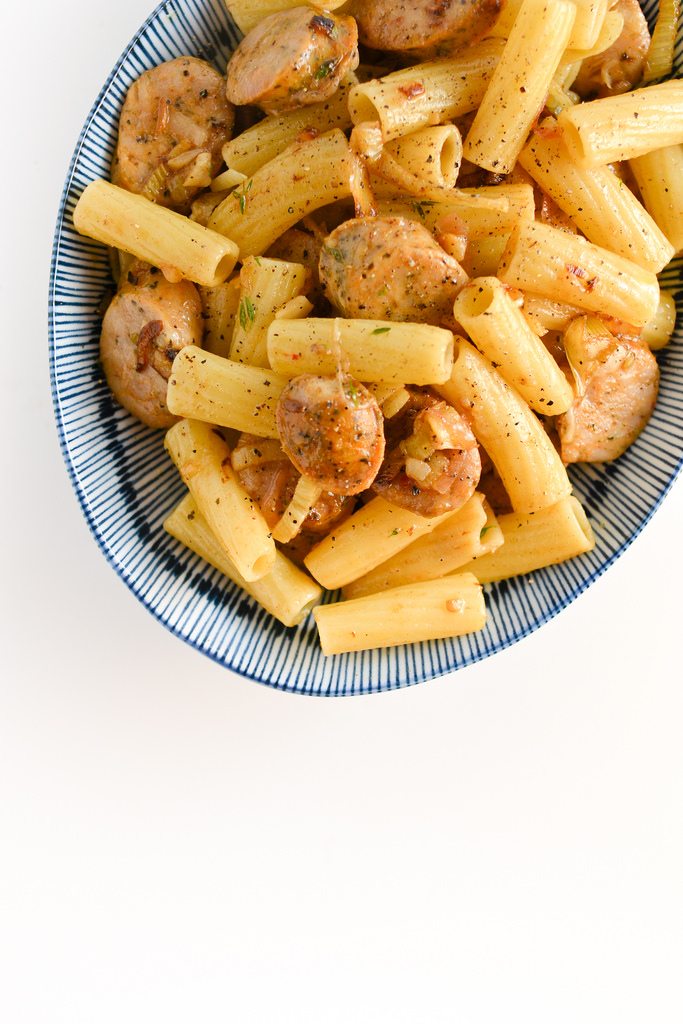 We had two weeks worth of fennel left over from the CSA. We had scraps of Parmesan and half a lemon. And there were some lonely shallots and garlic cloves at the bottom of the basket. I opted for sausages and pasta, because it seemed like the right way to pull it all together.
In the last couple of years, fennel has become one of my favorite ingredients. I love it raw, I love it grilled, I love it roasted, I love it thrown into soups. But true happiness comes when fennel is caramelized in butter. And adding just a little bit of the pasta water to the pan makes this silky, beautiful, flavorful sauce that doesn't even need much else.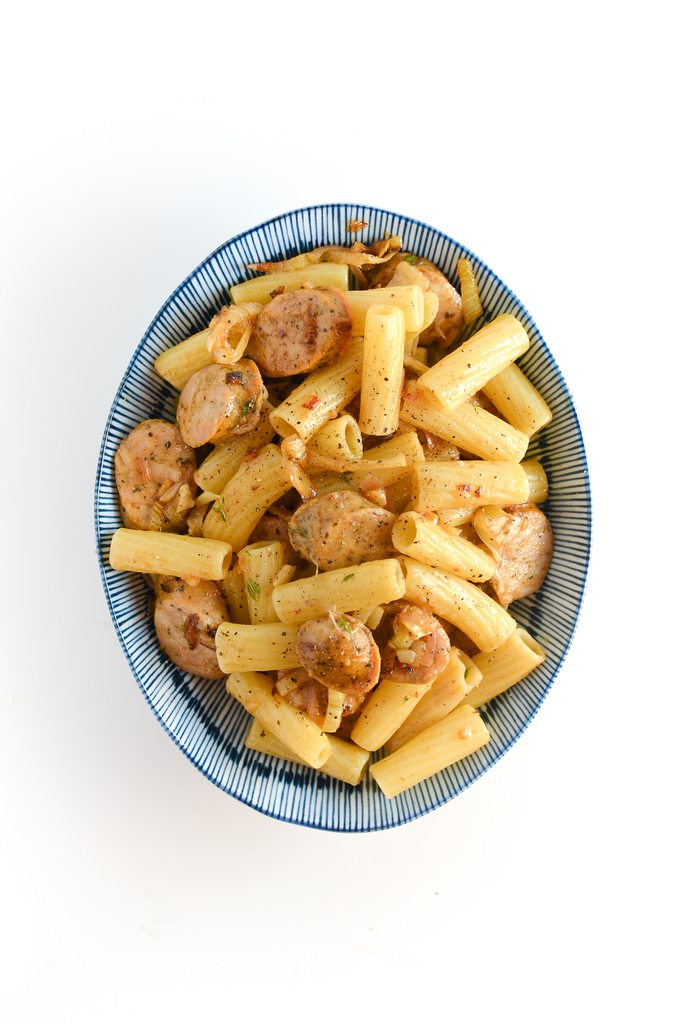 It's a perfect addition to my fall line up of recipes to play on repeat.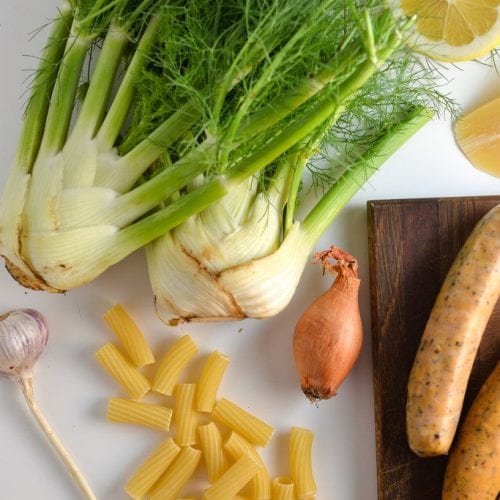 Sausage and Fennel Pasta
Vicky Cassidy
This simple, hearty meal is bursting with flavor caramelized fennel and Italian sausage. Any one else think pasta is their #1 comfort food?
Ingredients
16

ounces

rigatoni

1

tablespoon

olive oil

4

Italian sausages

4

tablespoons

butter

2

medium sized fennel bulbs

trimmed, cored, and thinly sliced

½

teaspoon

Kosher salt

1

medium shallot

minced

4

garlic cloves

minced

2

tablespoons

lemon juice

2

tablespoons

white wine vinegar

1/4

cup

Parmesan cheese

grated

½

teaspoon

fresh thyme

Freshly ground black pepper
Instructions
Bring a large pot of salted water to boil. Add rigatoni and cook until al dente. Drain, reserving about ½-3/4 cup cooking liquid. Set aside.

Meanwhile, in a heavy bottomed saucepan, heat olive oil over medium high heat. Add sausage and cook until outside browns and inside is done, about 6-10 minutes. Transfer to cutting board. Once slightly cooled, slice into ½-1 inch pieces on the diagonal.

Turn heat down a bit and add butter. Once butter has melted, stir in fennel and salt. Cook for 8-10 minutes, stirring frequently, until the fennel starts to brown. Add in shallot and garlic and cook for 1 minute. Next, stir in lemon juice and white wine vinegar, reduce heat to low, and simmer for about 1-2 minutes.

Turn up the heat to medium high and add sliced sausage back into saucepan. Add in pasta, a ¼ cup of reserved pasta water, Parmesan cheese, and thyme. Stir well to make sure everything is nicely coated. If pasta looks too dry, add an additional ¼ cup pasta water and continue to stir and cook. Adjust salt to taste and top with freshly ground black pepper before serving.
Vicky Cassidy
Vicky Cassidy can usually be found in her Madison, WI kitchen with cumin or paprika in her hair and olive oil smudges on her camera. She is a self-taught cook and the occasional baker, and she loves oversharing stories about her kitchen and life on Things I Made Today.