Spruce up your usual egg breakfast sandwich and add some greens, pesto and smoked salmon.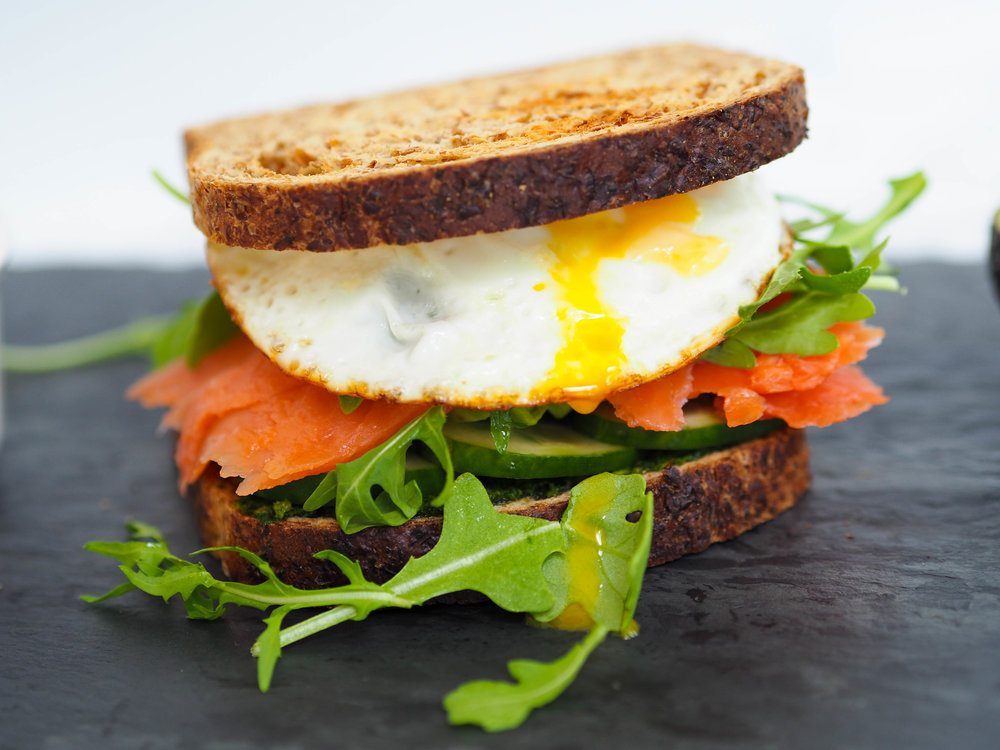 This smoked salmon, avocado and pesto breakfast sandwich, piled high with arugula, crisp cucumbers and topped off with a runny fried egg, is worth waking up early (or being late to work!) for.
I am not a morning person. I used to be a morning person, up every morning before my alarm went off. I would take the dogs for a long walk and sometimes even fit in a workout. Yes, there was a time when I actually straightened my hair to go to work!
But about a year ago, some sort of internal clock must have flipped. Since then, I can barely drag myself out of bed. I've picked up the habit of repeatedly hitting the snooze button, a morning practice I used to constantly nag my husband about. I literally have to be my own personal cheerleading squad to get out from under those covers. (Future Rachael here – I'm preeetty sure this was because I was absolutely miserable in my job. Ahhh, if only I could go back and time to tell 2013 me that it will get better – and that I should quit my job and go into private practice immediately!)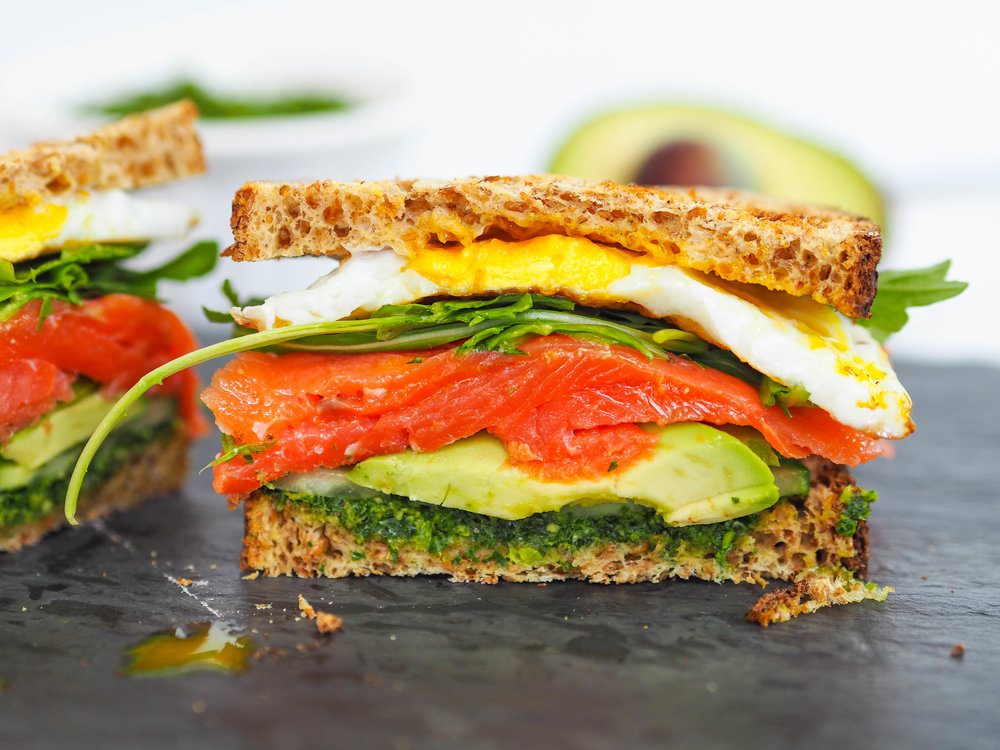 I know intermittent fasting is all the rage right now, but I'm generally not a big fan. There's just waaaay too much research showing the benefits of eating breakfast, and even studies showing an increased risk of chronic disease associated with skipping breakfast regularly.
Most importantly though, I've learned that skipping breakfast –> crabby Rachael. I see this with my clients too, who notice a poor mood and lower energy on days they miss breakfast. Plus, there's something to be said about starting the day off with a simple act of self care in eating a nourishing and tasty breakfast, like this BOMB smoked salmon, avocado and pesto breakfast sandwich.
My favorite breakfast foods always involve smoked salmon. Smoked salmon frittata…smoked salmon omelette….smoked salmon over those yummy little frozen potato pancakes from Trader Joe's. Basically, if I see smoked salmon on a menu, my food decision is made.
See Also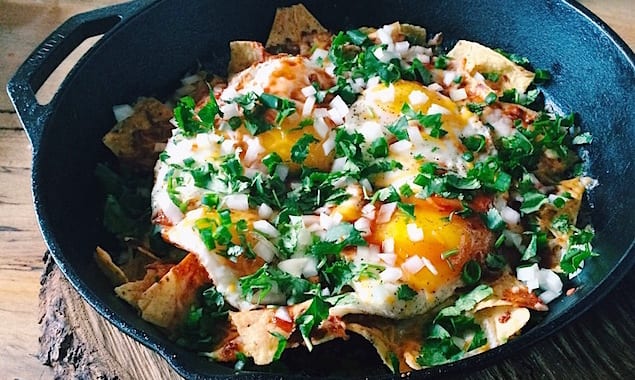 This epic smoked salmon, avocado and pesto breakfast sandwich is packed with tons of flavors and texture. To make it, layer bread spread with pesto with smoked salmon, thinly sliced cucumbers, creamy avocado, peppery arugula and top off with an egg fried so the yolk is still a little runny. I used a kale pesto I had hanging around the house, but any store bought is perfectly fine (and much easier!). I just like to make pesto with any greens that have been hanging around a bit too long so I don't have to throw them away.
To save time in the morning, you could always make this with sliced hard boiled eggs so you just have to assemble.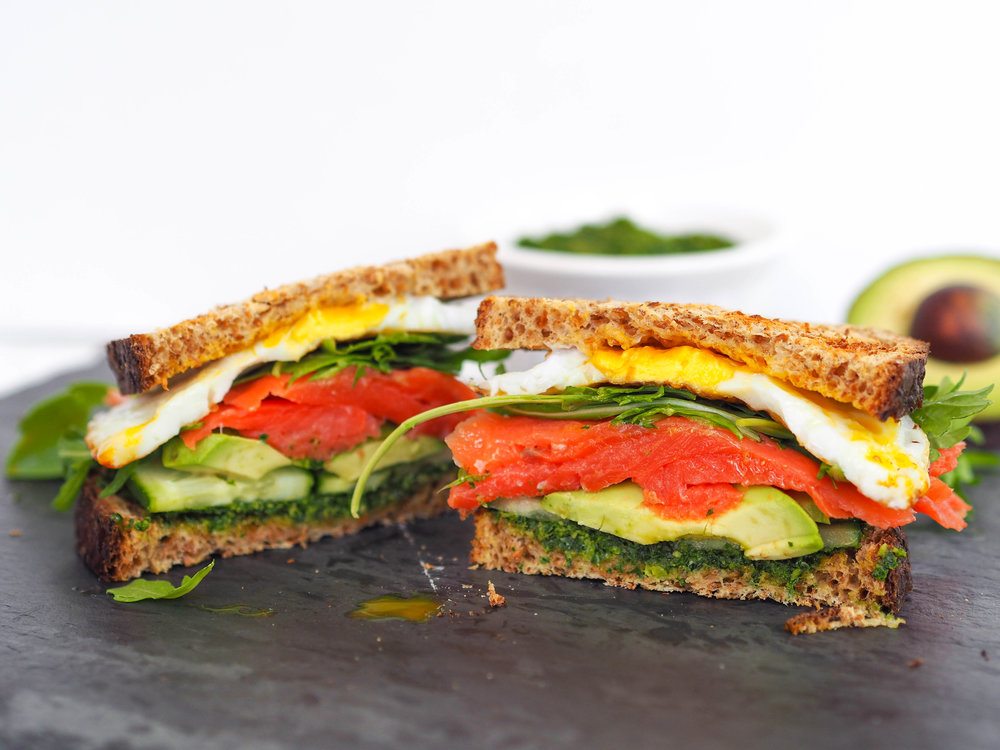 Print

Salmon and Pesto Breakfast Sandwich
---
Description
Spruce up your usual egg breakfast sandwich and add some greens, pesto and smoked salmon.
---
2

slices bread (toasted to your liking)

1 tablespoons

pesto
Thin slices of cucumber

1/4

–

1/2

an avocado (depending on size of avo, halved, pitted, peeled and thinly sliced)
Fresh lemon juice
A few slices of smoked salmon

1

fried egg (yolks slightly runny, sprinkled with salt and black pepper)
Handful of arugula
---
Instructions
Spread one slice of bread with pesto.
Top with cucumber slices, then avocado. Spritz with a bit of fresh lemon juice and sprinkle with sea salt and black pepper. Layer the smoked salmon on top of the avocado, then the arugula. Top with the fried egg then the other slice of bread. Press down slightly, letting the yolk ooze a bit, then cut in half and enjoy.
Notes
Recipe adapted from Avocado Pesto.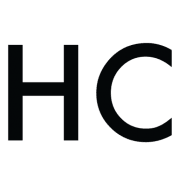 Rachael Hartley
Hi there! I'm Rachael Hartley, a dietitian, food blogger, whole food lover and avocado enthusiast. My mission is to help you rediscover the joy of eating. I believe living a healthy, fulfilled life should be fun, simple and most of all, delicious!