If you love crispy French fries with dip, you will love these crispy halloumi fries served with a sour cream and sweet chili sauce.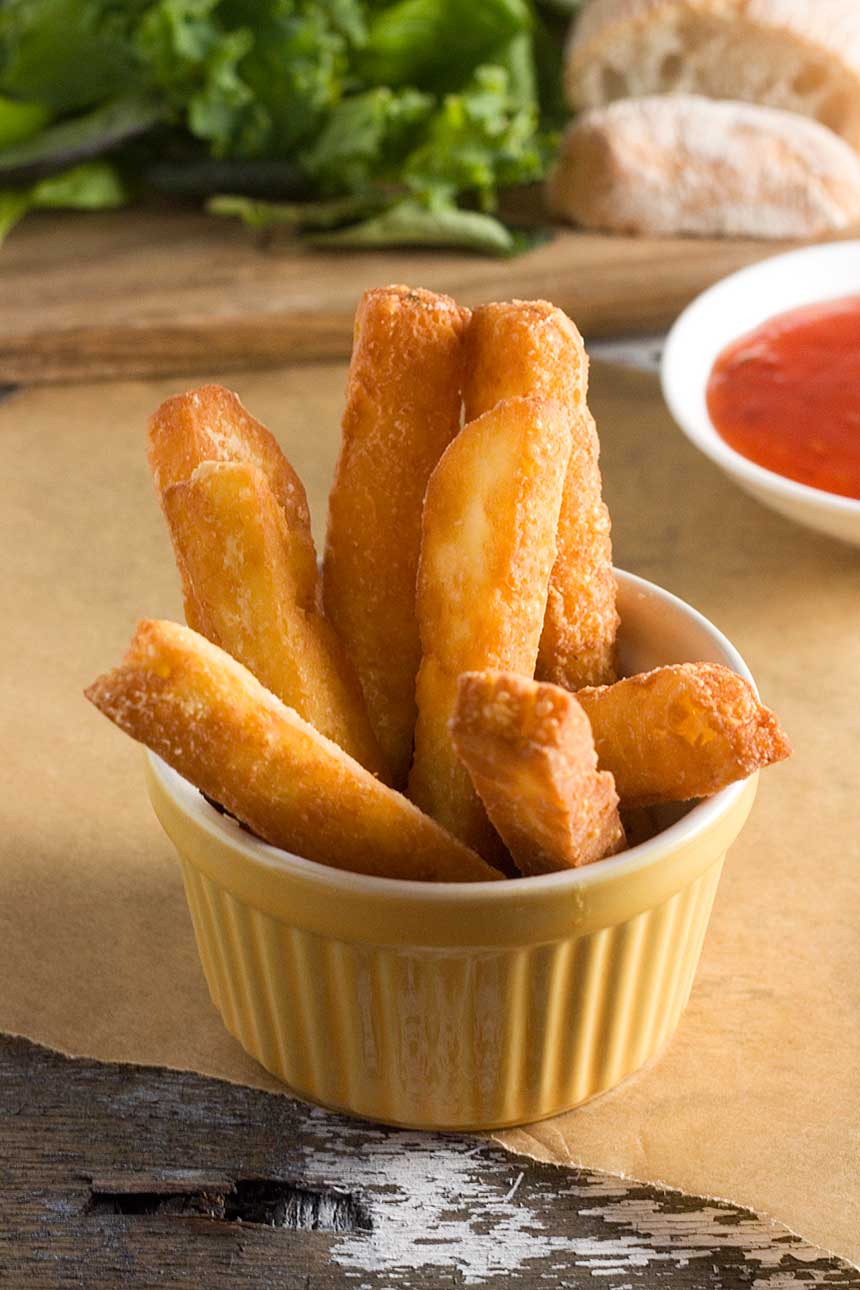 I've told you before about mine and Mr. Scrummy's very unhealthy addiction to fried potato wedges with sour cream and sweet chili sauce when we were living in Australia. We would go for a longish Saturday morning run, then somehow find ourselves perched on outdoor barstools stuffing our faces and ooh-ing and ah-ing over the deliciousness of the moment. We just might also have moaned a bit (oh OK then, a lot) about the paltry portions of sauce, and about having to pay if we wanted more. Cheapskates.
I still dream about these moments, but alas, potato wedges at the pub aren't such an institution here in the UK. I would make them at home but they're just not the same if they aren't fried to a deep crisp in a deep fat fryer.
I've posted halloumi recipes here before, but just in case you're not familiar with it, it's a Cypriot cheese traditionally made out of sheep's milk – but now often made out of cow's milk. It's one of those cheeses that doesn't melt when it's cooked, which makes it perfect for frying to a lovely crisp.
This cheese is widely available here in the UK, and I really hope it is where you are so you can try these amazing 'posh fries'. If you can't see it in your regular supermarket, try a Mediterranean or even Middle Eastern deli. It's really worth trying to track down, but if you just can't find it/can't be bothered to run all over town looking for it, try the Latin American 'queso para freir' (cheese you can fry!) instead.
You know that I don't make anything complicated here, but these crispy halloumi fries have got to be one of the easiest recipes of all. Literally all you do is cut the 'log' of halloumi into fry shapes, roll them in flour and fry them in a little bit of oil. After a mere few minutes, you've got yourself a nice little stack of gorgeous crunchy, salty, cheesy fries.
See Also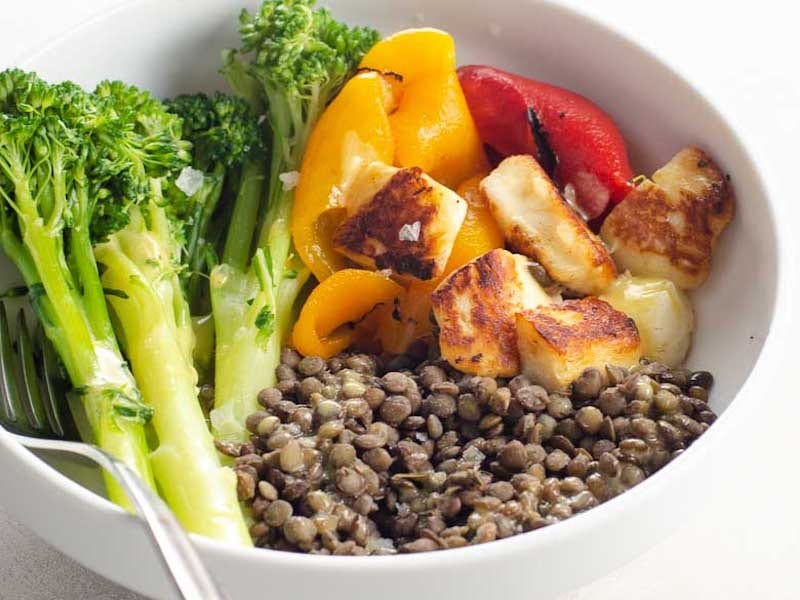 These are definitely best when piping hot, so don't delay with your dipping. Use your cheesy fries to generously scoop up sour cream (or healthier Greek yoghurt) and sweet chili sauce … and enjoy!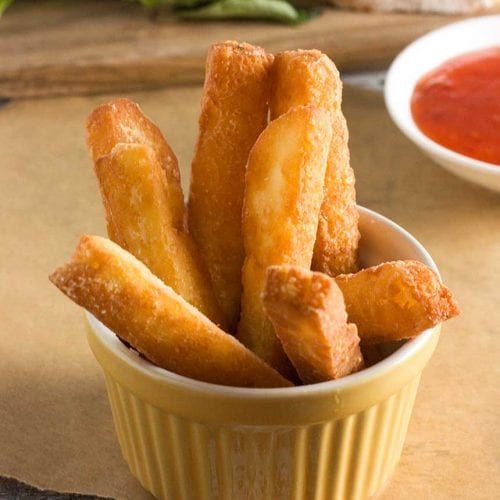 Halloumi Fries
Helen Buxton
If you love crispy French fries with dip, you will love these crispy halloumi fries served with a sour cream and sweet chili sauce.
Ingredients
For the 'fries'
1

'log' of halloumi cheese*

1

tablespoon

flour

vegetable oil for frying

enough to fill a medium saucepan to a depth of about half an inch
For the dip
separate bowls of sour cream

or Greek yoghurt – I prefer this and sweet chili sauce
Instructions
Cut the halloumi cheese into roughly equal sized 'fries' (mine were about 1.5cm in thickness).

Roll the 'fries' in the flour.

Heat up the oil in a medium saucepan until the end of the 'fry' dipped into it sizzles. Then, carefully lower the fries into the oil. Fry for a couple of minutes on each side or until golden and crunchy-looking (you might have to do this in 2 or more batches).

Remove carefully from the oil with a fork and serve immediately with the sour cream and sweet chili sauce.
Notes
Recipe inspired by 'halloumi fries' by Oli Baba's posted in the Sunday Times.
*If halloumi is tricky to find where you are, you could use Latin American 'queso para freir' instead if you like. Or any hard cheese that you know doesn't melt easily when heated.
Helen Buxton
Hi, I'm Helen. I'm originally from the UK but currently live between the UK, Greece and Australia with my husband (it's a long story!) We'll get settled eventually! I love nothing better than to travel the world … and sample the local street food. I absolutely love (attempting to!) put together flavours and fresh ingredients from all over the world – just so long as the recipes are easy peasy to make!