The Portuguese prodigy of Michelin-awarded seafood mecca Vistas in Algarve, Rui Silvestre, moves into The Japanese Tower of magical Tivoli Gardens in the heart of Copenhagen. He does so with a 6-week pop up from November 19th to January 1st that will showcase spectacular Portuguese seafood mixed Indian spice and African legacy.
Deep down in the non-touristic countryside part of the southernmost region of Portugal, you find 1*Michelin Vistas by Rui Silvestre: a sparkling and yet still hidden gem serving powerful creations of the freshest seafood imaginable in a resort with jaw-dropping views of the Gulf of Cádiz, just before the North Atlantic Ocean becomes the Mediterranean Sea.
Vistas by Rui Silvestre is a hidden gem. A fine dining experience with two tasting menus that guests can enjoy in a grand dining room, a romantic terrace or a newly renovated chef's table right in front of their open kitchen. A restaurant with an explosive culinary offer, camouflaged between luxury villas and golf courses where young chef Rui Silvestre has created a Michelin star worthy personal style centered on balance, amazing and incredibly fresh seafood, childhood memories, Portuguese flavors and an extra punch of Indian and African influences, a part of his family legacy.
That legacy is what makes his menus so refreshing. The spices, the spiciness, the colors. They go beyond the typical Mediterranean or European fine dining experience and that's what makes Vistas one of Portugal's (and perhaps one Europe's) best kept secrets. An example being the Carabinero Curry with puffed rice.
"The Carabinero comes from a curry dish that we always used to make for our family meetings. Of course my dish at Vistas is a very refined version of that and we didn't prepare it with such expensive ingredients back then. But it has the same soul. We used to do it with shrimp or chicken. That's why the team always explains that this dish is very emotional for me because curry was our family dish. My grandmother was from India and I used to help her when she made it", says Silvestre.
His extraordinary work is making noise within the culinary world and earning him opportunities to showcase his flavors. The latest one is a pop-up in one of the most important culinary capitals of the world, Copenhagen. From November 19th until January 1st, Rui and his team from Algarve will take over the Japanese Tower in the historic Tivoli Gardens for a Christmas residency that promises to bring some heat to this Danish Christmas.

Click here for more info about the Copenhagen 6-weeks pop-up and how to reserve.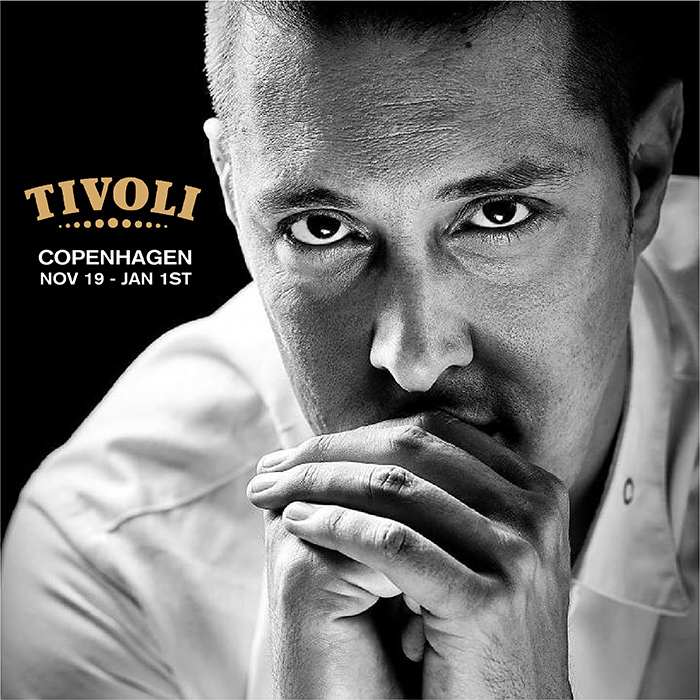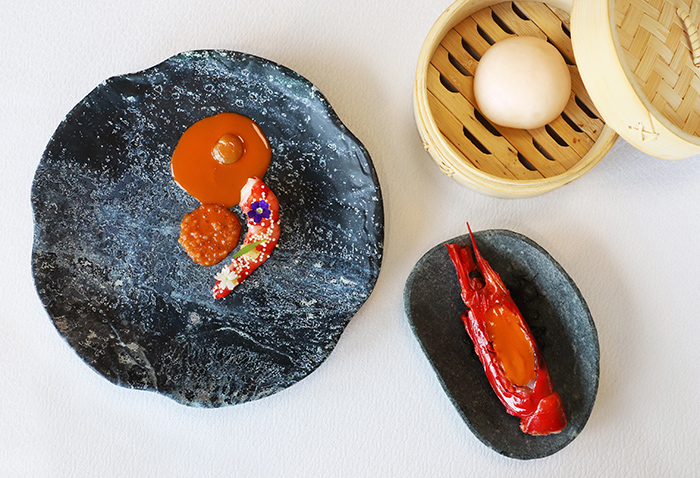 Young Rui Silvestre
Food has always been a fundamental part of Rui Silvestre's life. He was born in the north of the country, but has been living in the Algarve since he was 10 years old, where he grew up with a lot of close influences from cooks in his family and started helping in the kitchen at a very young age. Family and food, those are the two aspects that shaped who he is today and helped him achieve his goal of becoming a fine dining chef.
"Food was always very very important in my life. I grew up with a lot of close influences from cooks in my family. My grandmother was a chef in France and my grandmother was also a great cook. When I was 16 years old I got my first experience in a professional kitchen. I was spending my summer with friends and there was a big wedding in the hotel where we were staying, and I ended up helping in the kitchen. Right from that experience I fell in love. The concentration, the pressure, the heat of the kitchen. It was amazing." Explains Rui.
After going to culinary school and working in Portugal for a year, he worked at French and Swiss top restaurants for close to a decade. Learning, absorbing and understanding the world of fine dining in places like the three Michelin-starred restaurant Le Castellet of Christophe Bacquié. The return to his country and his roots was the time when he took every opportunity and learning experience he had and turned it into his own style. At 29, Rui Silvestre got his first Michelin star as the youngest chef in Portuguese history and then he joined the Vistas-project as the leader in 2018, where he also received a Michelin star within a year.
See Also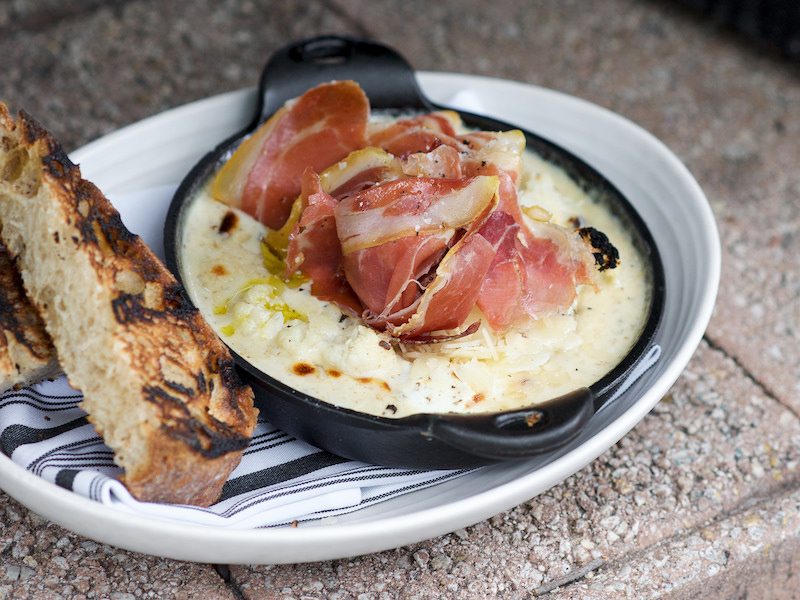 "Since I started to work on my own projects in Portugal I knew that I wanted to focus on seafood and that I wanted to combine my Portuguese, Indian and African heritage. But in the beginning I was afraid to use spices and strong flavors. It's been through maturity, time, work and through getting inspired by experiencing and getting the opportunity to try amazing three-Michelin starred chefs like Dabiz Muñoz's food, that I lost that fear and decided to follow my instinct. That is true inspiration, not copying what he does, just losing my fear after seeing that you can be risky and succeed", Rui Silvestre explains.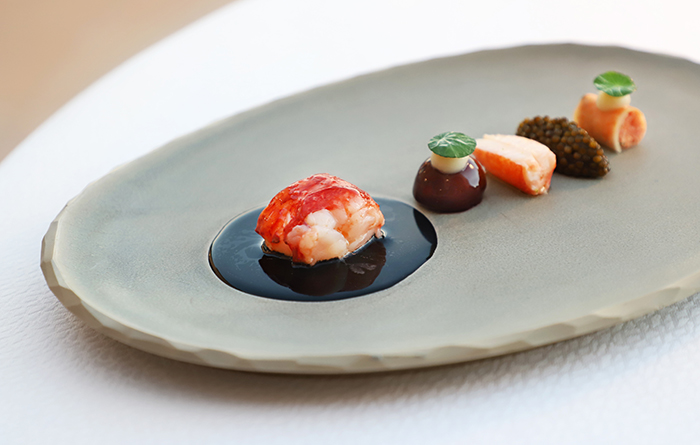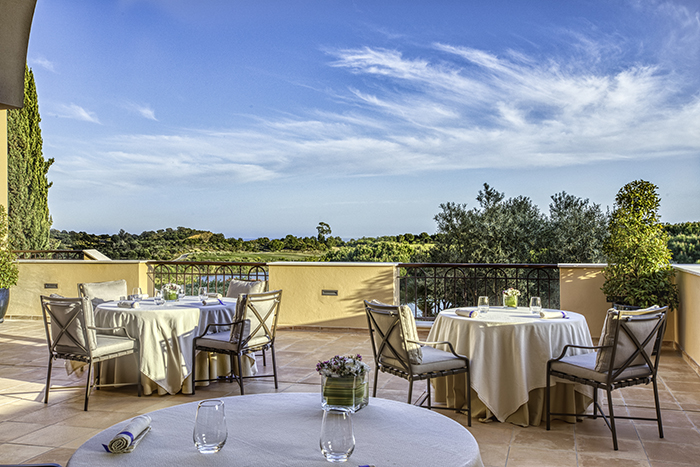 The Creative Process
Every chef has a different way of expressing himself and ultimately, that's what differentiates fine dining restaurants from the rest, and most of the time also from each other. Those experiences, those menus and dishes, are all the result of very personal and unique approaches to food and gastronomy. In Rui's case, the creative process is not a specific formula and he even describes it as a mess while he laughs. Usually he turns to the produce to start with the process (considering seasonality, of course) and then he thinks about the way he loves to eat those produce. He'll organically come up with flavors from his memory to enhance it and test every cooking method in the way to a perfect dish.
"What we do at Vistas is a personal approach to food. It is a melting pot between ingredients from the south of Portugal but with my family's influence. With the ocean promenade menu you can understand a lot about our countries culture but you can also discover a lot about me and my family, and I think that's important. To me that's what fine dining is about – a refined, personal approach to food", says Rui Silvestre.
Other amazing moments of his current menus that demonstrate his personal style and are perfect examples of the work he's doing in Vistas are the snacks. Starting with a trio that shows you his love for seafood: oyster from ria formosa, beetroot and orange stone crab and john dory mussel curry and oscietra caviar followed by a second trio that makes your location very clear. Canja de muxama, the dried and salted part of the tuna, served with red peppers and tomato water. The second bite of the trio is a roasted fish reminiscent of the typical sardines from Portugal and the third is a cockle rissol with seaweed.
Vistas Rui Silvestre – 8901-907 Vila Nova de Cacela, Algarve, www.vistasruisilvestre.com