Malibu Farm, the California-inspired restaurant, helps make the historic NYC maritime neighborhood a destination for sustainable eating.
Perched at Pier 17, against one of Manhattan's most impressive views, the first NYC outpost of Malibu Farm serves vegetable-centric, California-influenced food with an emphasis on local and organic ingredients in a 6,000-square-foot space. The menu channels the golden state with organic produce, grass-fed beef, and local fish in dishes like spaghetti squash lasagna, chikamole, and a smashed bacon burger. Similarly, drinks emphasize freshness with natural juices and organic sweeteners like agave and honey. Crafted cocktails feature shaken raspberry fizz and a classic margarita. While non-boozy beverages include mocktails, wellness shots, and juices.
Plant-Based Dishes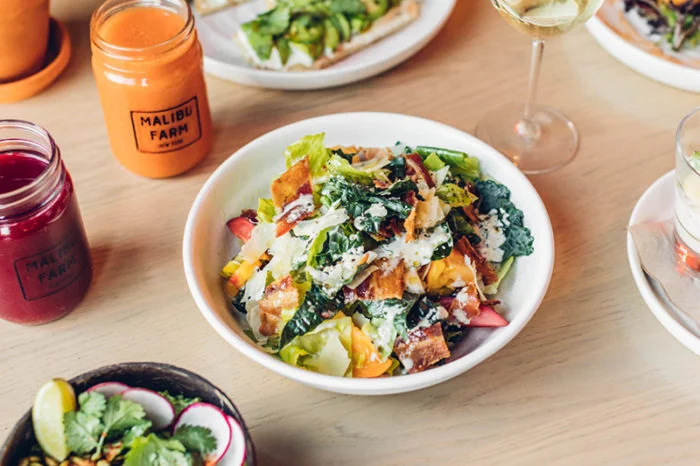 Since Malibu Farm's philosophy around sustainability and simple cooking is well known, it wasn't surprising to see most of the menu flooded with vegetables. And this is a good thing, unless you live under a rock, you are well aware the world is in a climate crisis. Such that sustainable eating, including eating more plant-based meals, is one tiny step we can take to help address the global issue. When restaurants like Malibu Farm center around such principles, it is easier for the rest of us to jump on board, especially when the dishes are incredibly delicious. Now, these vegetables aren't the bland broccoli you were once forced to eat when you were little. They are vibrant and taste equally good as the indulgent foods we love. A cilantro-lime dressing brightens up the romaine wedge salad. A creamy spinach bechamel proves meat is optional to make a great lasagna. And guacamole adds green chickpeas for a heartier starter. Undoubtedly these dishes can sway non-vegetable eaters into thinking vegetables are extraordinary.  
Sustainable Land And Sea Dishes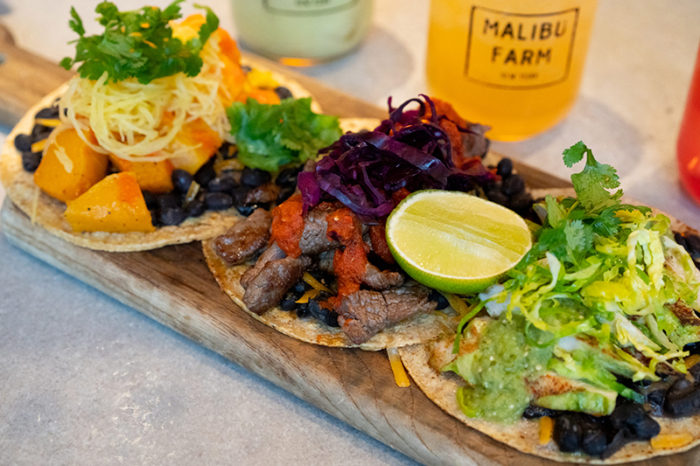 Malibu Farm's sustainable cooking and eating approach also extends to its land and sea dishes. They aim to preserve the treasures from the sea, making portions and working hard to offer sustainable seafood. The same goes for land treasures like chicken and pork. The seafood selections include sesame-crusted Faroe island salmon and sea bass fish tacos. Whereas meat options include a 10 oz grilled ribeye, a pan-seared chicken, and a smashed-style bacon burger. 
Natural Sweets Made Sweeter.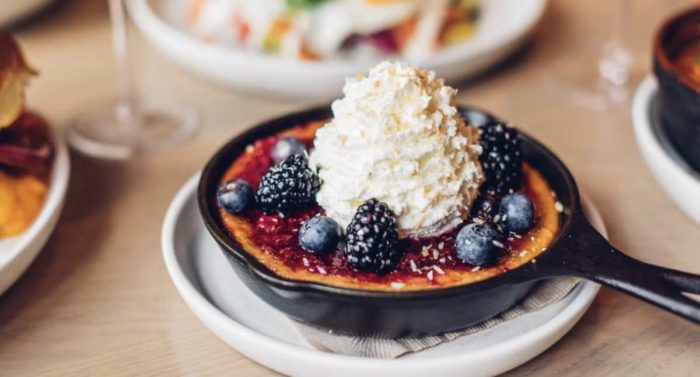 For desserts, like the rest of the menu, the options celebrates seasonal ingredients. And for the fall season those options highlight apples and pumpkins. Apples are peeled and baked to make a crumb pie. Meanwhile pumpkins are whole-roasted and paired with a coconut froyo. 
Founded by Chef and Author Helene Henderson, Malibu Farm is a farm-to-table restaurant with locations around the world. Helene, a native of Sweden, migrated to New York after high school and yearned for a place where she could blend in. After one year in the Big Apple, Helene moved to California, where her career in food kicked off. It began with hosting a dinner party with a friend; then, friends of friends started asking her to cook for them. In 2013, she opened the first Malibu Farm. After its success, Malibu Farm's locations extend beyond California to Hawaii, Miami, Tokyo, and NYC. 
89 South St, New York, NY 10038