Get cozy with roasted sweet potatoes made extra special with a sprinkle of everything seasoning. Simple to make, sure to become a favorite.
I feel like this is the time when spring starts to creep into my mind. I listen for birds, search for a reason to go without socks, and squint to see if I can find any buds sprouting from the trees. I'm always too early with all of these things, but I try anyway. As 'blah' as things can get this time of year, I find that if I focus on putting nutrient rich foods in my body and sticking to a solid workout routine, everything rolls along a little more smoothly.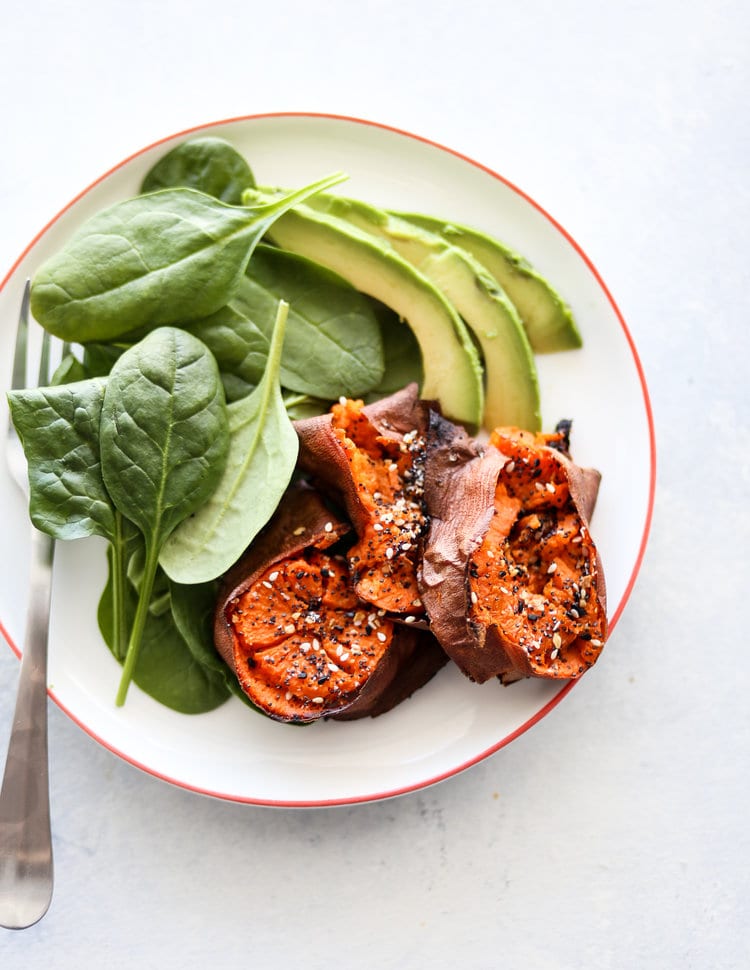 What do I mean by "nutrient rich foods"? I look for produce that is brightly colored and, ideally, filling. Color often equals flavor in food, but it can also mean nutrients. Sweet potatoes, for example, are filled with beta-carotene, which may help reduce the risk of cancer and heart disease. It also comes packed with vitamins A, C, B16. Helloooooo goodness!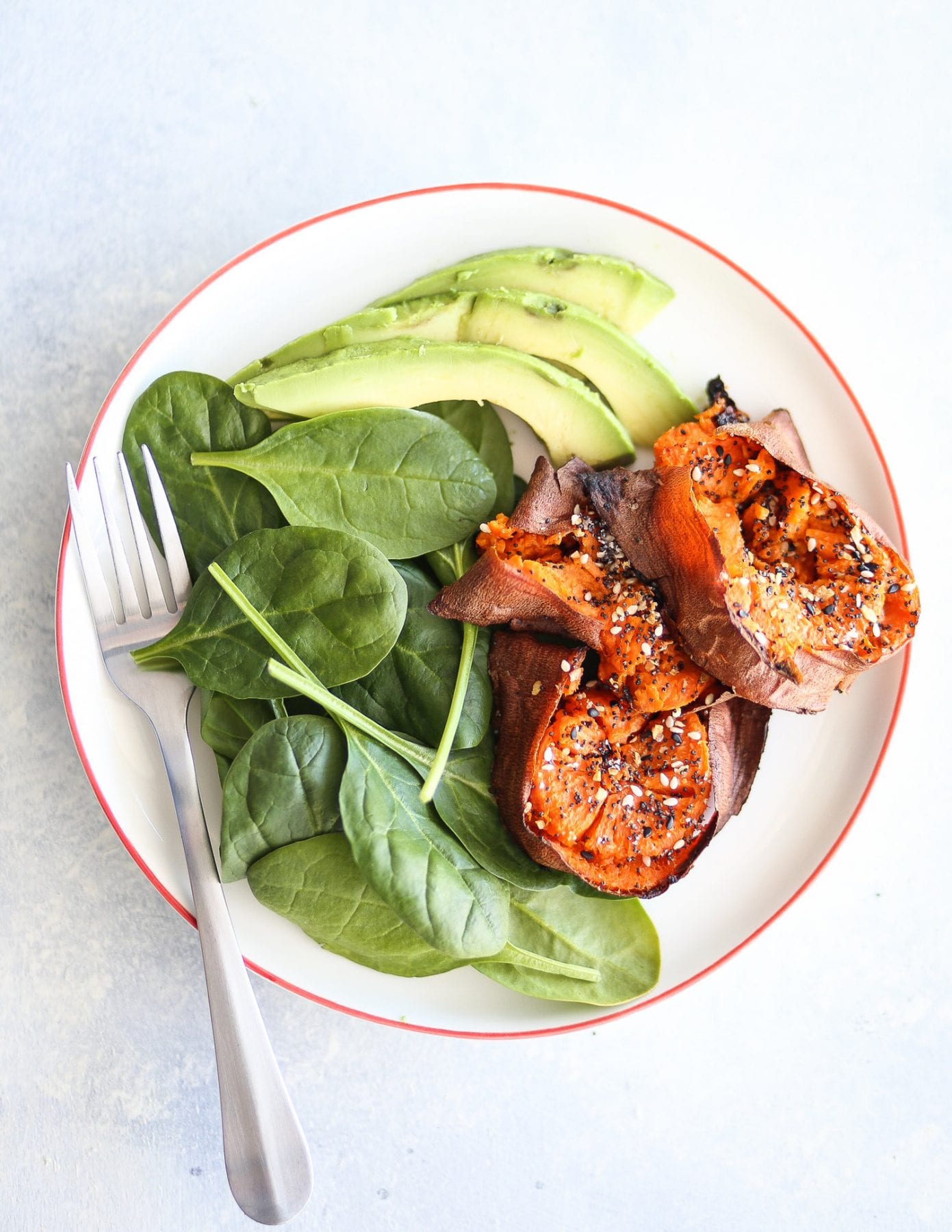 I often buy a bag of sweet potatoes at the beginning of the week and 'bake' them in my Instant Pot. That way, I have an easy and healthy grab-and-go food for breakfast, lunch, dinner, or even a hearty snack. My current favorite way to eat these right now? Smashed, roasted, and sprinkled with Everything But the Bagel seasoning from Trader Joe's.
Served next to a hefty handful of greens, a drizzle of olive oil and lemon juice, and a tall ice water, this is a perfect meal to get you through the doldrums of winter.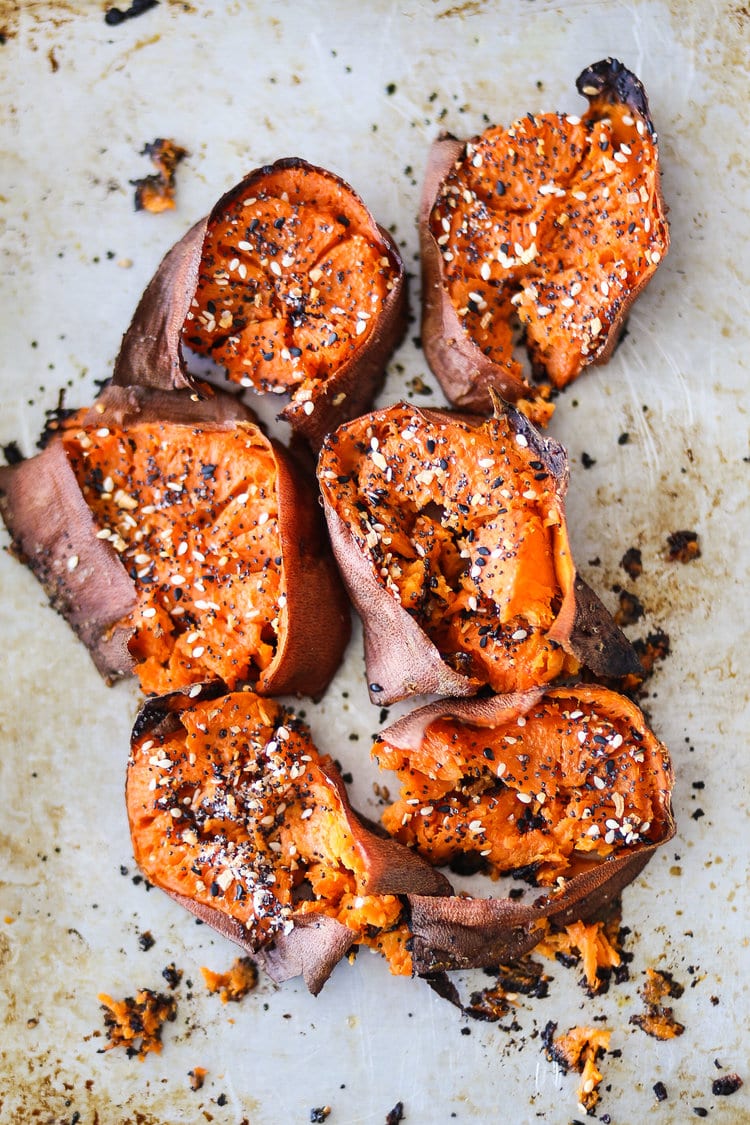 Print

Roasted Sweet Potatoes with Everything Seasoning
---
Description
Get cozy with roasted sweet potatoes made extra special with a sprinkle of everything seasoning. Simple to make, sure to become a favorite.
---
2-3 medium sweet potatoes*

olive oil

2

–

3

tablespoons Trader Joe's Everything But the Bagel Seasoning (or another similar seasoning mix)
Salt
Hot Sauce (options but not really)
---
Instructions
Preheat your oven to 425 degrees Fahrenheit. Bring a medium pot of salted water to a boil. Line a large rimmed baking sheet with parchment and set aside.
Wash and slice your sweet potatoes in 1 1/2 inch slices. Drop the slices in your boiling water and cook until very tender. Carefully drain the potatoes and lay them in a single layer on your parchment lined baking sheet.
Grease the bottom of a measuring cup or drinking glass with a bit of olive oil, then use it to smash each potato slice, being careful not to press all the way through to the parchment. Drizzle the potatoes with olive oil and roast for 15-20 minutes or until the potatoes are golden and crispy around the edges.
Sprinkle with Everything But the Bagel Seasoning and drizzle with hot sauce. Enjoy immediately!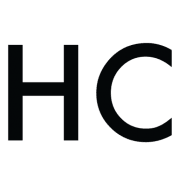 rachaelwhite
Rachael writes recipes for foods that are simple, comforting and delicious. Whether you are cooking for your family or having friends over for dinner and drinks, you'll find recipes here to fit any occasion. From cocktails to appetizers, desserts and entrees, the recipes you will find here incorporate Rachael's desire for Midwestern comfort food, love of International cuisine, and need for dishes that don't take hours to make.