These vegan muffins are loaded with roasted strawberries and figs and are made without refined sugar, so you can actually eat them for breakfast with coffee and not be on a crazy sugar high.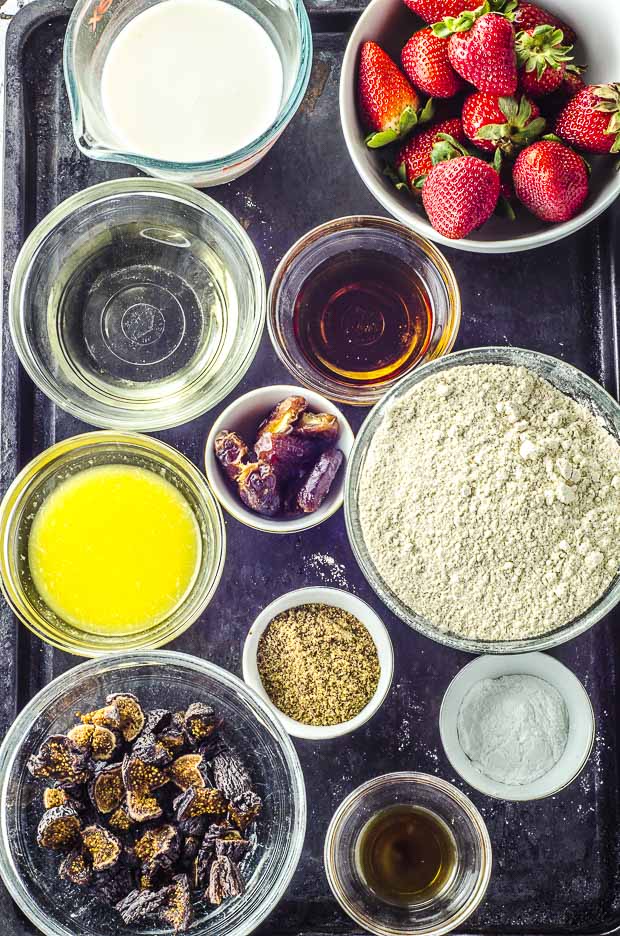 Most parents will probably agree with me when I say that getting your kids to eat healthy, is one of the most challenging things. Doesn't matter if the food tastes delicious, or if it's prepared using their favorite ingredients. If they hear the word "healthy" associated to a dish, that's the end of it. I don't know if that happens to you guys, but that's definitely my experience with my son.
After Passover, I decided it was time for everyone in the house to get "back on track". So we all started a "sugar detox". Meaning, no refined sugar, candy or junk food. Well, everyone, except for my 17 year old son of course. No way that was gonna happen. I mean, a 17 year old kid who is growing like a weed and has the appetite of 4 grown men, is definitely not going to follow any kind of detox, diet, or anything that might restrict his caloric intake.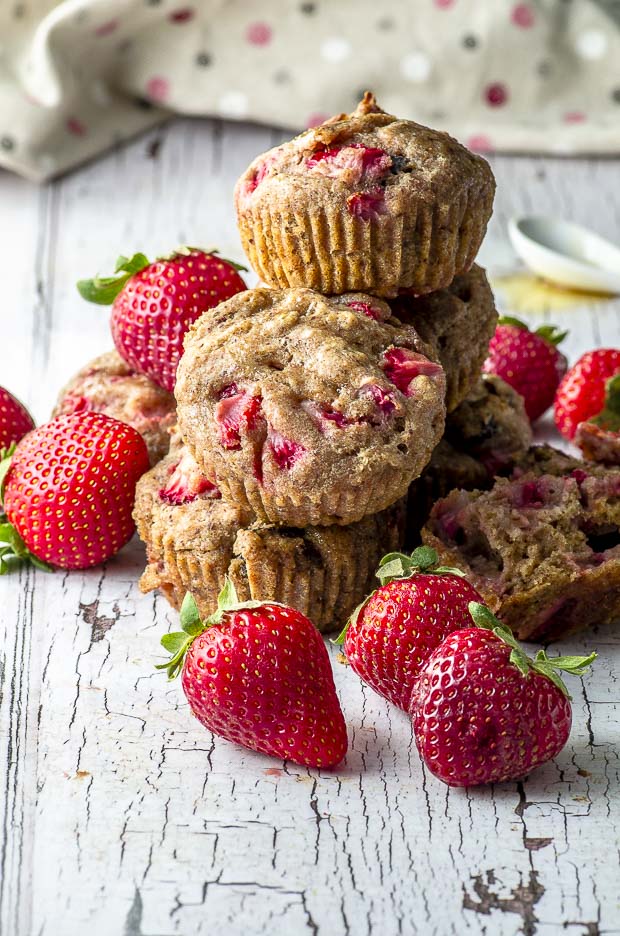 We've all been doing pretty good, but my poor son is constantly "analyzing" everything I give him: "Is this healthy?" , "Is this one of your sugar free things?", "Does it have chia seeds in it???". And ok, I get it, "clean" food isn't always the tastiest in the eyes of a kid, but it absolutely can be! If I could just get him to try…
So yesterday, while playing around in the kitchen, we came up with this muffin recipe. We tried to keep it as "clean" as possible, added just a little bit of maple syrup for sweetness, and lots of fresh and dried fruit. We were really happy with the results, so I decided to put them to the test: took a couple breakfast muffins with me when I went to pick up my son, so he could have them as an after school snack. After asking the usual questions, he agreed to try them… and what do you know? He loved them.
I can't even tell you how excited I was about it!! Now, I just need to keep experimenting and see what else can make him eat
See Also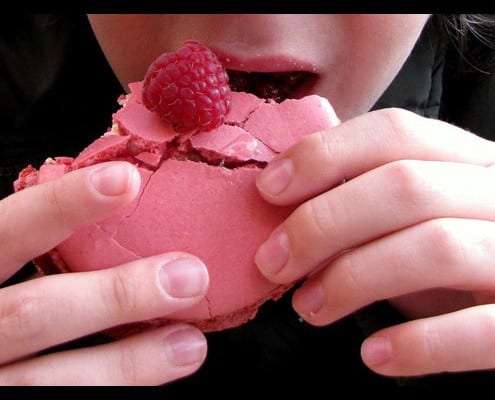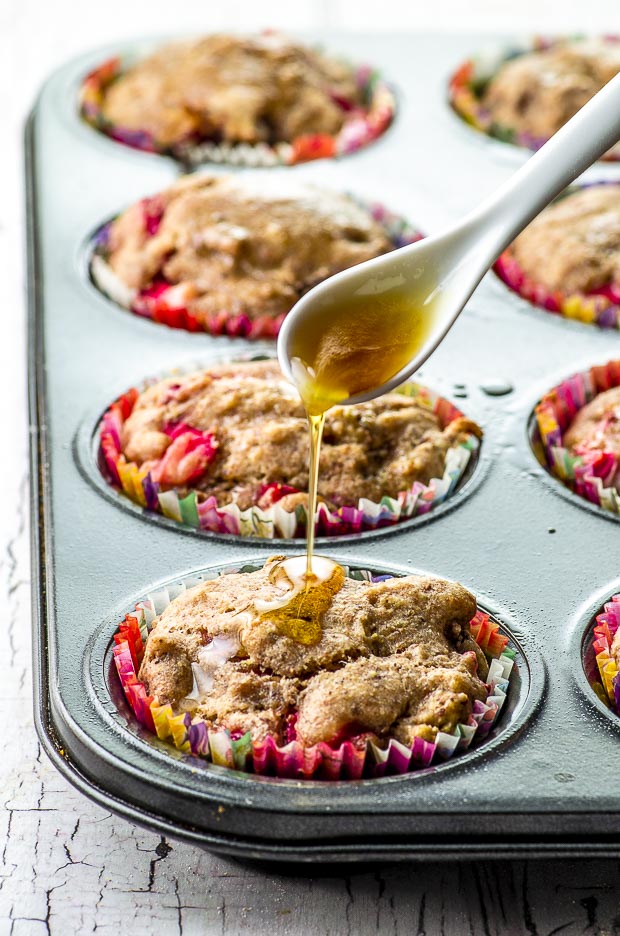 The batter fir these Roasted Strawberry Muffins with Figs, combined pan roasted strawberries and fresh strawberries.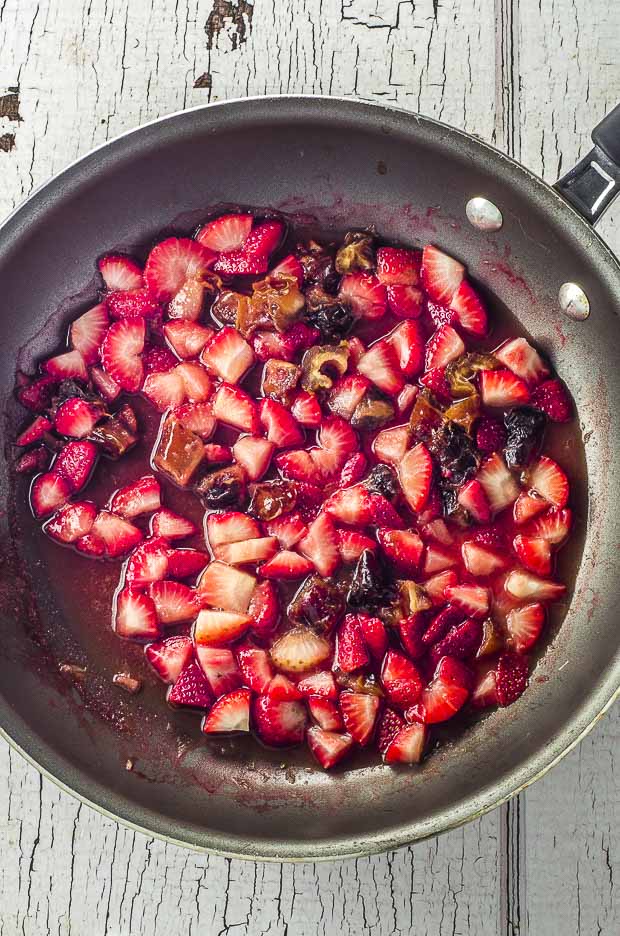 Print
Roasted Strawberry Muffins with Figs
Author:

Vicky Cohen and Ruth Fox

Prep Time:

15 minutes

Cook Time:

25 minutes

Total Time:

40 minutes

Yield:

12

muffins

1

x
Category:

Baking
15

medium size strawberries (diced (reserve

5

that will be added at the end))

4

large dates (pitted and chopped)

3 tbsp

orange juice

1 tsp

natural vanilla extract

2/3 cup

unsweetened almond milk (lukewarm, divided)

2 tbsp

ground flax seeds

2 tbsp

maple syrup

4 tbsp

coconut oil (melted)

1 1/2 cups

spelt flour

3 tsp

baking powder

1/8 tsp

salt

10

dried figs (chopped)
Maple syrup to drizzle on top (optional)
Instructions
Preheat the oven to 350F. Line a 12 cup muffin pan with liners and coat with cooking spray
Combine the diced strawberries (remember to set aside about 5 of them), chopped dates, orange juice and vanilla extract in non stick skillet. Cook over medium heat for 3-4 minutes, gently mashing the strawberries. Set aside to cool
In the meantime, combine 1/3 cup almond milk and ground flax in a small bowl and let it sit for a couple of minutes
In a large bowl, whisk together cooked strawberries, maple syrup, melted coconut oil, flax mixture and remaining 1/3 cup of almond milk
In a separate bowl mix together spelt flour, baking powder and salt and add to wet ingredients, mixing until just incorporated (do not overmix!)
Gently fold in chopped dried figs and fresh strawberries. Fill muffin cups with approximately 1/4 cup of batter. Bake at 350F for 23-25 minutes
While the muffins are still warm, drizzle some maple syrup on top of each one (about 1/3 teaspoon per muffin)
Notes
These breakfast muffins are really moist. they will last 1-2 days out of the fridge. You can also freeze them and get them out as you needed.
Vicky Cohen and Ruth Fox
We are two sisters born and raised in Barcelona, Spain, with Sephardic and Middle Eastern roots. We grew up eating the best, most flavorful, comforting home-cooked meals prepared by our mom, who taught us everything we know about cooking. When we moved here to the U.S. we felt it was really important to keep our traditions and background alive, and we've done so by sharing it with everyone we've met throughout the years. After all, what better way to make new friends and share our love and culture than through food, right? Our friends have come to enjoy our food and gatherings so much that are always asking us for our recipes. That inspired us to start a cooking blog called "May I have that recipe" where we share recipes we've created inspired by our multicultural background.