These pancakes are thick and filling with a hint of sweetness coming from the lemon cream sauce, similar to a curd, that is drizzled over top. Perfect for brunch.
By Nicky Corbishley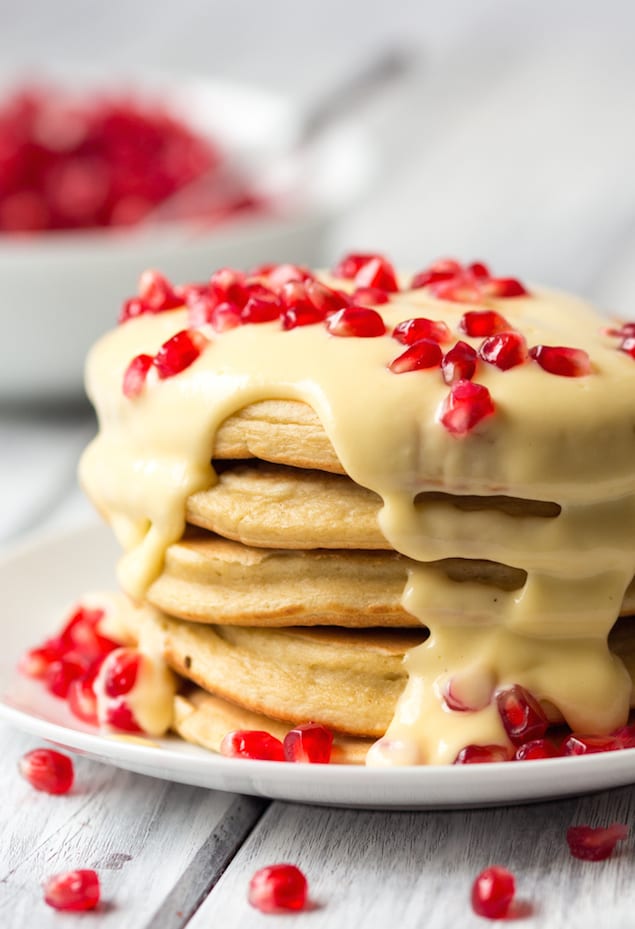 Pancake experimentation. The possibilities are limitless! Sweet, savoury, spicy, creamy!
I wasn't actually trying to make these for any specialised diet, but they did end up being gluten-free and refined sugar free. Also high in protein (20g per serving!) and lower in carbs than your average pancake. They are pretty high in fat though, due to the butter, cream and ricotta. What can I say, you've got to balance out the goodness with a bit of badness!
These pancakes are thick and filling – which is why I suggest that you only need two per person. I also purposely made them not sweet. I wanted the sweetness to come from the sauce and pomegranate. If you wanted to make them sweeter, you could add in a couple of tablespoons of light brown sugar to the pancake mix. If you wanted to make them lighter, you could add in half a cup of milk.
The lovely creamy lemon sauce is kind of a mix between creamy lemon curd and lemon custard. The key to making this sauce is to heat the ingredients slowly whilst stirring with a whisk. It will thicken, but don't stop stirring – or you'll end up with lemony scrambled eggs. It's a little different from normal custard, in that it uses the egg whites as well as the egg yolks. Usually you'd use egg yolk and maybe just one egg white – this is to increase flavour and give it a more velvety texture. However, the addition of the lemon and cream makes up for this. If you do find that you have any little lumps in your sauce, simply strain it through a sieve.
Finally, the topping of pomegranate just adds that gorgeous juicy crunch to lighten everything up. It's a must, so don't leave it out.
If you struggle to get the seeds out of the pomegranate, here's my favourite tip:
Cut the pomegranate in half. Then hold half of the pomegranate cut side down, lightly in the palm of your hand. Hold your hand over a medium-sized bowl and whack the back of the pomegranate with the back of a wooden spoon. The pips will fall into the palm of your hand and then into the bowl. Keep going until you get all the pips out.

Ricotta Pancakes with Lemon Sauce and Pomegranate Seeds
Ricotta Oat Pancakes - Hearty pancakes topped with a creamy lemon sauce and fresh pomegranate. Gluten Free!
Ingredients
Pancakes
100g (3.5 ounces) oat flour (check it's gluten free if required)
1 tsp baking powder (gluten free if required)
200g (7 ounces) ricotta
4 eggs
pinch of salt
Lemon Cream Sauce
3 eggs
50g (1.7 ounces) unsalted butter, cut into small cubes
Zest and juice of 1 lemon
3 tbsp. honey
5 tbsp. double/heavy cream
To Serve
1 pomegranate, fleshy seeds only
Instructions
Put your oven on a very low temperate to keep the pancakes warm once cooked.
Next, make your pancake mix. Mix the oat flour with the baking powder, then add in the ricotta, eggs and salt. Mix together using a whisk until combined. It will be a thick mixture. Heat a non-stick frying pan until hot, and then ladle blobs of pancake mix into the pan (about the diameter of a crumpet). You're looking to get 8 pancakes out of the mix. You may need to do this in 2 or 3 batches depending on the size of your pan. Turn the heat down to medium and cook for about 2 minutes. The pancakes should be starting to look firmer at the sides, so you're able to turn them over with a spatula. Turn the pancakes over and leave to cook for another 1-2 minutes until they're light brown. Place the pancakes on a tray and cover with a little baking parchment and place in a very low oven to keep warm whilst you make the lemon sauce.
In a medium sized sauce pan, mix together the eggs, butter, lemon juice, lemon zest, honey and 3 tbsp. of the cream. Heat slowly whilst stirring with a whisk all the time. After about 6-7 minutes of stirring, the sauce will start to thicken. Keep stirring, until the sauce is the thickness of custard, then turn off the heat. Add in the remaining 2 tbsp. of cream and stir in. If you find you have any lumps in the sauce, you can strain it through a sieve.
Divide the pancakes between 4 plates and spoon the lemon cream on top. Sprinkle on the pomegranate and serve.
#mc_embed_signup{background:#fff; border: 3px double black; clear:left; font:14px Georgia,serif;  width:635px;}
/* Add your own MailChimp form style overrides in your site stylesheet or in this style block.
We recommend moving this block and the preceding CSS link to the HEAD of your HTML file. */