Garlic Roasted Potatoes with Creamy Horseradish Aioli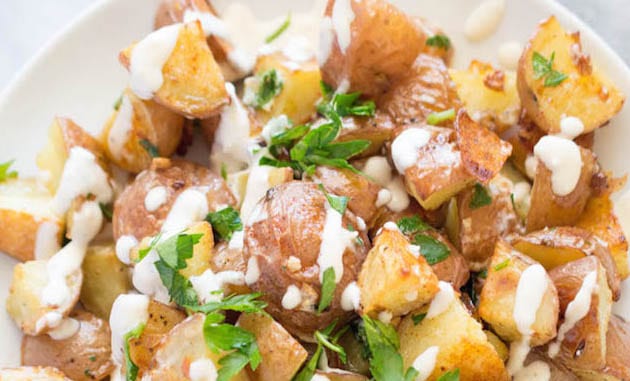 You can't go wrong with a side dish of crunchy outside, tender inside, oven roasted potatoes topped with a horseradish sauce.
By Kelley Simmons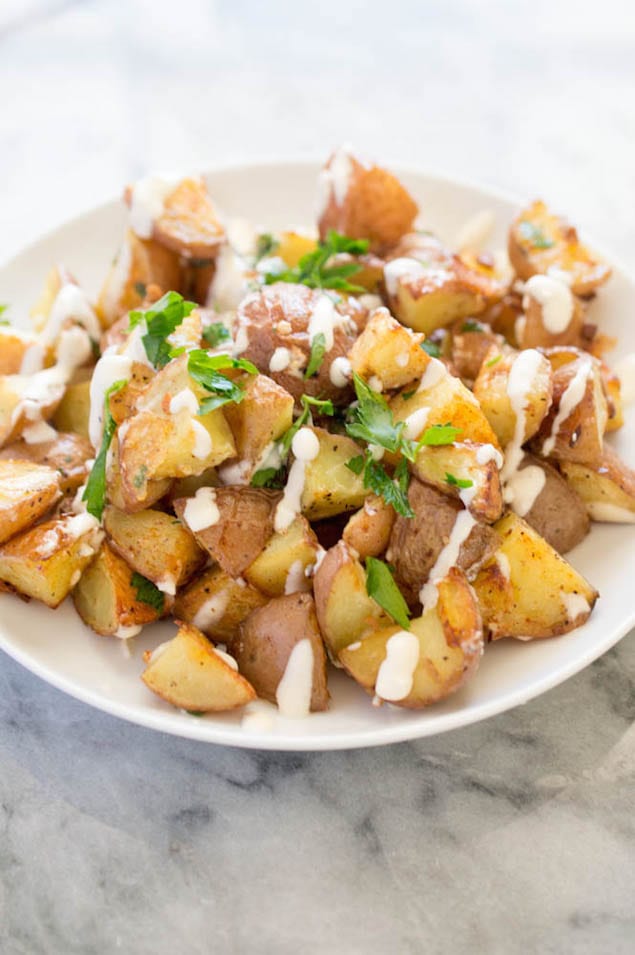 Roasting vegetables is the best way to create a quick and easy side dish. These Roasted Garlic Potatoes are very easy to make and only require 4 simple ingredients, all of which you probably have on hand.
You can't go wrong with crunchy, tender, oven roasted potatoes. Tender on the inside with a nice crisp crunch on the outside. To give the potatoes even more flavor I served them with a drizzle of spicy horseradish aioli.
These roasted potatoes are tossed in olive oil and garlic. When they come out of the oven chopped parsley is sprinkled on top. They are drizzled with a creamy 3 ingredient horseradish aioli.
One of the secrets to this recipe is to cook the potatoes at a high temperature. This ensures the crunchy golden brown exterior.
This method for roasting works for any type of potato although red potatoes are my favorite.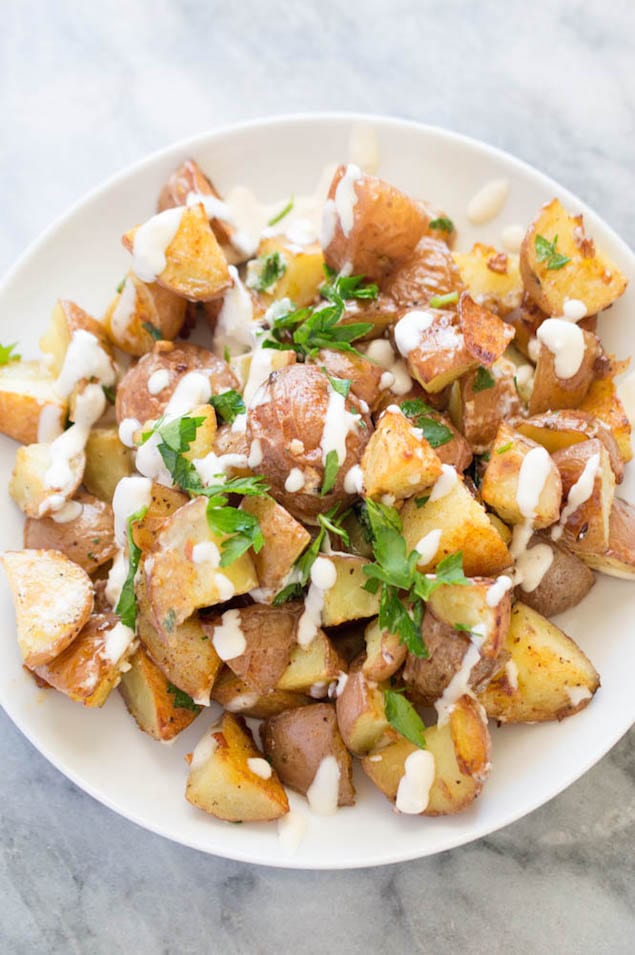 Aioli is typically made with egg yolks, olive oil, lemon juice and garlic. It is essentially a homemade mayonnaise with minced garlic. I wanted to make a quicker version so i used store bought mayonnaise a squeeze of lemon juice, garlic and horseradish.

Garlic Roasted Potatoes with Creamy Horseradish Aioli
You can't go wrong with a side dish of crunchy outside, tender inside, oven roasted potatoes topped with a horseradish sauce.
Ingredients
Roasted Potatoes
1.5 pounds tiny red potatoes, cut in cubes or quartered
1½ tablespoons extra virgin olive oil
1 teaspoon garlic, minced
1 teaspoon parsley, chopped
salt and pepper to taste
Horseradish Aioli
½ teaspoon fresh horseradish
½ cup mayonnaise
1 tablespoon lemon juice
1 garlic clove, minced
salt and pepper to taste
Instructions
Roasted Potatoes
Preheat oven to 400 degrees.
Add potatoes to a baking sheet.
Drizzle with olive oil and sprinkle with garlic. Toss to combine (I usually just use my hands).
Place in the oven and cook for 30 minutes.
Take out of the oven and sprinkle with chopped parsley and salt and pepper to taste.
Drizzle with horseradish aioli or serve it on the side. Serve immediately.
Horseradish Aioli
Add horseradish, mayonnaise, lemon juice and garlic to a small bowl. Whisk to combine
Add salt and pepper to taste.
Kelley Simmons
Kelley is a twenty something writer hailing from Delaware, and photographer behind chefsavvy.com. She started blogging in the beginning of 2014 and has been hooked ever since. She takes the worry out of cooking and helps reader's conquer their cooking fears with simple, easy to follow recipes.