Rhubarb Compote with Fresh Ginger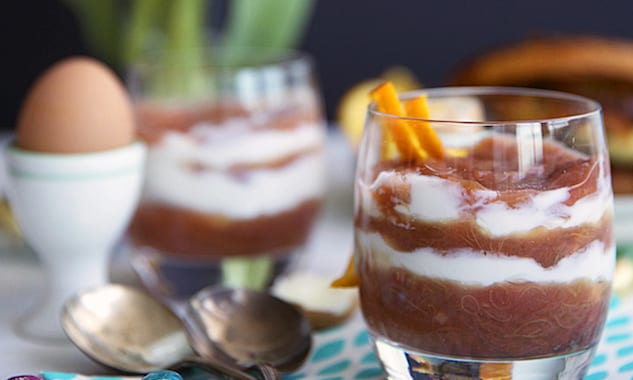 Cooking spring's rhubarb down to a compote removes some of the iconic bitterness and creates a complex dessert sauce. With a spice of ginger, the compote makes a perfect parfait or a delicious toast spread.
By Lynsey Walker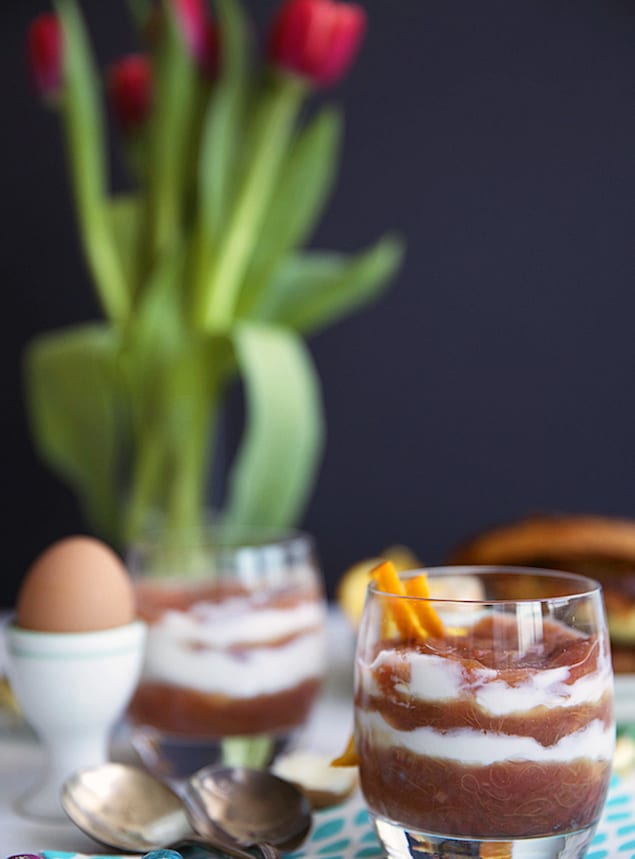 Of all the vegetables there is something so admirable about rhubarb. A hearty little being, it is one of the first brave souls to stick its head out of the soil after months of lying dormant under a mass of frozen earth.
Super sour thanks to its high content of oxalic acid, it cleans your pots, detoxifies your liver, clears your skin, makes a bad-ass drink bitter, and doesn't back down when you try to remove her from your garden. But this tough old broad has a softer side too, and isn't opposed to easing some of her bite when shown a little love from some sugar or honey, like in a humble dessert or rhubarb compote of sorts.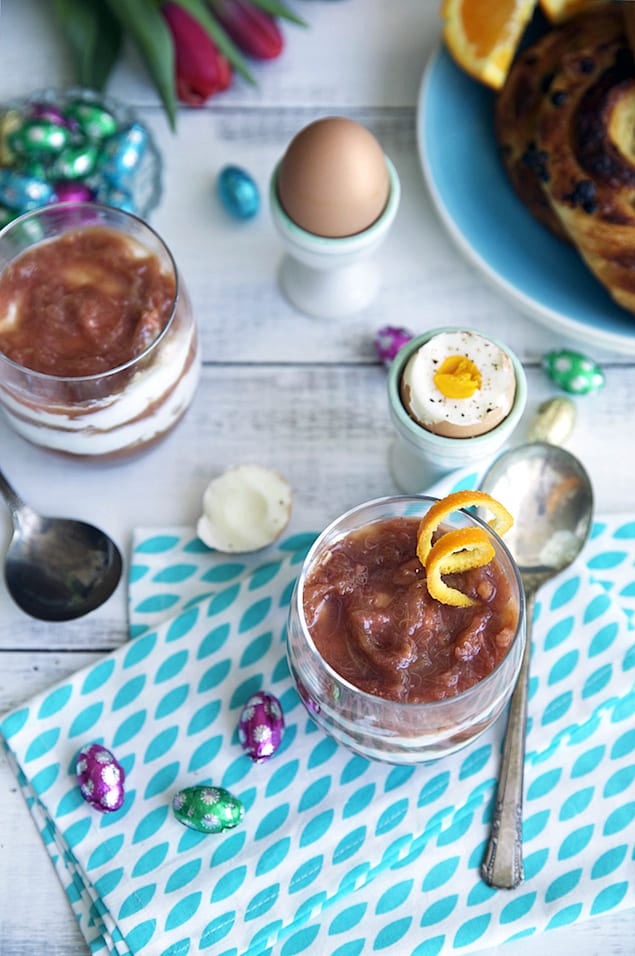 While rhubarb does like to cozy up with the likes of strawberries, we are still months away from the first signs of those in these parts. Luckily rhubarb got the memo and plays well with the last of winter's citrus like orange, and the warming spice of ginger, both of which I used in this rhubarb compote, and then layered with creamy yogurt into one heavenly springtime parfait.
Paired with some raisin swirl buns (or hot crossed, if you prefer), some hard-boiled eggs, and a few chocolate ones (because you can eat chocolate for breakfast on holidays right?), it is the perfect little set up for an Easter brunch.

Rhubarb Compote with Fresh Ginger
Cooking spring rhubarb in a compote removes some bitterness and creates a complex sauce. With ginger, it makes a perfect parfait or a delicious toast spread.
Recipe Type:
Sauce, Compote, Dessert
Ingredients
2 cups rhubarb (fresh or frozen), chopped
½ cup natural cane sugar
½ cup water
1 Tbsp ginger
1 orange, juiced
Instructions
In a medium saucepan over medium heat, add all ingredients.
Bring to a simmer and cook until rhubarb as broken down an mixture has thickened up slightly. About 30 minutes. Remove from heat and allow to cool
To serve spoon a good dollop of compote into each serving bowl. Top with yogurt. Repeat if going for a layered look.
Lynsey Walker
Lynsey Walker has a master's degree in nutritional science and is currently finishing up her Registered Holistic Nutritionist designation. By inspiring people to start cooking and getting back to eating real food, as well as fostering healthy relationships what they put in their body she is on a mission to shake up the world of nutrition.