The perfect Valentine's Day (or any day) treat of a rich, chocolate-loaded red velvet brownie fudge cake topped with white chocolate cream cheese frosting.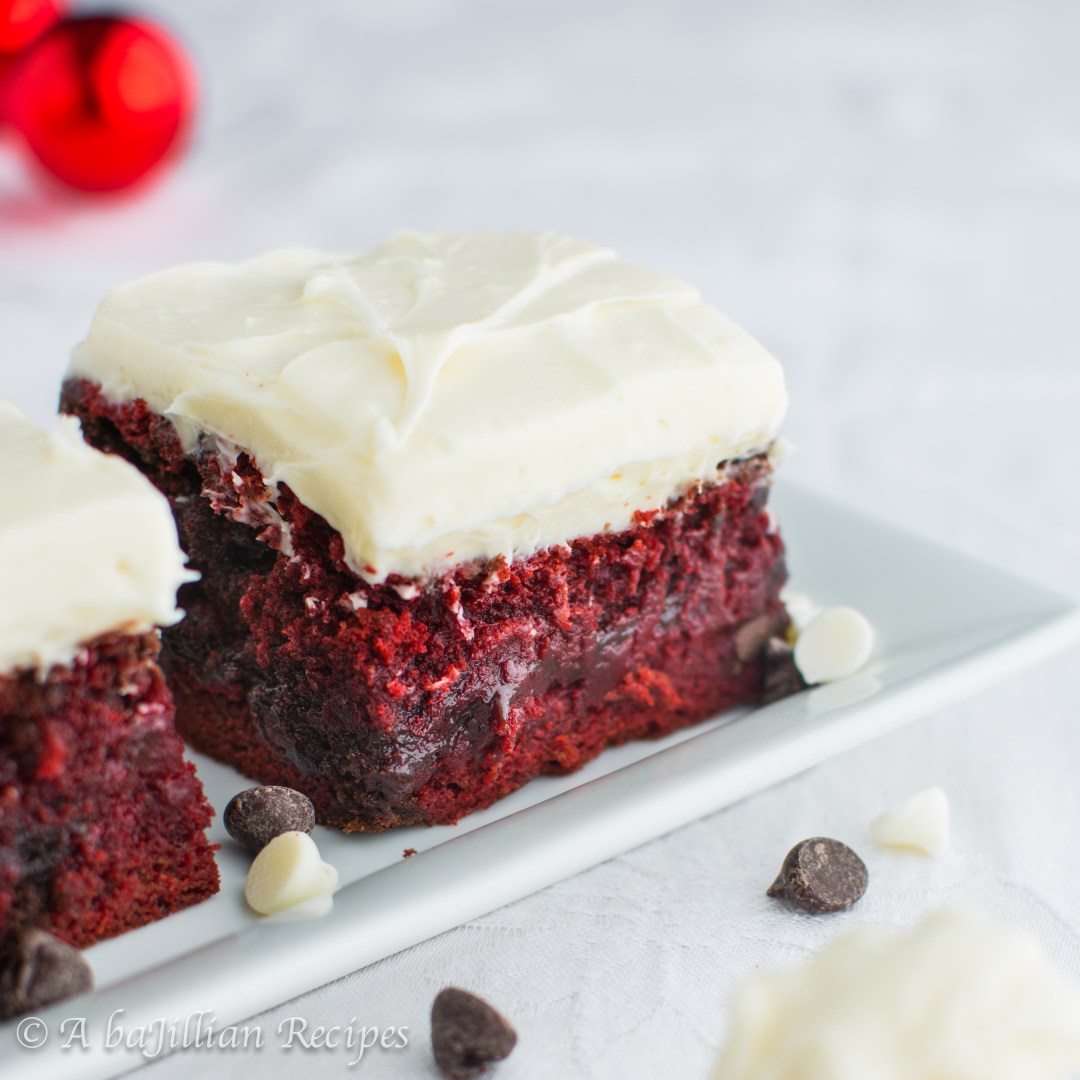 The fudgiest brownies swirled with red velvet and topped with the richest, creamiest white chocolate cream cheese frosting!
What do you get when you swirl fudgy brownies with lusciously chocolatey red velvet and slather on a thick layer of cream cheese frosting? Excuse me, WHITE CHOCOLATE cream cheese frosting.
Answer: The most decadent brownie cake your tastebuds will EVER meet.
To say that these brownies are rich is any understatement. I mean, just look at how fudgy and gooey these babies are. I lost about ten pounds of drool while taking these photos.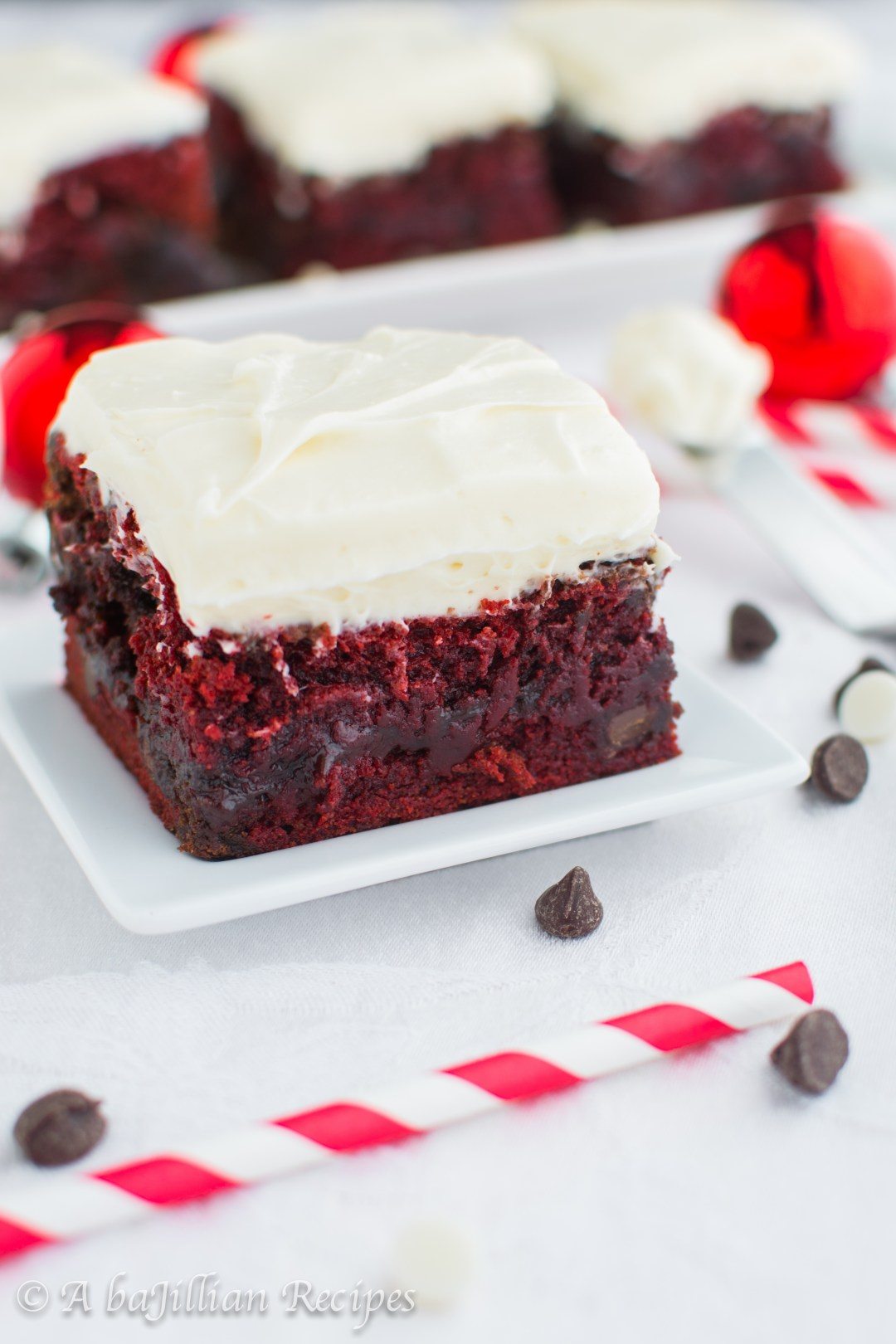 You might notice that these brownies are pretty gosh darn massive. For one thing, I baked them in an 8-inch square pan instead of a 9×13-inch pan. I wanted maximum thickness, so I opted for the smaller pan. This recipe can also be made in a 9×13-inch pan, but keep in mind that the baking time will be cut in half—about 20-25 minutes.
For picture purposes (and because I'm just a fatty), I cut these brownies nice and BIG. Because it's all about presentation. And having an excuse to eat a gigantic brownie that could feed a small country…
Luckily, this recipe is a *snap* to throw together. Why? It uses two box mixes, which means less ingredients to gather and less dishes to wash! You're welcome.
Any old brownie mix will do, but for this recipe I used Ghirardelli's brand which had milk chocolate chips. If your brownie mix doesn't have chips in it, you can always stir in about a half a cup.
See Also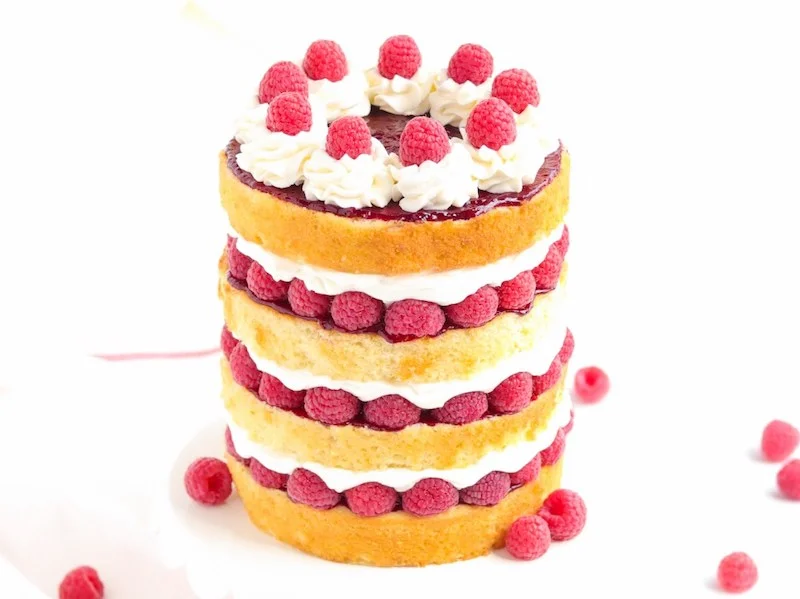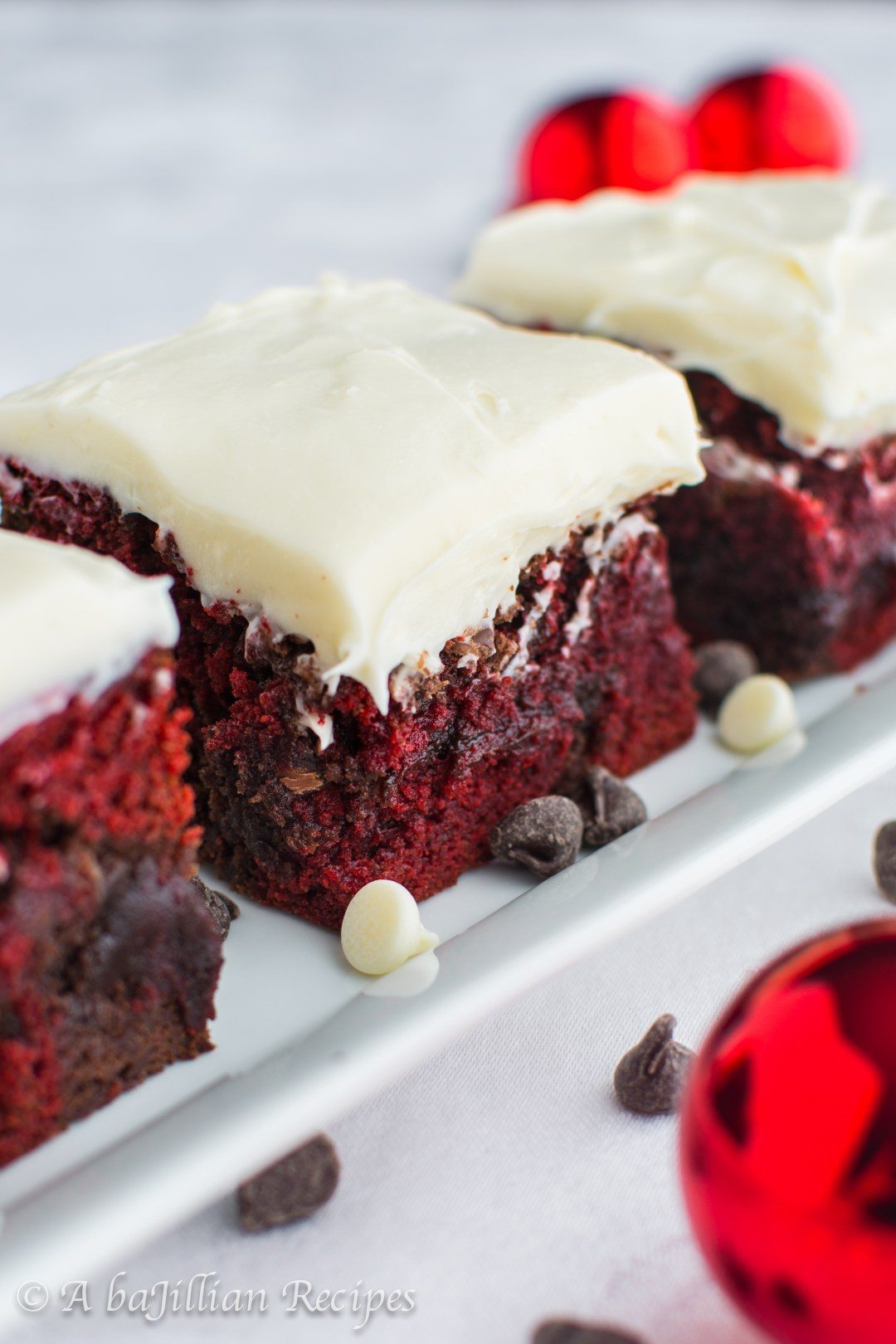 As opposed to the brownies, the red velvet mix is not made according to the box. Instead, you'll combine it with some instant cheesecake (or vanilla) pudding, eggs, milk, and oil. The pudding mix not only lends that wonderful cheeseakey flavor to the red velvet, but it contributes to the all-important fudgy factor.
Speaking of fudgy, as these brownies bake up, you can't really use the toothpick test to check if they're done. They should look baked on the top and be pretty firm yet slightly jiggly when you shake the pan. If you do insert a toothpick into the center at the end of baking, there will still be some gooeyness—that's good. You don't want to pull out a dry toothpick or you won't have that nice fudgy middle layer.
Once the two batters are swirled and baked together in perfect harmony, they get a "healthy" helping of white chocolate cream cheese frosting. This part IS homemade. And yes, it's definitely worth whipping out the ol' stand mixer for. If you're a fan of traditional cream cheese frosting, you'll no doubt be licking the bowl clean once you're done frosting the brownies. Lucky for you, even with a sky-high layer of frosting, you'll still have a little leftover for a frosting shot or two
Print
Red Velvet Brownie Fudge Cake
Author:

Jillian Hatsumi

Category:

Baking
Brownie Batter:
1

box brownie mix + ingredients on the back of the box*
Red Velvet Batter:
1

15.25 oz box red velvet cake mix

1

3.4 oz box instant cheesecake pudding

2

eggs

3/4 cup

vegetable oil

1/4 cup

milk
White Chocolate Cream Cheese Frosting:
1/2 cup

white chocolate chips

4 Tablespoons

unsalted butter (room temperature)

1

8 oz package cream cheese

1 teaspoon

vanilla

1 cup

powdered sugar
Instructions
Make the Brownie Batter: Preheat oven to 350ºF and line an 8-inch square pan with parchment paper. Spray with with cooking spray.
Prepare brownie mix according to package instructions; set aside.
Make the Red Velvet Batter:
In a medium bowl, stir together all of the red velvet batter ingredients until combined. Plop about half of the red velvet batter by the spoonful into random spots in the pan. Switch to the brownie batter, plopping spoonfuls randomly over. Repeat with the remainder of the batters, then swirl with a skewer or butter knife. To create a smoother, even layer, lift entire pan a couple inches from the counter and drop. Repeat several times until even.
Bake in the oven for 45-50 minutes. You can't really test for doneness with the toothpick method since the toothpick will still have some batter on it when removed. The brownies should be set on the top and only jiggle slightly. Brownies will continue baking and firm up as they cool.
Make the Frosting:
Place the white chocolate chips in a small microwave-safe bowl and melt in the microwave until smooth; set aside.
In the bowl of a stand mixer fitted with the paddle attachment, mix the butter, cream cheese and vanilla on high until creamy. Pour in the melted chocolate and continue beating until combined. Add the powdered sugar and beat on high until fluffy. Spread frosting on top of completely cooled brownies. If not serving immediately, brownies can be stored covered in the refrigerator for up to one week.
Notes
*I used Ghirardelli Double Chocolate brownie mix.
Jillian Hatsumi
I'm Jillian, the writer, baker, chef, recipe creator, and amateur (very amateur) photographer of A baJillian Recipes. Though I'm not a classically trained chef, I like to think I know my way around a kitchen pretty well. Aside from baking, cooking, and EATING, I also enjoy acting, couponing (I LOVE saving money!!), running, working out, photography, and playing with my little fluffernutter, Olivia. She's a dog, if you're wondering...