Red Lentils With Garlic And Onion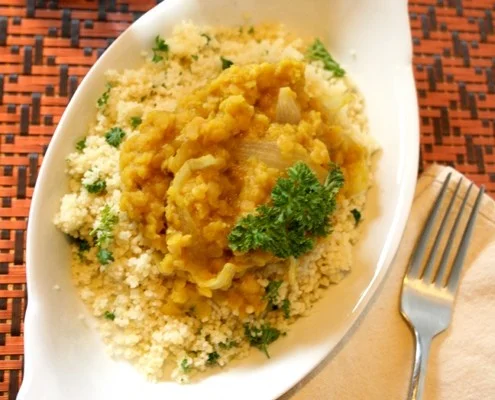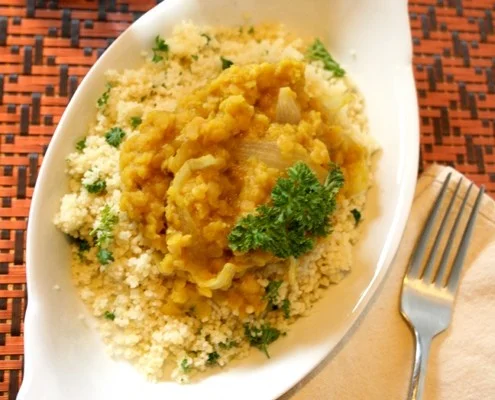 One evening my husband and I were discussing that night's dinner plans. Of course, I knew what we were having for dinner, since I had planned the week's meals out.  The Omnivore asked what was on the docket and I replied "lentils and rice."
Enter whine. It went something like this: "I don't like lentils and rice.  We live on a farm now and I work hard.  During the time we lived apart I fed myself so well.  I want something like meat for dinner.  I hate lentils."
Wow. Moving back in together is going to take quite a dietary adjustment, I see.
I was feeling particularly generous so I said, "Ok.  How about some sausage and pasta."
He felt triumphant.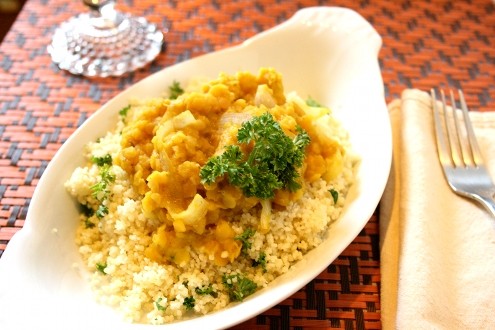 I found a frozen tube of Jimmy Dean sage flavored sausage in the freezer and threw it in the sink to thaw.  Meanwhile, I began chopping the ingredients for my meal. Out came 6 cloves of garlic, an onion, and a handful of parsley.
Suddenly, a little voice from the side of the kitchen squeaked, "Is it too late to have what you're having?  I take that whole meat thing back."
Yeah. I thought so. Back in the fridge that sausage went and a I quickly doubled the recipe for my red lentils and cous cous so that I could share with the Omnivore. And boy was he happy I was so generous!

Red Lentils with Garlic and Onion
Garlicky lentils over cous cous
Author:
Brady Evans (adapted from WholeFoods)
Ingredients
for the lentils
2 cups (475 mL) uncooked red lentils, rinsed
4 cups (950 mL) water
½ teaspoon ground turmeric
½ teaspoon salt
2 tablespoons canola oil
1 large onion, thinly sliced
12 cloves garlic, thinly sliced
for the cous cous
1 cup (240 mL) whole wheat cous cous
1 cup (240 mL) boiling water
olive oil
4 tablespoons chopped parsley
Instructions
for the lentils
Put lentils, turmeric and 4 cups water into a medium pot and bring to a boil.
Reduce heat and simmer until lentils are very soft and pulpy, about 15 minutes.
Heat oil in a large skillet over medium heat. Add onions and garlic and cook until golden brown, taking care not to burn them.
Add onion mixture to lentils and stir well. Serve hot.
Boil water for cous cous stovetop.
for the cous cous
Add cous cous and cover 5 minutes.
Fluff with fork and add parsley. Combine.
Brady Evans
Brady Evans is a cook who specializes in stretching cooking boundaries towards a more healthy lifestyle. She loves making recipes with unexpected ingredients and share her passion for cooking through her very successful and mostly-vegetarian blog, Branny Boils Over.