Despite being sweet and rich this drink is very low in calories.
By Nandita Nataraj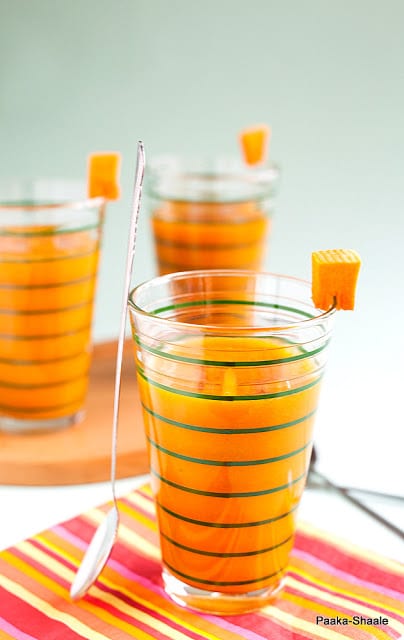 This drink is one of the best ways to sneak in vegetables into a fussy child's diet. I am sure that the idea of drinking Harry Potter's favorite drink will definitely appeal to them.
Print
Pumpkin Juice
Despite being sweet and rich this drink is very low in calories.
Author:

Nandita Nataraj

Prep Time:

10 mins

Cook Time:

10 mins

Total Time:

20 minutes

Yield:

4
Cubed Pumpkin pieces- 2 cups
Cinnamon- 1″ stick
Star anise- 1
Cloves-3
Apple juice- 250ml
Orange juice- 150ml
Honey- 1-1/2tbsp
Sugar- 2tbsp
Cinnamon powder- 1/2tsp for garnish
Instructions
In a thick bottomed vessel, combine the pumpkin pieces along with cinnamon, cloves, and star anise. Add one cup of water and cook on low flame till completely tender. Take off the heat, discard the spices and set aside to cool completely.
In a blender jar, combine the cooked pumpkin, along with the apple juice, orange juice, honey and sugar and blend till completely smooth.
Pour the juice in individual glasses, sprinkle a pinch of cinnamon powder on top and serve immediately.
Notes
I personally like this drink with a thick smoothie like consistency. But if you prefer the juice to be a little thinner, then you can increase the quantity of the apple juice or orange juice.
Nandita Nataraj
Nandita was born, bred and spread in India, but right now lives in Tanzania where her quest for simple and exotic pleasures of food led to the creation of the blog Paaka-Shaale. She believes that food is not just a means to feed a body. But it is also meant to appeal the mind and satiate the soul.