These lovely citrus palmiers and spicy parmesan swirls turn out to be more addictive than Sonia Mangla had expected.
Text And Photo By Sonia Mangla
Little Crispy Palmiers have always fascinated me since childhood. After contemplating for a long time & having my Puff pastry sheets sit in freezer for almost a week., I finally mustered enough courage to give them a shot. My Husband has a sweet tooth & I like things bit spicy ,so the decision was split & ended up doing two versions – Citrus Palmiers & Parmesan Swirls. Hope you would like one of the versions if not both. The recipe is simple, baking is little tricky specially for Palmers as the sugar can burn quickly. In a nutshell the outcome is brilliant- Simply SUMPTUOUS!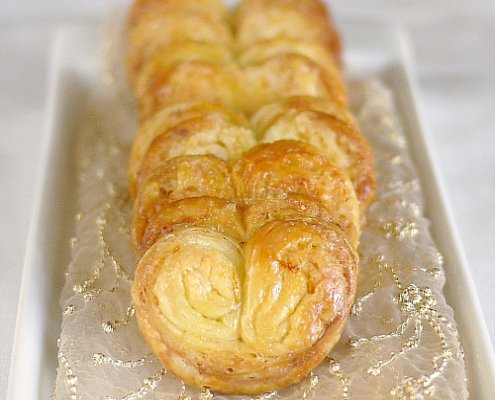 Ingredients for Citrus Palmiers:
Sugar: 1/2 cup
Orange Zest : 1/4 cup
A pinch of Salt
Pepperidge Farm Puff Pastry: 1/2 sheet
Method:
Preheat the oven to 450 F and line the cookie tray with parchment paper.
Defrost the puff pastry.
Prepare Cutrus mix by mixing confectioners sugar, orange zest, and salt in a bowl.
Sprinkle some flour on the board and roll out one puff pastry sheet.
Cut it in half using pizza cutter, rolling it thru the middle.
Pour 1/4 cup of the sugar/citrus mix on the puff pastry sheet.
Put another layer of pastry and again pour sugar/citrus mix. and spread it out.
Fold two sides of the sheets halfway towards the middle, then fold them again so the two folds meet exactly in the middle of the sheets.
Fold one half over the other half, as though you were closing a book.
this will form a stack of dough with 6 layers.Using a sharp knife, thinly slice the sheets and place them cut side up on the prepared baking sheet about 1-inch apart.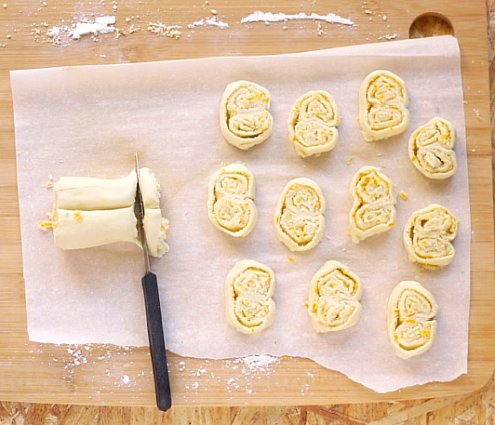 Bake the palmiers in the preheated oven until the sugar gets caramelized fro approx 6-7 minutes.Swiftly remove the palmiers from the oven and flip them over gently with a spatula, and return them to the oven to bake for another 3-5 minutes. Be careful, in handling the palmiers or cookie tray, its really hot. Keep an eye so that sugar doesn't get burnt. quickly transfer the palmiers to cooling rack and enjoy. Citrus Palmiers are ready to nibble
Ingredients for Spicy Parmesan Swirls
Parmesan Cheese Grated : 1/2 cup
Spicy Red Pepper powder : 1/2 Tsp
A pinch of Salt
Pepperidge Farm Puff Pastry: 1/2 sheet
Method:
See Also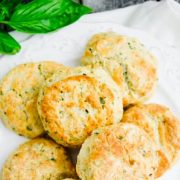 In a bowl, mix Parmesan cheese with paprika and dash of salt & Defrost the puff pastry sheets.
Spread the cheese mix evenly on the pastry sheets with a spoon or spatula.
Roll the sheets tightly to make a circular disk.
Cut the sheets into thin strips with a sharp knife.
Bake the strips on a cookie tray lined with parchment paper for 5 minutes at 450 degrees F.
Flip the swirls swiftly and bake for another 2-3 minutes.
Let these cool down for a while on a cooling rack.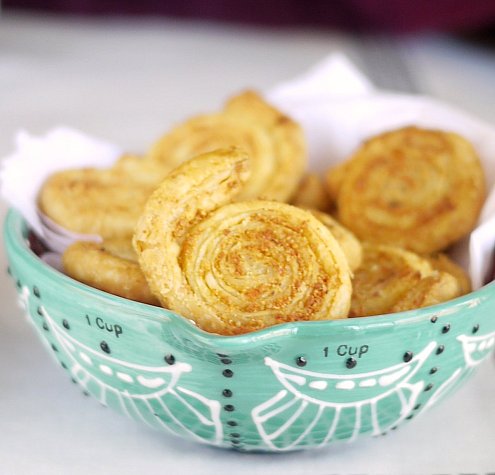 These Spicy Parmesan Swirls were too addictive.
I wasn't left with a single swirl to store…kept munching with a cup of hot Tea…. !!!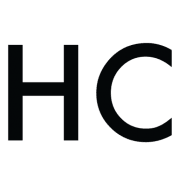 Sonia Mangla
Sonia Mangla is a passionate Food Blogger & Photographer. She creates Fusion of Indian flavors and loves cooking for her guests. Her work is featured on some popular sites like FoodGawker,Tastespotting, Tasteologie & Foodbuzz.