Sometimes you need a touch of gourmet during the week too. Look no further than this prawn and wattleseed fettucine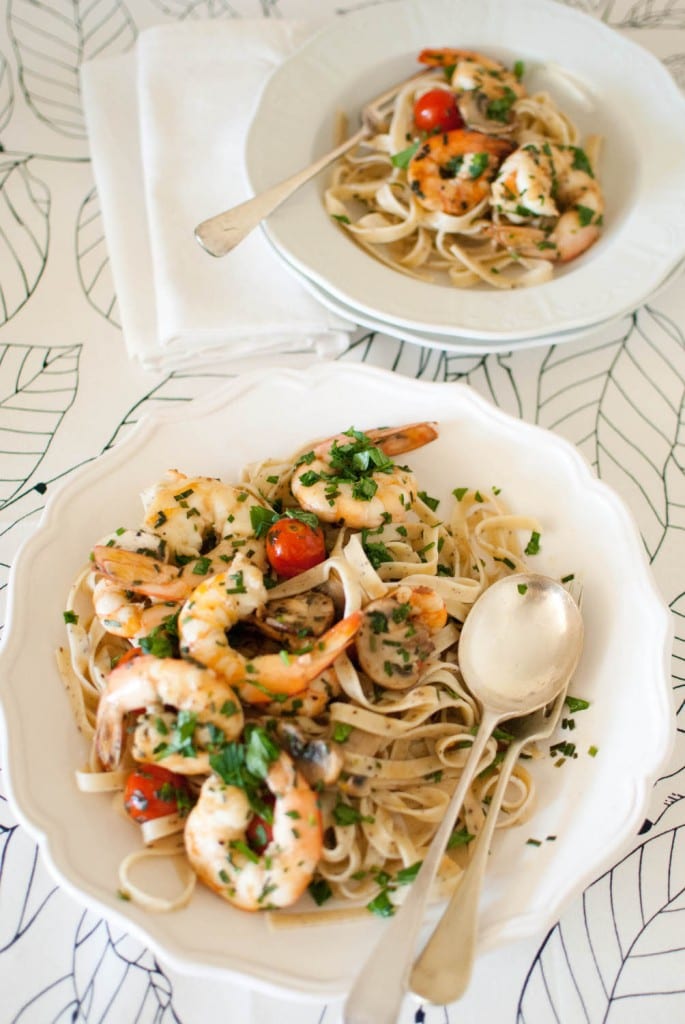 This prawn and wattleseed fettuccine is a perfect weekday-gourmet dish to brighten up the working week. I picked up the wattleseed fettuccine at the local markets, but you could use wholemeal or spelt fettuccine or whatever pasta you have at home. The wattleseed fettuccine is, however, an interesting ingredient and looks lovely with the tiny dark spots of wattleseed. The taste is not too strong and suits well for this dish. The juicy prawns and the sweet cherry tomatoes makes me think of sunny summer days!
Prawn And Wattleseed Fettuccine
Sometimes you need a touch of gourmet during the week too. This delicious prawn and wattleseed fettucine recipe fits the decription, but is easy to make.
Author:
Maria - Honest Cooking
Ingredients
Wattleseed fettuccine
1 tbsp olive oil
½ punnet cherry tomatoes
4 cup-mushrooms, sliced
1 tbsp sherry vinegar
15 extra large King prawns (shrimps), cleaned
1 tbsp lemon olive oil
½ bunch chives, finely chopped
pinch of salt
freshly ground black pepper
small bunch flat-leaf parsley
Instructions
In a large saucepan, bring the water to a boil. Add a pinch of salt and the fettuccine and cook for about 8 minutes or until al dente. Drain and set aside.
Heat the oil in a frying pan, and add the cherry tomatoes and the mushrooms. Sauté for a couple of minutes, then add the sherry vinegar and the prawns. Cook for a further couple of minutes and add the lemon olive oil, chives, salt and pepper. Sauté until the prawns are just cooked through, then remove the pan from the heat.
Place the fettuccine on a large platter and top with the prawns. Sprinkle with parsley and serve immediately.