At Salumi you can try classic and more unusual twists on cured meats. The sausages are meltingly tender – a welcome change from most jerky-like cured meats.
By Sara Clevering
If you have read Bill Buford's Heat, a few passages are certain to be impressed in your memory.   Some, perhaps, if only for their sheer lunacy–Buford somehow lugging an entire pig, head and tail included, to his NYC apartment to butcher at home.  (I seem to recall he didn't attract too much attention, further proof that New Yorkers really have seen it all).  Others, for the eccentricity of the personalities Buford meets along the way, such as the Tuscan butcher, Dario Cecchini, who declaims Dante while expertly breaking down beef carcasses.  But of course the whole thing started with Buford's profile of Mario Batali for the New Yorker which led him down his food-crazed road.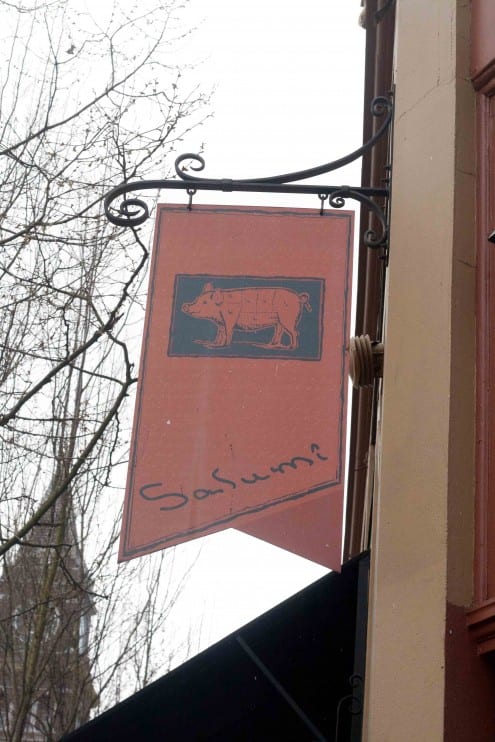 Part of that Batali profile includes Armandino, Mario's father, whose own father ran an Italian grocery that was eventually shuttered when Armandino became a Boeing engineer.  I suppose when your son is Mario Batali, however, you might be more than wistful about revisiting your family legacy, and so surely with a not insignificant amount of son-father advice, Salumi was opened in Seattle.  Now Armandino runs it with his daughter, Gina and her husband, and funnily enough Mario's name is nowhere to been in the store's bio.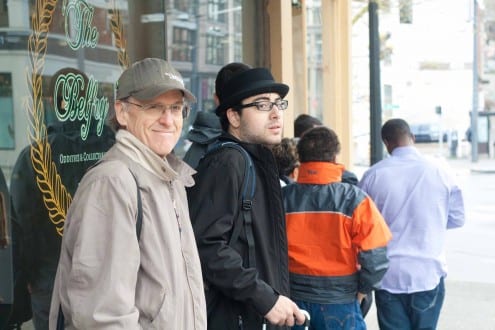 I filed this bit of information away as I read, with vague plans for a future trip to Seattle. But it only coalesced into more than a passing thought thanks to an email from my Uncle John  (who introduced me to the concept of pesto in the early 90s and 8-hour bolognese sauce, so we're trusting him):  "hey Sara, I just found this great salami place when I was on jury duty–ate there every day–we should go!  By the way it's got something to do with that famous TV chef!"  That's one way to make the best of jury duty.
Obviously, a new stop was cemented into the itinerary for our next trip to Seattle.  My uncle (who is, incidentally from Boston) took the day off from work and we trekked from West Seattle to what my other aunt called "the bowels of Seattle"–or more specifically, just between Pioneer Square and the International District.  Though Salumi opens at noon, we left planning to arrive closer to 11:30–for, true to my uncle's prediction, a line was already forming.  And yes, it was drizzling a bit, which deterred no one.
Fortunately for all of us porcine-obsessed, Salumi does a brisk business, moving the line quickly.  It's such an efficient operation, special orders have to be phoned in:  while you can get a whole sausage "to go," you need to call ahead if you want them to slice it–they simply don't have the extra capacity during business hours.  (And if you remember, you should:  the paper-thin cuts enhance intense tastes that  might otherwise overwhelm–just as thinly sliced prosciutto is almost heavenly,  you'd never want a thick cut of the stuff.  But if you forget, you can just cut it yourself).  Nor is there much room for leisurely loitering once you've had your sandwich made–the shop is deep but narrow, with a few tables protected by red-checked cloth.  A side room can be reserved for larger parties, but we're definitely in a fast food sort of place.  Except, I wouldn't be writing about this, nor would my uncle have taken a day off from work to take me here, if it were anything like what we normally think of as fast food.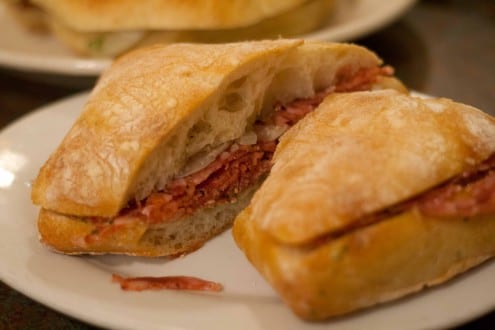 At Salumi you can try classic and more unusual twists on cured meats.  I of course went for agrumi, a citrus-cardamom sausage, but you could also try the dario (which I suspect is named after that Tuscan butcher profiled by Buford, but which in any case is spiced with heady nutmeg and mace), the finocchiona,with fennel, curry, and black pepper, or more unusual cured meats such as coppa, and culatello.  Or, if you're tired of hearing about all this pork, even lamb "prosciutto."  Something for everyone, except vegetarians.
The sausages are so fresh as to be meltingly tender–a welcome change from most jerky-like cured meats, where I often feel like a cavewoman trying to chew my way through a piece.  Save your jaw muscles for the good crusty Italian bread, and enjoy your sandwich with pickled onions or other toppings.  Salumi is fast-paced, but you'll have no trouble downing your meal quickly.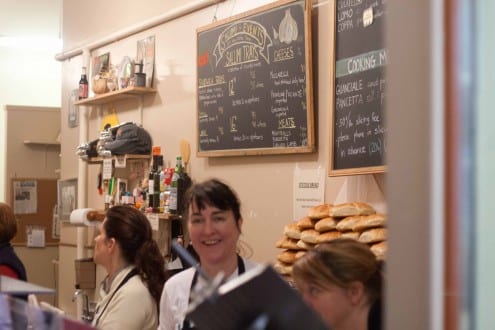 For those of you who don't expect to be in Seattle anytime soon, you'll be pleased to know you can order via email.  For those of you do, here's their address.
Salumi Artisan Cured Meats
309 Third Ave South Seattle, WA 98104
http://www.salumicuredmeats.com/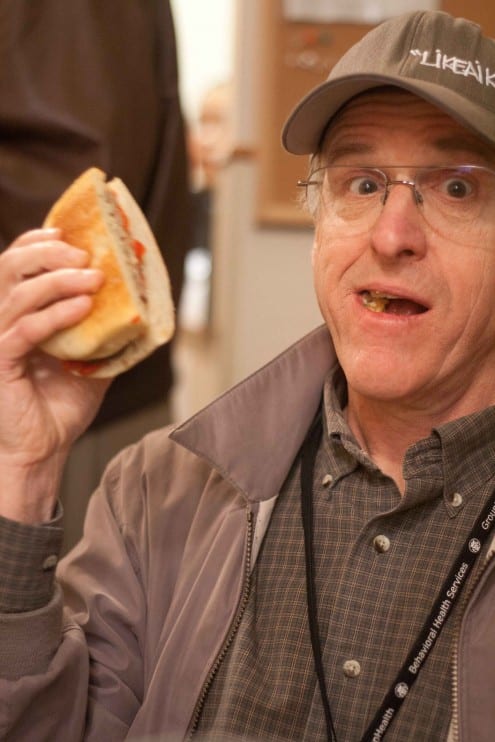 Sara Clevering
Sara sees cooking and baking as a delicious way to connect with the past and travel the world from her kitchen. She is commited to preparing homemade, unprocessed meals for her family and is always looking for tricks to fit this into a busy schedule. Sara is currently in the Boston area after several years living in London, Spain, and the Czech Republic, and travelling extensively in Eastern and Western Europe, always making sure to experience local culture through food. She also blogs with her sisters at www.threecleversisters.com