Across from both a remarkable antiques shop and a contemporary art gallery, the vibe at Owen's Fish Camp is decidedly "trendy bayou", with patrons in shorts and stilettos alike.
By Carly DeFilippo – Photos by Lauren DeFilippo
Owen's Fish Camp sits in an eclectic corner of downtown Sarasota, under the bows of an imposing banyan tree.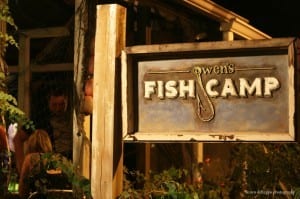 Across from both a remarkable antiques shop and a contemporary art gallery, the vibe is decidedly "trendy bayou", with patrons in shorts and stilettos alike.
Waiting outside Owen's is one of the most pleasant aspects of the restaurant.  The quaintly campy outdoor patio features a number of well-curated tchotchkes, including a life-sized, under-shirted "local" in a lawn chair.  The aforementioned antiques shop and art gallery also (wisely) leave their doors open late, reinforcing the laid-back block-party vibe.
Those who choose to grab a drink will find a light-hearted wine list (selections designated as "Good", "Decent", or "Cheap"), a solid beer selection and respectable cocktails.  The bar was where I also first spotted the absolutely delectable-looking pecan pie (more on that later).
After a round of drinks, I was seated with my family in the restaurant's back room, oars hanging overhead.  Old-fashioned condiments dressed the table, and the menu was appropriately, a paper placemat.  The offerings were inspired by classic southern seafood, from cornmeal battered catfish to a softshell crab BLT.  We ordered both as entrees, as well as a shrimp basket, with a fried green tomato salad and clam chowder to start.
The starters were remarkable, almost the best part of the meal.  The cornmeal-crusted FGTs (fried green tomatoes) were served over arugula and romaine with chevre chaud, crisped country ham, cucumber, red onion, and an herb-buttermilk dressing.  Light, refreshing and impossible to resist – this was hands-down the best savory item we sampled.  The creamy chowder was also noteworthy, with an almost lobster bisque-y flavor (enhanced by applewood bacon) and chock-full-of-clams.
See Also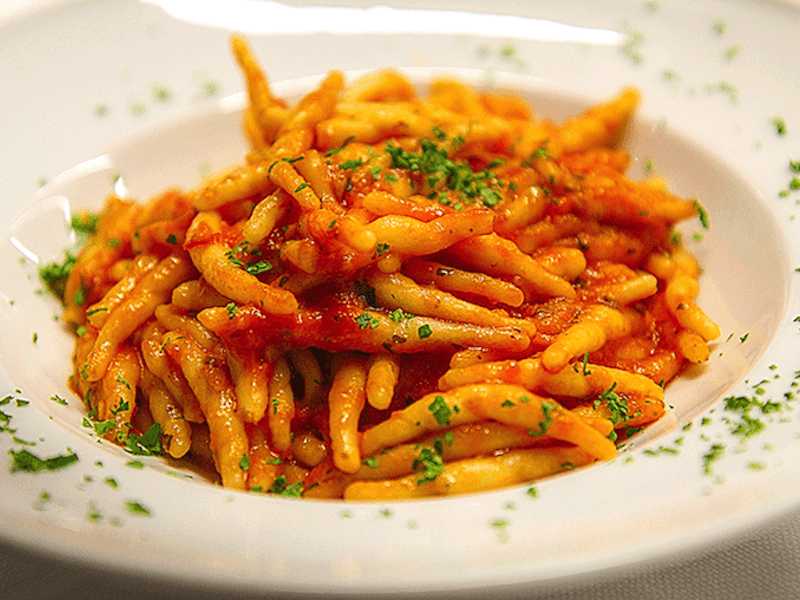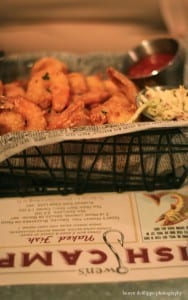 Even compared with that rousing first round, our entrees proved to be excellent.  The shrimp basket arrived light and piping hot, with thin fries begging to be dressed with malt vinegar.  Crunching through the cornmeal crust, I found the catfish flaky and fresh, almost shockingly moist.  Poking out from under its bun, the sandwiched softshell was spicy, tangy, "crabby" and undeniably indulgent.  Last but not least were the memorable sides, most especially the vinegar-stewed collards and robust, smoky succotash.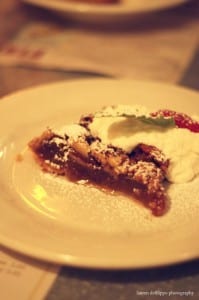 After all this soul-warming southern cooking, I could have easily bypassed dessert – but then again, I had already spotted the pecan pie.  We ordered this and the deep-fried blackberry pies,  flaky half-moon dessert "pierogies" that sounded promising but lacked a true pie's high fruit-to-crust ratio.  The pecan pie, however, was a delicious as I had hoped.  Though it was a simple tart of pecans and honey, topped with homemade whipped cream, the crust was perfectly undercooked and the filling erred on the side of under-sweetend.  In fact, everyone agreed it was the best item on the menu, and even my dessert-disdaining friends dove back in for seconds.
Owen's Fish Camp
516 Burns Court, Sarasota, FL
941.951.6936 (no reservations accepted)


Carly DeFilippo
Carly is a Contributing Writer at Honest Cooking. Though the first line of her college application essay was "I love tunafish," it wasn't until she pursued graduate studies in Paris that she ever considered a future in food. Based in Manhattan, Carly is a freelance writer and the co-founder of Cognoscenti Creative, a boutique branding agency dedicated to establishing artisans as influencers.