On the Upper East Side of Manhattan lies William Greenberg Desserts, a wonderfully amazing bakery that gets two thumbs up from Carly DeFilippo.
By Carly DeFilippo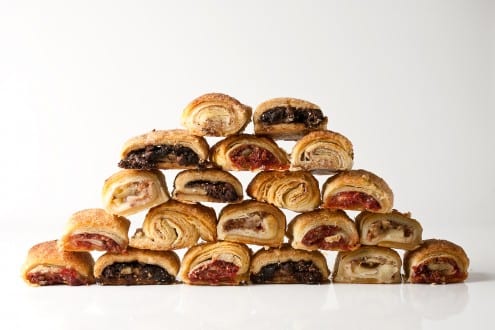 I've never had much of a sweet tooth. I do love dessert, but usually opt for fruit tarts or semi-savory cakes over super-saccharine confections. So when I'm asked to sample treats of the sugar-laden variety, I approach it with as much anxiety as enthusiasm.
Luckily, there are still bakeries that remember a time before "crack pie" and "cereal milk". A time when a touch of nuts and honey was more than enough, or when the perfect chewy texture was all one needed to evoke childhood nostalgia. Since 1946, such has been the case at the Upper East Side's William Greenberg Desserts.
Let's start with the shop's flaky rugelach. As one friend put it, the moist filling and chewy pastry of the apple rugelach evokes the pleasure we found, as children, in apple hand pies. On the more mature end of the spectrum, the chocolate rugelach, dark and dotted with walnut pieces, is a more mature, elegant sweet. And for those who prefer more simple flavors, the cinnamon rugelach allows us to enjoy the pastry crust's subtler qualities.
Next up, the schnecken, a seeming blend of baklava and panettone. I appreciated the muted sweetness of the crumbly cake, which balanced the sticky honey/nut topping. Studded with raisins and just dry enough to provoke thirst, it would be perfect served with a steaming cup of tea. It isn't the most addictive of the Greenberg desserts, but was the most fun to discover, embodying the shop's history as a Jewish family bakery.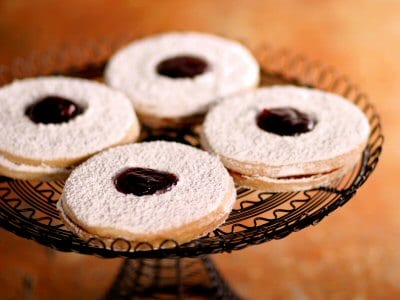 More familiar, but equally surprising, was the the linzer torte: an oversized, nutty shortbread cookie, filled with intensely fruity preserves. Growing up, my mother loved linzers, but I've rarely enjoyed jam-filled sweets. The textural contrast and quality ingredients in Greenberg's version, however, rendered this cookie a rare exception.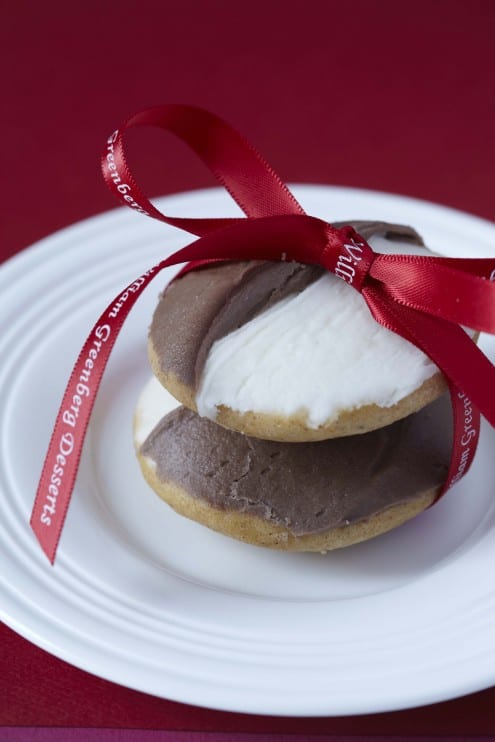 Last but certainly not least, comes the bakery's famed black & white cookie. I have never in my life found a texture quite like it. Dense-but-light, al dente-but-chewy, it seems a marvel of baking prowess. Moreover, where other black & whites quickly turn saccharine, neither the lemony cookie, nor the duo of icings, would have made me feel ill had I eaten the whole thing. In fact, if I didn't have friends to share it with, I would have gladly finished it in one sitting.
Living in Brooklyn, I don't spend much time on the Upper East Side. But I would gladly make the detour for Greenberg's black & white cookie, and would be hard-pressed not to pick up a linzer torte or a few other treats. Like the nearby Metropolitan Museum, this sweet shop has joined my short list of timeless institutions to revisit time and again.
William Greenberg Desserts
1100 Madison Ave
New York, NY 10028
212) 861-1340
Carly DeFilippo
Carly is a Contributing Writer at Honest Cooking. Though the first line of her college application essay was "I love tunafish," it wasn't until she pursued graduate studies in Paris that she ever considered a future in food. Based in Manhattan, Carly is a freelance writer and the co-founder of Cognoscenti Creative, a boutique branding agency dedicated to establishing artisans as influencers.