In these days of light New Nordic cooking, Lars Hinnerskov Eriksen decides to go back to basics.
By Lars Hinnerskov Eriksen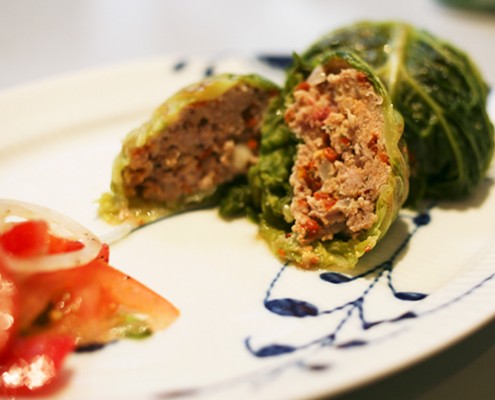 Every week a box of organic vegetables pops up outside our front door. Just like it does in many other middle class families with a healthy conscience but little time to scurry around the farmers' markets on the edge of town. Actually, there is no need for me to be condescending. The organic delivery box is a great idea, and especially rewarding for someone like me who can't see the forest for pigs and often needs a helping hand when it comes to cooking greens.
This week, to my surprise, a beautiful curly head of savoy cabbage was the first thing I encountered upon opening the box. And immediately it sent my mind racing back 25 years to the dinner table at my parents' house and a stablemate of old-school Nordic cuisine: stuffed cabbage leaves with pork.
We knew them as kåldolmere – an amalgamation of the Nordic words for cabbage and mideteranean dolmas – and my dad inveraibly used both savoy and white cabbage to wrap the meat in. It was part of a proud tradition of rustic, hearty Danish dishes that don't hog much spotlight in these days of new Nordic cuisine and minimalist tendencies. (And as Nancy Lopez McHugh shows elsehwere on this blog, it is a template which transcends food borders.)
See Also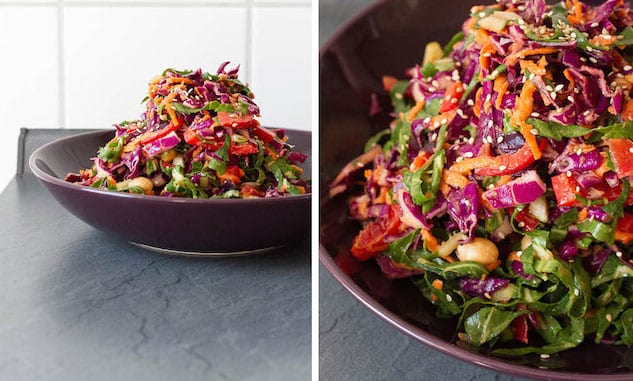 Anyhow, nothing can heal a hungry heart like a bit of childhood nostalgia so pork and cabbage it was. However, since we are in early days of summer I wanted to tweak this wintery dish so it seemed slightly more apt for the season. My kitchen larder came up with the solution; there I found anchovies and sun-dried tomatoes, so this take on kåldolmere has a decidedly Italian twist.
To be fair, you could mix and match your ingredients however you see fit (I forgot to add chopped lemon peel which I'm sure would have been ace). The casing of soft cabbage leaves is also very accomodating for both lamb and vegetarian fillings.

Nordic dolmas with an Italian twist
Nordic dolmas ... with an Italian twist
Author:
Lars Hinnerskov Eriksen
Ingredients
400g minced pork meat
1 head of savoy cabbage
1 large white onion, finely chopped
2 cloves of garlic, crushed
A handful of sundried tomatoes, finely chopped
10-12 leaves of fresh sage, finely chopped
8 anchovy fillets
2 tbs breadcrumbs
1 small egg, whisked
2 tbs of milk
2 tbs butter
1 liter of vegetable stock (or chicken stock)
Salt and pepper for seasoning
Instructions
Mix the mince meat with the onion, garlic, sage, tomatoes, anchovies, breadcrumbs and the whisked egg. Add a bit of milk until it has the consistency of a soft meatball mixture.
Fry a tablespoon of the mixture in a pan to make sure you have got the seasoning right. Add salt and pepper accordingly.
Pick and wash eight of the biggest cabbage leaves.
Blanch them in boiling water for about three minutes until soft so they can be folded. Move to ice water, drain and leave to dry on kitchen towel.
Lay each of these down down flat - so it looks like the maple leaf in the Canadian flag - and trim the stem so it becomes flush with the rest of the leaf. Be careful not to tear the leaf.
Place a lump of the pork mixture, about the size of a small egg, in the middle of each leaf. Roll the cabbage leaf around the meat and fold the two sides underneath. You can use your hands to firm it up and squeeze in excess water, but be careful not to tear the leaf. It's a bit like when you are trying to shape a snowball.
Place on a bit of cling film and tighten it up until it starts squeezing the contents. Leave the cabbage parcels in the fridge for about 30-40 minutes so they firm up a bit.
Unwrap the dolmas and brown them in the butter on both sides in a deep pan or pot.
With the 'open' side facing down, pour over enough stock so it almost covers the dolmas. They should look like fat little crocodile hovering on the edge of the water. Poach them for about 30 minutes.
Drain and serve with shavings of Parmesan cheese, tomato salad or whatever else tickles your fancy.
Lars Hinnerskov Eriksen
Lars Hinnerskov Eriksen lives in Copenhagen where he writes about food and football for the Guardian newspaper. Prior to that he spent 10 years in London where he studied journalism, worked on the Guardian's newsdesk and enjoyed a passionate love affair with British food culture (stop sniggering at the back) and the pub.