Sweet dough rolled with a cinnamon butter and toasted pecans is baked to perfection in a bourbon caramel sauce. Make the yeast-raised dough the night before and simply bake the next morning.
By Angela Baylis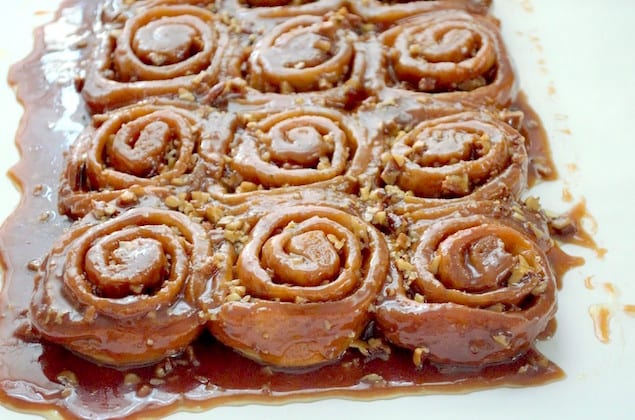 I'm not sure how it started. My mom remembers, I'm sure. About five or six years ago, our household was struck with cinnamon roll frenzy. My best guess is I decided to make them, and then made them again and again until I created the perfect recipe. At the same time, Mom was working on her version of the best buns. I think we both gained about ten pounds.
Although our recipes have diverged significantly, they are both extremely delicious. Mine is enveloped in a heady bourbon caramel sauce, with diced pecans and cinnamon butter filling. This is a serious commitment to make, but if you choose to make this recipe, you will be the host(ess) with the most(est).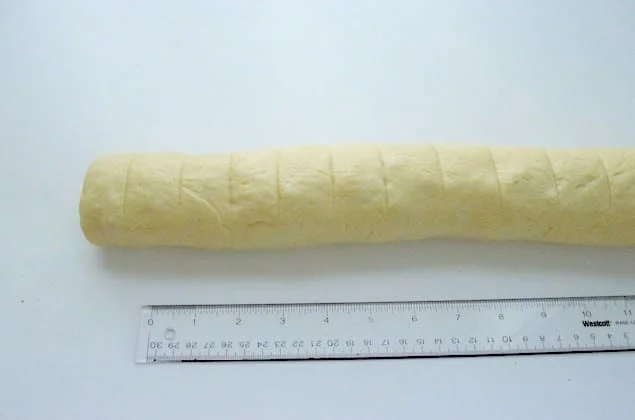 It should take about four hours, all told; you can also put the rolls in the fridge overnight (ready to bake) and pop them in the oven in the morning, for your house guests, friends, and neighbors.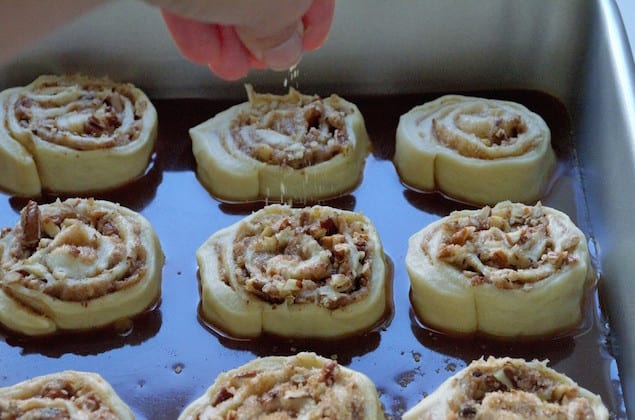 See Also
Once you master this dough, you can fill it with whatever you like. I certainly do.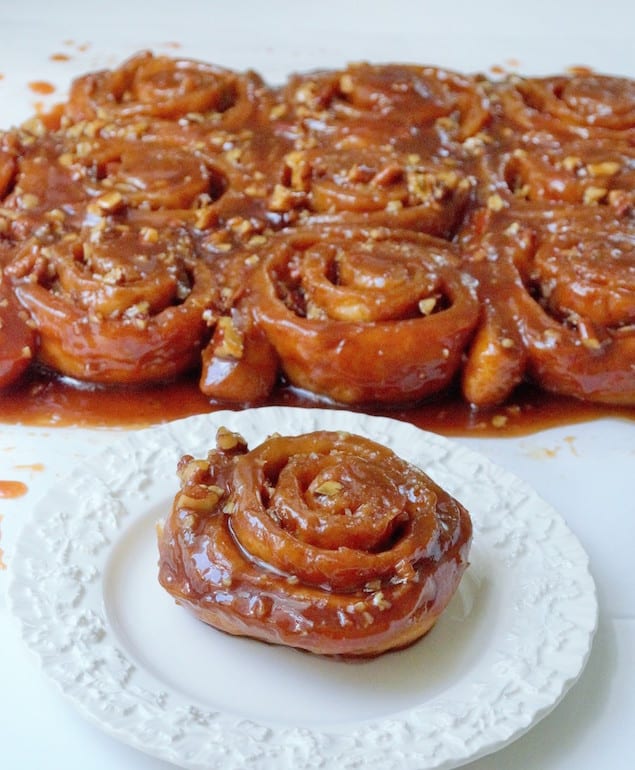 Find more step-by-step images here.

Pecan Rolls with Bourbon Caramel
Sweet dough rolled with a cinnamon butter and toasted pecans is baked to perfection in a bourbon caramel sauce. A delicious brunch surprise.
Recipe Type:
Baking, Breakfast
Ingredients
Sweet Dough for Rolls:
¾ c warm water (between 80-110 degrees)
2 t sugar
1 T active dry yeast
½ c flour
¼ c whole-fat yogurt
½ c whole-fat sour cream
½ c salted butter, softened
2 eggs, beaten
½ c sugar
2 t salt
2 t vanilla
1 t dough emulsion (optional)
5 c flour, divided
Bourbon Caramel Sauce:
½ c buttermilk
1½ c heavy cream
¼ c light corn syrup (can omit and use brown rice syrup)
2 t baking soda
2 t vanilla
½ t buttery dough emulsion (optional)
2 c salted butter
¼ c bourbon- the good stuff. I'm talking reeeeallly good, aged, bourbon. If you don't have any you can just leave it out.
Cinnamon Butter with Toasted Pecans:
¾# salted butter, soft
¼ c cinnamon
⅔ c sugar
2 c pecans
Instructions
Sweet Dough for Rolls:
Combine the water, 2 t sugar, yeast, and ½ c flour in a medium non-metal bowl. Stir a few times and set aside until doubled in size. Meanwhile, combine the other dough ingredients (everything but the remaining flour) in a large, non-metal bowl or container. Add the sponge once it has doubled in size, stir to combine, then stir in 4.5 cups of flour. Stir together as well as you can in the bowl, then turn out onto the counter with the remaining ½ c flour. Knead the dough until it is cohesive, soft and smooth.
Set aside in a greased, loosely covered container to rise. Once it has gotten large and puffy, gently turn out on to the counter and halve. Cover half with a damp towel or saran wrap.
Roll each half to around 10x15, keeping them as rectangular as possible. Fill, roll gently towards yourself, cut evenly and set into prepared pans. Allow them to rise again- another 45-60 minutes- until large and puffy. Bake at 350 about 30-35 minutes, until golden brown. Cool in pans for five minutes, then turn out onto parchment paper or silicone baking sheet.
Bourbon Caramel Sauce:
Combine the buttermilk, cream, corn syrup, baking soda, vanilla, and dough emulsion on a LARGE saucepan. The mixture will expand quite a bit so you want lots of headroom in the pot. Cook over medium heat, stirring occasionally, until the mix feels hot. Add the butter (bubbles!) and bring to a boil. Reduce heat and simmer, stirring occasionally, until the sauce is the color of dark brown sugar. This will take about 15-20 minutes. Remove from the heat and stir in the bourbon carefully- it will bubble and spit. Divide between two metal 13x9 pans (about three cups per pan) and make sure you eat the excess with a spoon.
Cinnamon Butter with Toasted Pecans:
Combine the butter, cinnamon, ad sugar in a medium bowl, stirring until well combined.
Toast the pecans over medium heat, stirring frequently, until they are golden brown and fragrant. Chop to a medium dice and set aside.
When filling your rolls, spread each half with half of the cinnamon butter mixture and top that with ½ the pecans.
Whew! You deserve a sticky bun with a nice cold glass of milk, am I right?!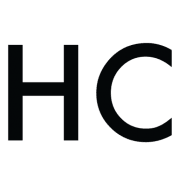 Angela Baylis
I'm Angela. I have been teaching cooking classes and equestrian skills professionally for years, as well as opening and selling a successful restaurant. I am an avid cook, animal lover, and instructor. It has been my great blessing to learn from many great teachers over the years. In my experience, cooking and baking is best learned from someone who already knows how to do it, who can show you the ins and the outs without making it overwhelming. Take my hand. We can do it together.