These Peach and Pork Tacos are a bright, light fusion blend of flavors and ingredients in a recipe that is quick and beautiful.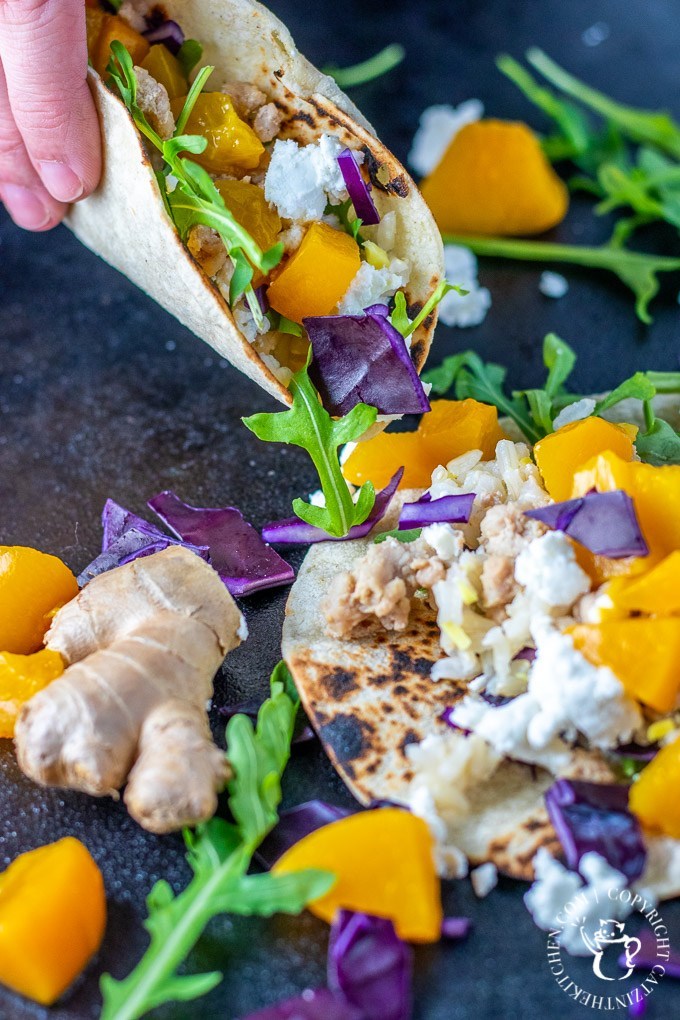 Enter these Pork and Peach Street Tacos. They taste like spring or summer! Bright and fresh, with color and flavor… seriously, this could be a year round taco right here!
I think what I love about these tacos is the amount of flavor in them. If you look at the ingredients on their own, they all seem a little weird. Like, how does this all make sense together. But they do! The ground pork gets marinated in the peach juice along with a few other ingredients (which by the way, these tacos are a fusion of Mexican and Asian flavors), which just make the pork so flavorful. Zesty and sweet at the same time. The rice (we cooked ours in our rice cooker) is pretty basic, but then you add fresh minced ginger to it after it has cooked and suddenly it is a way more elevated brown rice. But the real surprise is in the toppings of the taco. You've got the ginger rice, arugula (Josh's favorite lettuce), red cabbage, the marinated pork, diced peaches, and here is the really surprising ingredient – goat cheese!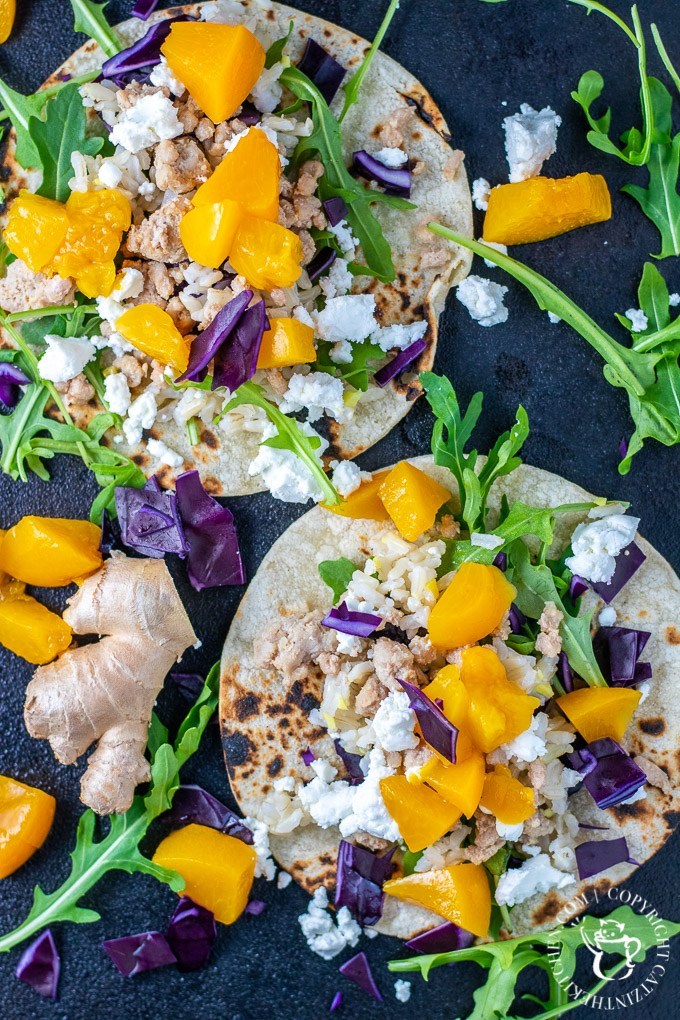 I almost didn't buy the goat cheese because I just didn't know how it fit with the flavors. Like maybe, the recipe author meant cotija cheese or queso fresco. Nope, goat cheese! And while it will be the most expensive part of this recipe (pssst, buy it from Trader Joe's if you have one near you), it is also an ingredient you don't want to swap or leave out.
See Also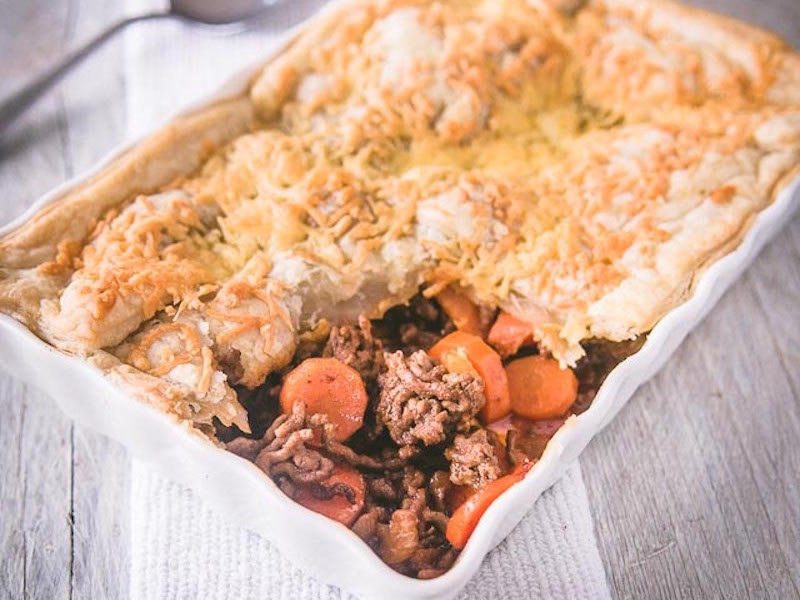 I was really concerned that these tacos would be dry. I mean, we're not adding any taco sauce or sour cream. But the flavor of the marinated ground pork, the sweetness of the diced peaches, and the creaminess of the goat cheese add a lot of moistness without drying out the taco ingredients and it all just really works together.
Print
Peach and Pork Tacos
Author:

Chelsia Rief

Category:

Tacos
2

15 oz canned peaches (in 100% juice), juices reserved and divided OR Fresh peaches

4

cloves garlic (minced)

2 tbsp

honey
Salt and pepper (to taste)

1

lb. ground pork (90% lean, 10% fat)

16

corn tortillas

2 tbsp

fresh ginger (minced)

2 cups

cooked brown rice

2

–

4

cups baby arugula

2 cups

chopped red cabbage

2 cups

8 oz crumbled goat cheese
Instructions
Using a rice cooker or pot, cook the brown rice according to package directions about 30 minutes to starting dinner. It should finish cooking as your ready to assemble the tacos.
Mix reserved peach juice with garlic, honey, salt and pepper, and set aside. Place ground pork in a bowl and add peach marinade to the pork and set aside for 10-15 minutes.
While the pork is marinating, dice the peaches and chop the cabbage, setting it aside. Heat a sauce pan to medium heat and spray with cooking spray. Drain marinade from pork and discard. Add pork to pan and brown, cooking till it reaches an internal temperature of 145 degrees. Begin warming tortillas either by placing on the flame of a gas stove for a few seconds on each side, taking care to not burn them or warming in the oven or microwave.
Add ginger to cooked brown rice and mix well. Assemble tacos by adding arugula, red cabbage, rice, pork, and finally topping with goat cheese and diced peaches to your warmed tortilla.
Notes
Recipe slightly adapted from Fred Meyer recipes

Chelsia Rief
Hi, I'm Chels! You'll find me in the kitchen most days – either that or the desk around the corner from the kitchen. No doubt about it – the kitchen is the center of my little household. I believe cooking together and eating together helps keep us together!