This delicious Jalapeño-Cheddar Sourdough Bread is made with pickled Jalapeños, sharp cheddar cheese and garlic chives. Perfect with soup or on its own.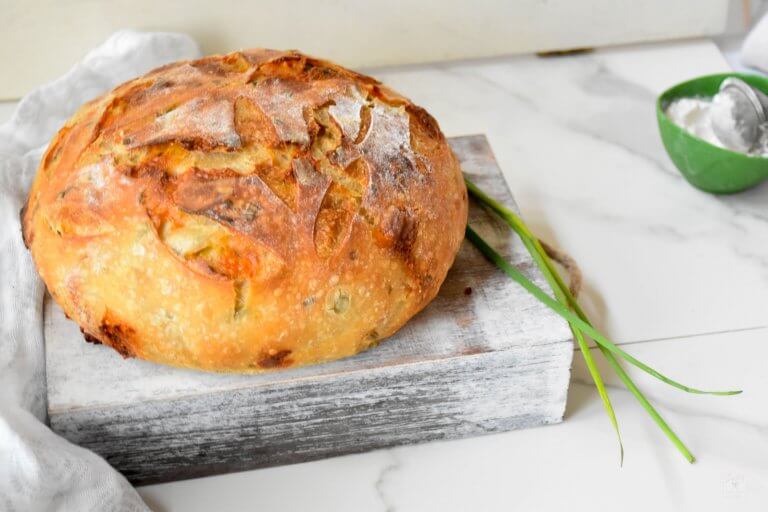 My sourdough bread saga continues with this Jalapeño Cheddar Chive Sourdough bread. I like to bake bread with various ingredients, that makes it not only tasty but also a filling one.
I don't have any routine to bake the bread, if I decide that I need to bake bread I get my starter ready by the evening and next morning make the dough and refrigerate overnight and bake them next day. I don't know why, but I am crazy about the Jalapeño Cheddar combo, I have tired Jalapeño Cheddar Biscuits, Jalapeño Cheddar Wheat buns, Jalapeño Cheddar Cumin Scones. Then I realized that I didn't tried a sourdough bread with this combo. Decide to give it a try, and it turned out to be delicious.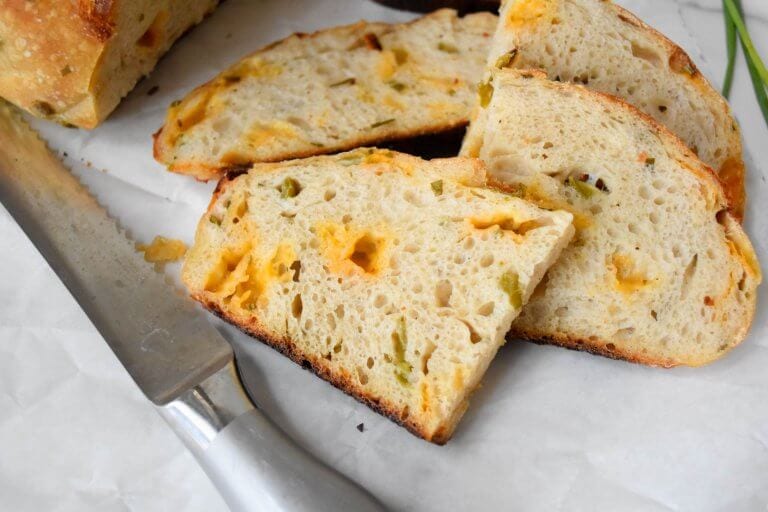 With biscuits I tried pickled Jalapeño, whereas wheat buns fresh ones and with scones, I cooked it. For this Sourdough I used pickled sliced Jalapeño. Also, I like to use sharp cheddar when it comes to baking and is soups.

Coming to the sourdough bread this is simple recipe you can add the cheese and other filling if you want while making the dough itself. But I like to add it after their bulk rise. Usually mix in and then shape and do the overnight fermentation in the refrigerator.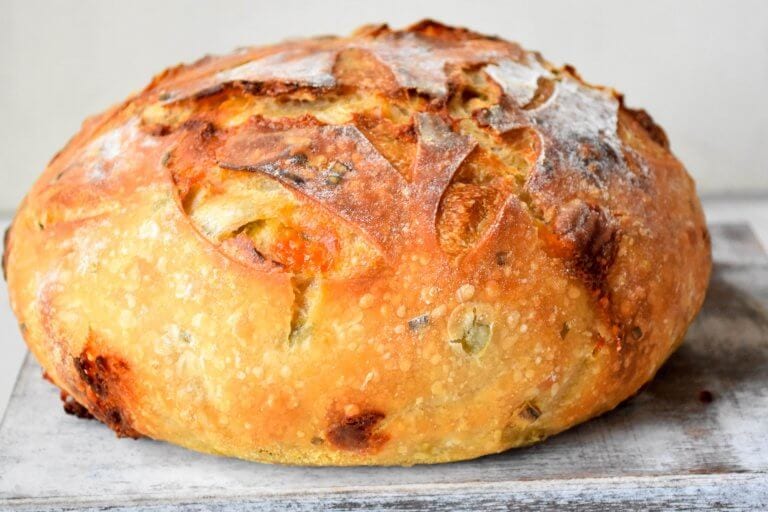 Since this bread has cheese in it, make sure to bake it with parchment paper. You can have this Jalapeño Cheddar Chive Sourdough Bread with your favorite bowl of soup or just as such. It will be a good idea if you toast them with little butter. Enjoy as you wish.
Need to make a starter? Click HERE.

Jalapeño-Cheddar Sourdough Bread
Recipe Type:
Baking, Bread
Ingredients
50 g OR ¼ cup Sourdough starter
365 g OR 1 ½ cup + 1 tsp warm water
280 g OR 2⅓ cups bread flour
200 g OR 1¾ cups all purpose flour
20 g whole wheat flour
9 g OR 1 ½ tsp fine sea salt
50 g OR ⅓ cup sliced pickled Jalapenos
135 g OR 1 heaped cup Sharp cheddar cheese cubed into ¼ inch
12 g OR ¼ cup minced chives
Instructions
In a large bowl add starter and water and mix well. Then add all purpose, whole wheat flour and bread flour combine everything and set aside for 30 minutes
Then add salt and mix again and set aside for another 6-8 hours. I didn't do it, if you want you can strengthen the dough with folding at every 30 minutes for next 2 hours and then 1-hour interval for 2 hours and finally set aside for 2-3 hours.
When you are ready to shape mix in cheese, jalapenos and chives then shape and transfer to banneton or mold.
Refrigerate for overnight, next morning pre-heat oven to 450F. Transfer the dough to cold Dutch oven and bake for 10 minutes at 450F and then reduce the temperature to 425 F and bake 25 minutes with lid on. Then remove the lid and bake for another 10 minutes or until loaf develop golden color and when you tap the loaf it makes whole sound or register 210 F internal temperature.
Cool the loaf and cut it into slice and enjoy.