You always must leave room for dessert. The saying goes when you visit Zur Fernsicht in Heiden. A very likable small town near St. Gallen, Switzerland. 
Headed up by Chef Tobias Funke, a Michelin-star chef, the pastry chef lead by Kay Baumgardt makes this award-winning restaurant absolutely worth seeking out.
Excellent views of the Lake Constance overlooking St. Gallen and of course wonderful service, the desserts created by Kay are so good you have the option of having two, yes TWO desserts in the degustations at Zur Fernsicht.
Here, Chef Kay Baumgardt shares his recipe for 'The Stone' with Michelle Tchea's Chefs Collective #lovestgallen #loveFernsicht #loveChefsCollective
The Stone by Chef Kay Baumgardt 
Roasted Rye Flour / Green Apple / Yoghurt / Parsley
Rye Flour Cream
350g Yoghurt
65g Roasted Rye Flour 60g Cane Sugar
25g Honey 40g Inulin
160g Egg White
8g bloomed Gelatin
Pinch of Salt, little bit of Apple Kombucha
Combine the Egg White with the Inulin and whip it until stiff. Put the Gelatin Sheets in cold water for 10 minutes, squeeze the Gelatin, to get all the Water out. Now you combine all the other ingredients, make sure that the Cream is perfect seasoned with salt and kombucha. Put the Gelatine in a pan or microwave to heat it up. Not to warm!! Pour in into the Mix and whisk very well. At last you fold in the Egg White / Inulin Mix. Be careful …. Don´t whisk it too much. Slightly with a spatula is perfect.
Fill the Cream into a Piping Bag and fill it up in the Stone Silicone Mould from Pavoni Italia
Green Apple Compote
4 Green Apples
100g fresh Apple Juice 1 Lemon
1g Salt
1.5g Xanthana 10g Apple Vinegar
Peel the Apples and cut them in equal size cubes. Put the rest of the ingredients in a mixer and blend it for 2 minutes. Taste it and maybe you need a little bit more Salt. Pour the Apple into the Mix.
Parsley Dust
Put 200g of Fresh Parsley for around 12 Hours in a Dehydrator. Mix it as fine you need.
Parsley Stones
25g Maltodextrin 15g Parsley Dust 20g Parsley Oil
1g Salt
Mix everything together. Put a bigger Pan on the Stove. Pour some drops Sunflower Oil in it. Don´t heat it up too much!!! Put half of the mixture in it and do a round movement with the Pan until you get Stones. Put them through a sieve to have all the same sizes.
Yoghurt Gel
350g Milk 3.3g Agar
16g Yoghurt Powder (Sosa) 2g Flaked Salt
See Also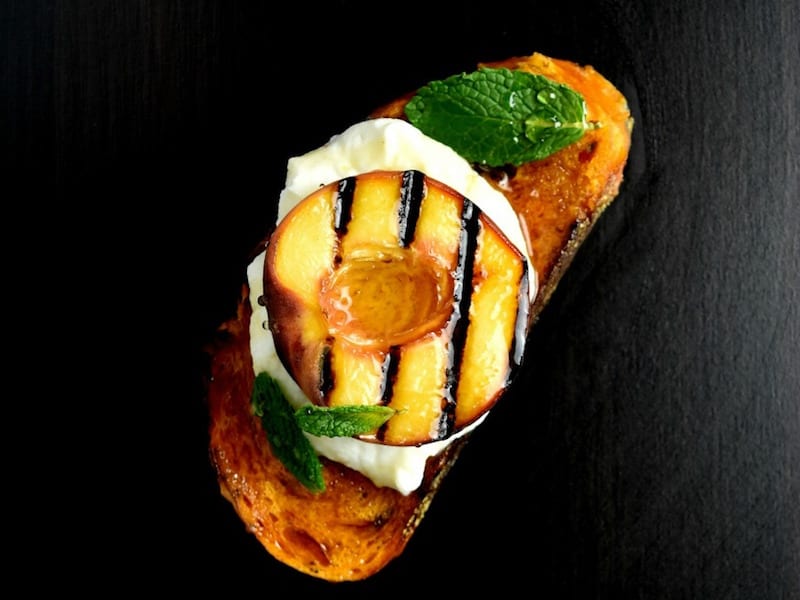 ½ Squeezed Lemon
Boil Milk, Agar, Salt and the lemon Juice for One Minute. Pour it on a tray and let it cool down in the Fridge. Now put everything in the Thermomix or a High-Speed Mixer (with the Yoghurt Powder). Mix it until its nice and smooth. Fill it up in a small squeeze Bottle.
Green Apple / Parsley Sorbet
300g Fresh Green Apple Juice 110g Parsley
160g Sorbet Mix 35g Basic Texture 4g Pro Sorbet
3g Salt
30g Apple Cider
Mix all the ingredients. Pour it through a sieve, fill it in Paco Jet Container and freeze for 24 Hours.
Parsley Oil
300g fresh Parsley 190g Sunflower Oil
2g Salt
Put everything in the Thermomix. Mix it at 80°C for 12 Minutes. Pour it through a very fine Sieve. Cool it down very quickly to keep the green Colour.
Rye Flour Dust
300g Fresh made Rye Flour Bread
Dry the Bread at a temperature of 60°C for around 3 Hours. Mix it very well.
Michelle Tchea
Michelle Tchea is a 4-time bestselling author. Her books include, Building a Perfect Meal, My Little SoHo Kitchen, Signature Dishes (Australia's Best) and Chefs Collective. Her work can be found in other leading luxury travel and food magazines including Travel+Leisure Asia, SMILE, NUVO Magazine and The Telegraph