A Tower of Goodness: Pancake Cake
This pancake tower is such a simple treat to make, but a great alternative to heavy cream cakes especially in summer when you generally prefer keeping things a little lighter.
By Maria Laitinen
There is nothing better in summer than thin and crispy pancakes topped with fresh seasonal berries and good vanilla bean ice cream. This used to be my favourite treat during summer in Finland – and the best pancakes were made on a bonfire using a huge cast iron skillet. We would gather around the fire and could not wait to get our hands on the pancakes as soon as they were ready.
This pancake tower is such a simple treat to make, but a great alternative to heavy cream cakes especially in summer when you generally prefer keeping things a little lighter. I have used frozen berries, but you could certainly use fresh berries too, they would be even better! And instead of ricotta, you could use quark (if it's available where you are) or even thick Greek yoghurt that has been drained for an hour or two.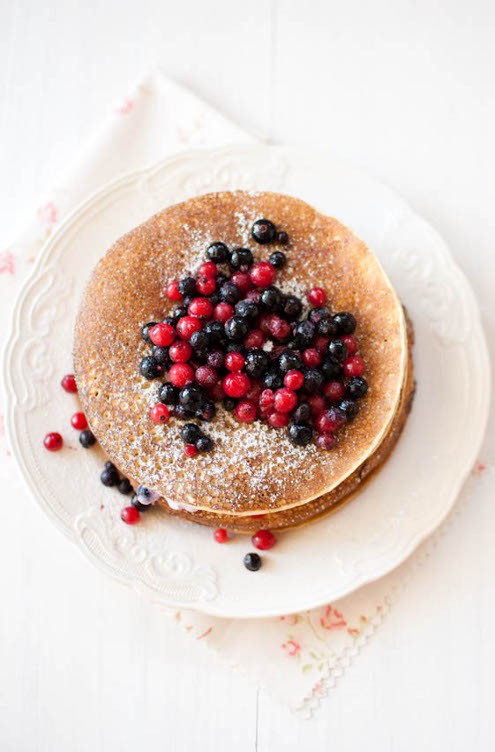 Pancake cake
(Serves 4)
Pancakes
(Makes 7 small pancakes)
250 ml (8.5 oz) milk
100g (1 cup) white, unbleached spelt flour
2 large free-range eggs
75 ml (2.5 oz) milk, extra
tiny pinch of salt
1 tablespoon olive oil
Berry cream
250g (8.8 oz) smooth low-fat ricotta
200g (7 oz) frozen berries, thawed
1 teaspoon natural vanilla extract
1 heaped tablespoon raw honey
50g (1.7 oz) berries, extra, to serve
icing sugar, to serve
1. To make the pancakes, whisk together the milk and the flour until smooth. Add the eggs, extra milk, salt and olive oil and whisk until smooth.
2. Heat the olive oil on a small frying pan on medium heat and cook the pancakes one by one until golden. Set aside to cool.
3. For the berry cream, mix the vanilla and the honey into the ricotta and stir in the berries.
4. To assemble, place a pancake on a platter, top with a spoonful of berry cream and spread evenly. Continue to layer the pancakes and the cream until finished. Top with the extra berries and decorate with icing sugar.
Maria Laitinen
Maria Laitinen is a regular contributor to Honest Cooking. She is the editor of the food blog Scandi Foodie specialising in healthy, feel good food. Originally from Finland and living in Sydney, Australia, her food philosophy and sense of style is heavily influenced by her Scandinavian background. She is a tireless promoter of Nordic cuisine and an avid collector of vintage tableware.