Hated by kids around the world, brussel sprouts actually do not deserve their bad reputation. SriVani Ganti with a delicious serving suggestion.
By SriVani Ganti
More often than not, when you ask a kid what vegetable they hate they will boldly announce that brussel sprouts are their Achilles Heel. I used to be one of those kids. Through the power of suggestion (via a cousin), I thought aphids lives in brussels sprouts making them taste horrendous. Now I don't know if that is true, but I can happily say brussel sprouts don't taste terrible. They do produce an interesting smell when cooked, but that doesn't translate to the taste buds. After coming to my senses,  and some inspiration from a Jose Andres restaurant; I developed this exciting recipe that I would love to share with all of you!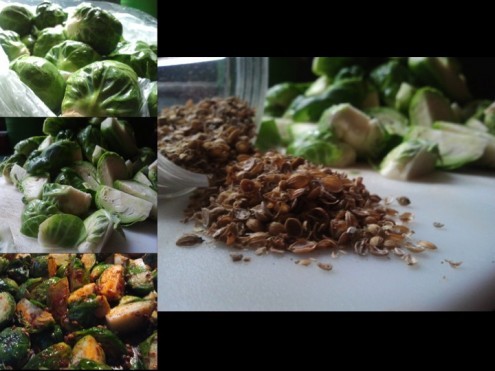 Brussel Sprouts Dressed With Coriander Seeds
Fear brussel sprouts no more!
Recipe Type:
Side Dise, Main Course
Ingredients
1 lb brussels sprouts
2 tbs coriander seeds roughly ground
Salt
1 tsp red chili powder (optional)
1 tsp turmeric powder (optional)
Vegetable oil
Instructions
Wash the brussel sprouts. The cut off the ends and quarter them lengthwise.
In a large pan, heat oil. Once the oil is heated add the coriander seeds. Let them cook for 30 seconds.
Add the sprouts to the hot oil and stir.
Season with salt, chili powder and turmeric (the latter two if desired). Cook until the thickest part of the sprout is tender.