Without potatoes, make these paleo kabocha squash gnocchi in a delightful saffron sauce.
Italians know it well, making gnocchi without the right potatoes can be a key for disaster. Imagine making gluten free paleo gnocchi that are potato free as well! …That's one tough recipe to come up with!
I remember my grandpa, when I was a little girl, carefully selecting potatoes from the carriage loaded of produce he would bring home from the fields. He always made sure that my grandma would only used the best, starchier tubers to prepare her infamous gnocchi recipe, that we used to enjoy seasoned with a sage, gorgonzola and Parmigiano sauce.
So many wonderful family lunches had this dish as a protagonist!!
Today, I want to show you guys how I turn these epic gnocchi memories into reality without potatoes, flour and respecting the paleo, grain free canons as well!
How Can You Make Your Gnocchi Be Paleo?!?
I know your concerns. And before I tried this recipe, I was very skeptical too. But you know what? Not only is it possible to make this recipe paleo. It's also possible to make AIP (Auto Immune Paleo) as well, as it's also free from nightshades (potatoes, tomatoes, eggplants and peppers).
The key for the success of this recipe lies in the replacements. And here I really want to stress on the important of using the right kind of squash to replace potatoes. Kabocha Squash, also known as Japanese Pumpkin or Buttercup Squash, has a very distinctive, chestnut like flavor, and its firm and starchy consistency is perfect to replace white potatoes when making potato free gnocchi.
As for the paleo, grain free flours we can chose to replace regular wheat flour, cassava is by far the best choice. Starches like tapioca or arrowroot would make your gnocchi taste like glue. Trust me, I made that mistake before and I talk by experience ;(
Cassava flour instead, keeps your paleo gnocchi dough nicely together while still keeping their final texture soft and delicious to eat.
See Also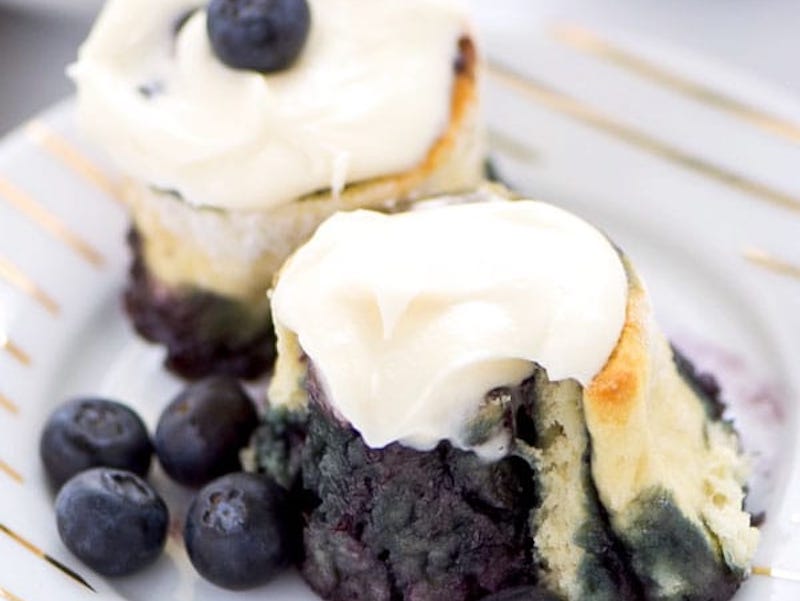 A Gnocchi Sauce for Everyone!
As you'll have the chance to test yourself, this paleo gnocchi recipe is a much lighter, healthier version of the original. And because I know that you all have different preferences when it comes to seasonings, I prepared two different kinds of sauces: one for the Balsamico lovers (just like me) and one for those who don't want to give up their beloved cheese sauce (just like my husband)!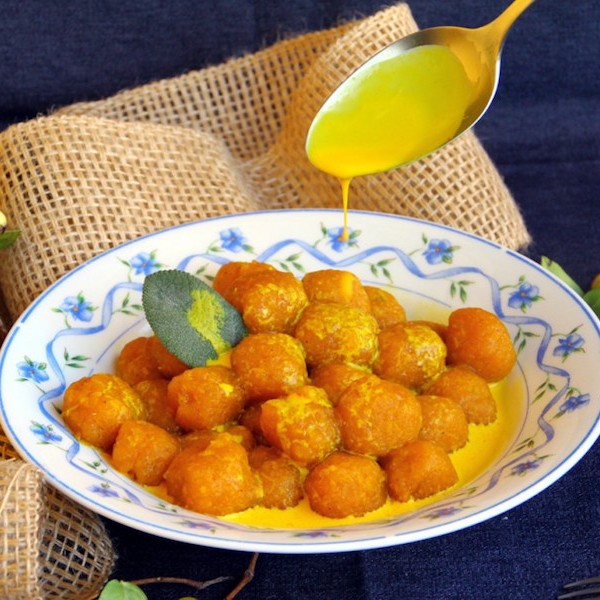 Ambra Torelli
Ingredients
600

gr

Kabocha Squash

raw

1

pinch

of Salt

1

pinch

Nutmeg

100

gr

Cassava Flour

I use Amafil

For the Balsamico Saffron Sauce:

1

tbsp

Olive Oil

4

leaves

of Sage

20

gr

Coconut Milk

1/8

tsp

Saffron

1/8

tsp

Saffron
Instructions
Cut the squash, clean it and steam it until soft.

Mash it with a fork or with a potato masher.

Add in salt, nutmeg and flour and knead well.

Take pieces of dough and roll them down with your hands on a floured (I used cassava) wooden floor until 1 inch thick.

Cut the rolls in small pieces (1 inch wide) and set them aside on a tray covered with parchment paper so they don't stick or on a different side of the wooded board you are using as a working space.

Fill a medium sized pot half way with water and bring it to boil. When the water starts to boil, add in a pinch of salt and pour in the gnocchi making them slide gently from the board to the water.

To prepare the Balsamico Saffron sauce, heat up the olive oil in a small pan. When it starts to fry, add in the sage that you previously washed and cut. Let if cook until is starts to get crispy, then press it down with a fork until it breaks in small pieces.

Add in the coconut milk and the saffron, mix for a couple of minutes and set aside.

Cook your paleo gnocchi for about 4 to 5 minutes and when they start to load on the surface, strain them with a wire strainer and put them in the plates a bit at the time.

As you place each portion of gnocchi in the plate, scoop a table spoon of sauce on top of them until completely seasoned.

Add a drizzle of aged Aceto Balsamico from Modena on top of your paleo gnocchi and enjoy!!

Variation:

If you prefer to season your Potato Free Paleo Gnocchi with a more cheesy flavor, this dairy free cauliflower "cheese" sauce is for you! Blend all ingredients here below in a high speed blender until you get a very creamy sauce, season your paleo gnocchi with it and enjoy!

Dairy Free Cauliflower Cheese Sauce Recipe:

(1/2) Cauliflower , steamed

(1/4) cup unsweetened Plant Based Milk (I like to use Coconut Milk)

tsp Olive Oil

Himalayan Salt, to taste

tbsp Nutritional Yeast
Now, I can't wait to hear from you!!
What is the gnocchi sauce recipe you liked the most?
Have you ever tried to make grain free gnocchi before?
What replacements did you use to make them potato free?
Leave a comment below and share your experience. I am excited to learn new ways to cook this delicious Italian dish in the perfect allergy free version!
Lots of love from Italy!!
Ambra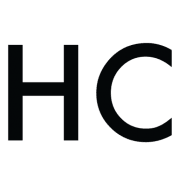 Ambra Torelli
Born and raised in Italy, Ambra is a healthy recipe developer, food and travel writer with a passion for healthy living and wellness. She is the founder of 'Little Bites of Beauty" and the author of the cookbooks "Healthy Italian Desserts Made Simple" and "The AIP Italian Cookbook". She shares her daily food & travel adventures on her Instagram @LittleBitesofBeauty