Ruby Moukli with a tip on how to win any competition for Biggest Easter Egg this year.
By Ruby Moukli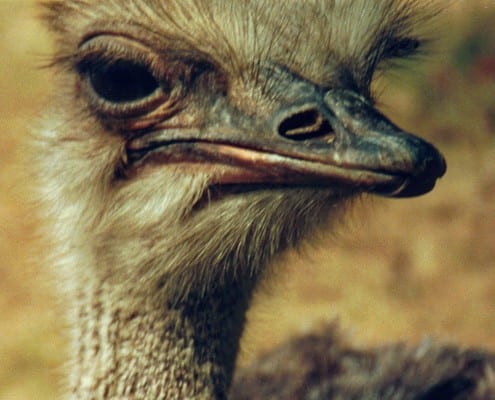 "Right, well I'm off to see a man about an ostrich." It struck me, even as the words left my mouth, that it wasn't something you say every day. Or even hear, for that matter.
One doesn't normally associate ostrich with England. Native to parts of sub-Saharan Africa and originally farmed in South Africa 150 years ago for their feathers, ostrich only came to the UK in the 1980s to be farmed for their feathers, meat, skin and eggs. It is therefore by no means part of a traditional British diet, but is increasingly popular with the health-conscious for its relatively lean and low-cholesterol meat. Ostrich burgers are turning up at even the most quintessential village fairs across the English countryside.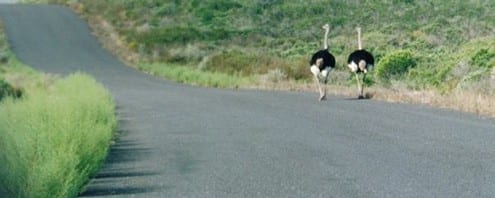 The ostrich in question on this occasion, ostrich plural actually, are raised in Buckinghamshire by Arthur Andrews, primarily as breeding stock and for their eggs. These, the largest of all eggs, are sold locally as well as in specialist grocers such as Harrod's and Fortnum & Mason in London.
After touring the farm, my friend Cathy and I trying to distract Andrews from the fact that our children were gathering ostrich feathers off the ground (these retail at £1 each and, luckily for us, he was kind enough to invite the children to keep them), we took an egg into their class at school.
My husband drilled a hole into it, the children took turns blowing it out ("GROSS!!!" was the resounding reaction) and then we scrambled it up. The children mostly loved the taste (there were one or two dissenters), so for a group of finicky five year-olds, it was a pretty good result.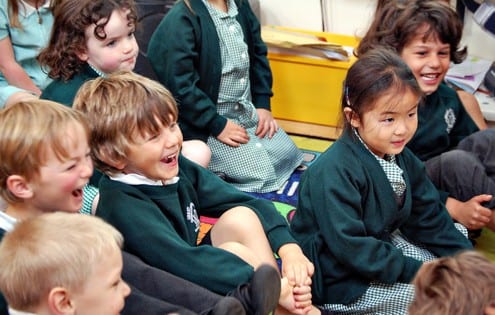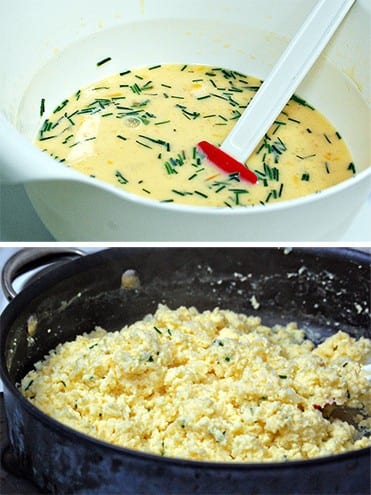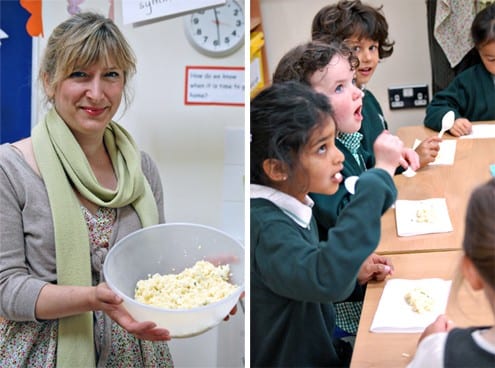 Interested in having a go? Ostrich farming is gaining in popularity and you may be lucky enough to find a farm, or at least a retailer, near you (here are links for the UK and mail-order in the US). Bear in mind that one ostrich egg is equivalent to approximately 24 chicken eggs, so plan this for a gathering or freeze extra (uncooked) portions.
As for the empty shell – it can be painted or even elaborately carved. Hollowed-out shells were used as water canteens by humans as early as 58,000 BC, and still are today by bushmen in the Kalahari. We haven't yet decided what we'll do with ours – just have to stop the boy from playing football with it!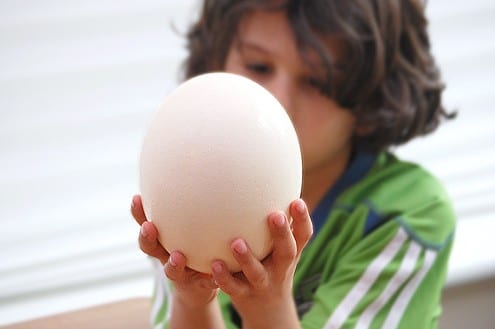 A Bite of Britain: The Biggest Easter Egg
Ingredients
1 ostrich egg
Hand drill
Drinking straw with flexible end
125 ml (1/2 cup) milk
Handful of chives, chopped
1 Tbsp salt
1 tsp black pepper
Instructions
Holding the egg over a large bowl, carefully drill a hole about 2 cm wide in one end. This will take time as the shells are very hard. Go slow and steady so you don't cause a large crack in the shell.
Empty it out by blowing into the hole with the flexible end of the straw. This is the bit children can help with (and which will throw everyone into fits of giggles – grown-ups too).
Beat the egg with milk, chives, salt and pepper and then scramble on low heat in a large greased skillet, stirring constantly to stop it from sticking. (10-15 minutes)
Serve as you would chicken eggs. A lovely Easter brunch idea is to pile it on toasted English muffins or bagels, with smoked salmon and a hollandaise sauce. Brilliant with Buck's Fizz (that's British speak for what Americans call Mimosas – champagne and orange juice)!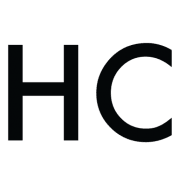 Ruby Rasa
Curious about her British mother's seemingly bizarre love of cheese & onion sandwiches, Ruby moved to England and discovered an island full of people eating them. She now lives among them, works as a freelance writer and photographer and yes, occasionally enjoys a good cheese & onion.