Orange Chicken – The Sweet and Sour Taste of Winter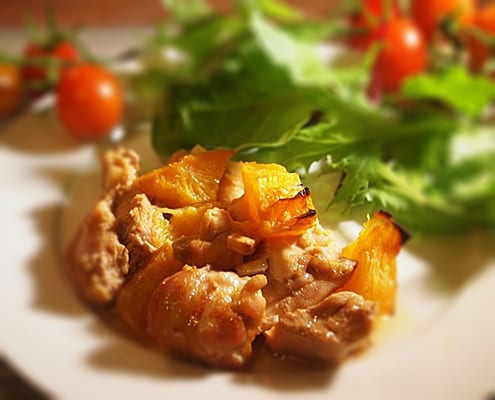 The fresh taste of orange combined with the full taste of chicken, what a treat. So easy to make yet looks so good on the plate.
By Maya Moscovich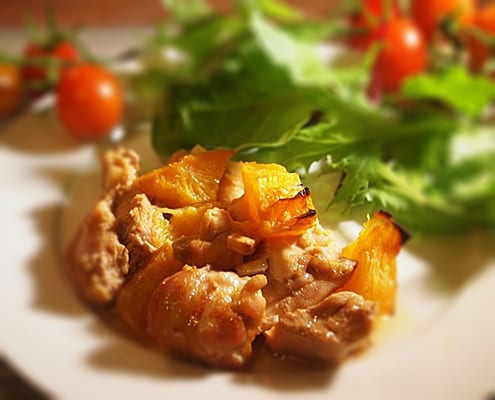 Citrus fruits always remind me of winter. Growing up in Israel I remember going with my dad to the orange orchard and picking oranges, putting them in my sweater and carrying them home. Thinking back, I'm pretty sure it was a privately owned orchard but we had fun anyway. I love how citrus fruits always add lightness and freshness to any dish so I figured I may as well use it for our chicken dinner. I had some chicken thighs and half an orange in the fridge, leftovers from the kids' school snack, and that's how this dish was born.
Orange Chicken - The Sweet and Sour Taste of Winter
The fresh taste of an orange combined with the full taste of chicken, what a treat. So easy to make yet looks so good on the plate. Your taste buds will celebrate.
Ingredients
6 Chicken Thighs – Boneless and Skinless
1 tbsp Soy Sauce
½ tbsp Mustard
2 tbsp Water
1 Garlic Clove – Minced
½ Orange – Peeled and Cubed
Instructions
Preheat oven to 400F (200C)
In a small bowl, mix the soy sauce, mustard, water and garlic. Set aside.
Cube the chicken thighs.
Place the chicken in a small Pyrex (heat resistant) dish or in a deep baking pan.
Pour the sauce mix over the chicken and stir in the oranges.
Cover with foil and place in preheated oven for 20 minutes.
After 20 minutes remove the foil and continue cooking in the oven for additional 15 minutes.
Maya Moscovich
Being born and raised in Israel, Mayas nutrition always consisted of food that's spiced well, light on the stomach and includes a lot of vegetables, fruits and olive oil. Now residing in Halifax, Nova Scotia, she is on a quest to reconnect with the food traditions of her home country.