Orange Cardamom Ricotta with Honey, Figs and Almonds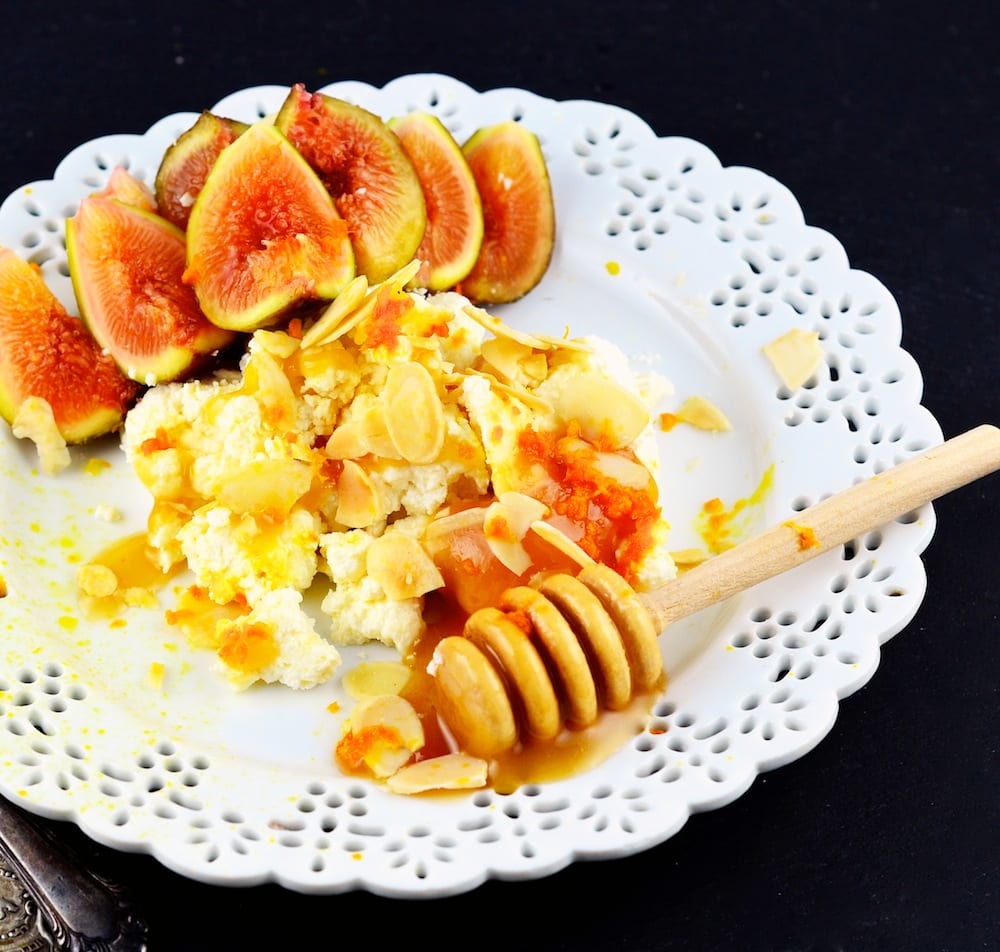 Homemade ricotta becomes a delicate dessert with an infusion of flavors and a topping of sweet honey, luscious figs and crunchy almonds.
By Vicky Cohen and Ruth Fox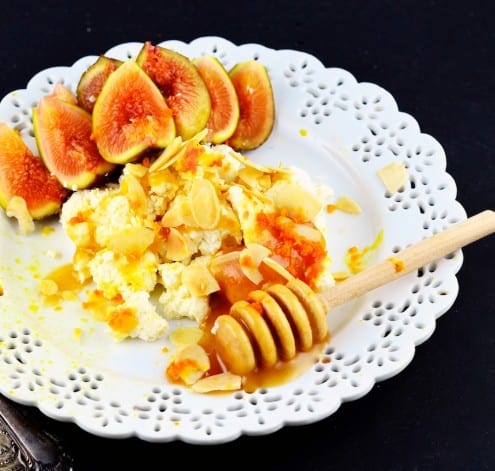 Orange Cardamom Ricotta with Honey, Figs and Almonds
Homemade ricotta becomes a delicate dessert with an infusion of flavors and a topping of sweet honey, luscious figs and crunchy almonds.
Author:
Vick Cohen and Ruth Fox
Ingredients
2 cups of 1% milk
4 cups of 2% milk
1 tsp salt
1 orange peel
2 cardamon pods slightly crushed (hit them slightly with the back of a chef's knife )
4 tsp fresh squeezed meyer lemon juice or regular lemon
½ – 1 cup of raw honey we used wholesome sweeteners
12 figs, quartered
1 cup toasted sliced almonds
zest of one organic orange
Instructions
Combine milk, orange peel, cardamom pods and salt In a large sauce pan. Heat at medium heat for about 15 minutes
In the meantime, line a fine mesh colander with a cheese cloth and place it over a bowl.
When milk comes to a soft boil and small bubbles start to form, add lemon juice and stir the milk mixture until it curdles. Pour into the cheese cloth and let it drain until only the curds remain
Discard all the water from the bowl. Place the colander in the fridge, over a bowl, for 2 hours
Serve ricotta with figs, drizzled with honey, orange zest and almonds
Vicky Cohen and Ruth Fox
We are two sisters born and raised in Barcelona, Spain, with Sephardic and Middle Eastern roots. We grew up eating the best, most flavorful, comforting home-cooked meals prepared by our mom, who taught us everything we know about cooking. When we moved here to the U.S. we felt it was really important to keep our traditions and background alive, and we've done so by sharing it with everyone we've met throughout the years. After all, what better way to make new friends and share our love and culture than through food, right? Our friends have come to enjoy our food and gatherings so much that are always asking us for our recipes. That inspired us to start a cooking blog called "May I have that recipe" where we share recipes we've created inspired by our multicultural background.