One Skillet Layered Portabella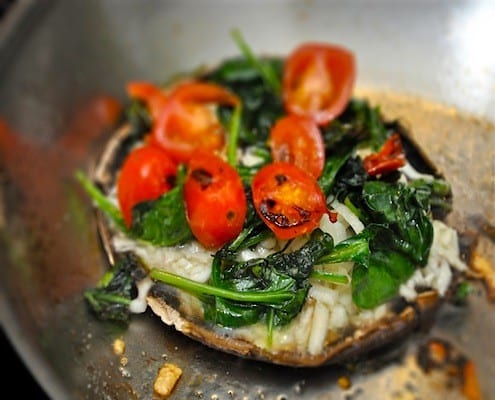 This declicious layered portabella packs a lot of flavor and only dirties up one skillet.
By Jerri Green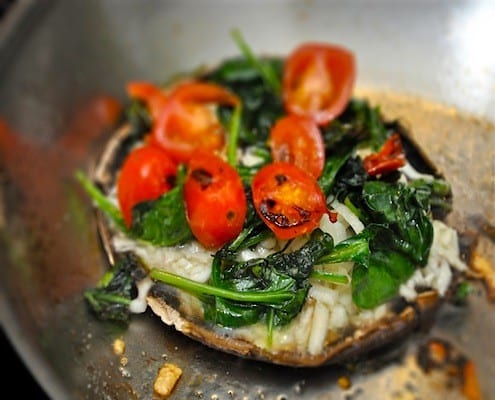 I sometimes feel like I spend my days drowning in household chores. Pick up those toys, wipe those fingerprints off the door, and here is another load of laundry even though I just did two. And of course, there is always the dishes. This may be more my fault than anyone's. I do a lot of cooking. Anyway, like all good stay at home moms, I am all about any dish I can make using just one pot or pan. Less clean up later is always a good thing.
Let me introduce you to my latest one dish wonder – this layered portabella. It packs a lot of flavor and only dirties up one skillet.
One Skillet Layered Portabella
big mushroom taste, little clean up
Recipe Type:
Main, vegetarian
Ingredients
Olive oil for drizzling
1 large portabella, cleaned and destemmed
¼ cup of parmesano reggano
1 cup of baby spinach leaves
3-4 grape tomatoes
garlic powder
salt and pepper to taste
Instructions
Drizzle you skillet with oil, enough to coat it.
Add in the mushroom gill side down and heat on medium high flame.
Let soften a few minutes.
Flip. Season with salt, pepper, and garlic powder.
Push to the side.
Top with cheese.
Add the spinach and a bit more oil on the side.
Season with more salt and wilt.
Move spinach on top of cheese.
Halve tomatoes and add to skillet.
Let them carmelize and add to mushroom.
Serve warm.
This meaty mushroom is just that easy. Clean up isn't bad either – just pop that one skillet in the dishwasher. And it tastes so good I promise you will clean your plate too.
Jerri Green
Jerri Green is a vegetarian that lives with and loves a self-proclaimed carnivore. She makes meals work for everyone while juggling the mounting demands of motherhood. Nothing fancy but always fresh, she draws on her southern heritage to bring satisfying food to the table each and everyday.