As a nod to the German October Fest, here's a fun beer take on the classic dessert.
By Jackie Dodd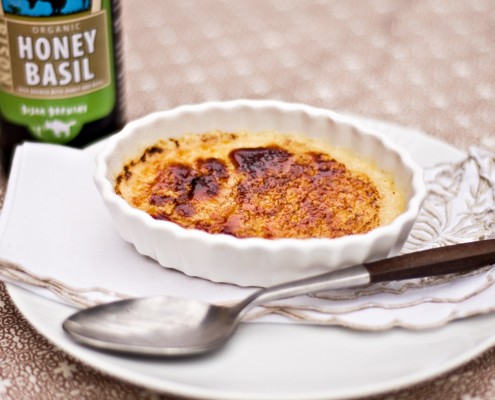 Oktoberfest kicked off this past Saturday, in Munich Germany. For over 200 years, this festival has dedicated over two weeks each year to celebrate German culture, locally brewed German beer and the pride that comes with it.
This year Oktoberfest will run from September 17th until October 3rd and feature, as always, only beer brewed within the Munich city limits. What is seen today as a Beer Holiday began in 1810 as a parade to commemorate the royal wedding of Prince Ludwig and Therese of Saxe-Hildburghausen, has become a well attended annual event that is replicated all over the globe.
Along with German beers, the festival also offers traditional native fare such as roasted duck, potato-dumplings, red cabbage, Schweinebraten (roasted pork), Steckerlfisch (fish on a stick), and Weisswurt (white sausage.
For more information about this years festivities, you can visit: http://www.oktoberfest.de/en
As a nod to this annual celebration of local beer, this recipe for Beer Crème Brulee was created using a German style beer brewed in the USA.
Print
Oktoberfest Recipe: Beer Creme Brulee
As a nod to the German October Fest, here's a lovely beer take on the classic dessert.
Author:

Jackie Dodd

Prep Time:

25 mins

Cook Time:

70 mins

Total Time:

1 hour 35 minutes
3/4 cups

heavy cream

3/4 cup

German style wheat beer

5

egg yolks

1/2 cup

sugar, plus another 1/4 cup for the topping
Instructions
Preheat the oven to 300.
Put the cream, and beer in a sauce pan over medium heat. Cook just until its bubbly around the edges but not boiling. Remove from heat, cover and allow to cool for about 15 minutes.
In a bowl, combine the egg yolks, and 1/2 cup of sugar. Whisk until frothy, about 3 minutes.
While continuing to whisk, slowly add the cooled cream mixture until well combined.
Put 8 ceramic ramekins in a baking dish, filling the baking dish with about 1 inch of water.
Pour your custard through a mesh strainer into ramekins.
Cover the baking dish with aluminum foil and bake for 40-45 minutes or until the edges are set and the middle is still slightly wobbly.
Remove from oven and allow to cool, at room temp, in the water filled baking dish for 30 minutes. Transfer to a plate and allow to chill and set in the fridge for 4 hours. Right before serving, cover the top of your set custard with an even, thin layer of about of sugar (about 1/2-1 tsp). Then run a culinary torch over your sugar, slowly, until it melts and turns an amber color.
Notes
Cooking tip: Don't brulee the sugar until you are ready to serve. After about an hour of sitting, the sugar will start to liquefy again.
Jackie Dodd
Jackie Dodd is a California based food blogger who's passion for local ingredients began during her years growing up on farm in Eastern Washington surrounded by apple orchards and peach trees. She is now happy to focus on California produce, and has a passion for baking. Along with her websites, www.domesticfits.com and www.thebeeroness.com, she also writes a column for the Glendale Examiner.