A filling breakfast smoothie packed with oats, fruit, and other nutritious perks.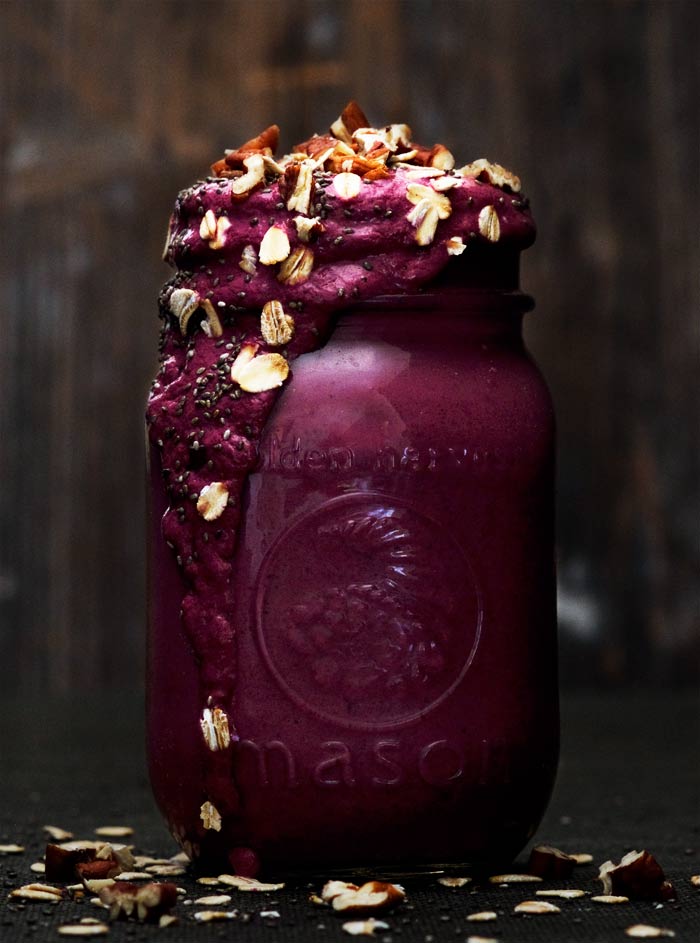 Oats and Berries Smoothie.
Whole grains. Fiber. Protein. Probiotics. Antioxidants.
Sounds just like what I need to bulldoze my gut. The icing on the cake? It's ridiculously delicious. I kid you not. You don't really taste the oats or the chia seed. It's really filling too so you won't feel the need to eat other crap. Like cake. I wish there was real icing and real cake. No cake, guys. No cake.

Oats and Berries Smoothie
A filling breakfast smoothie packed with healthy perks.
Ingredients
2½ cups frozen mixed berries
½ cup plain yogurt
¼ – ½ cup water
⅓ cup pecans or other nuts
¼ cup rolled oats
1 tbs chia seed
1-2 tbs agave nectar, honey or other sweetener of choice
Instructions
Place everything in a high powered blender and blend until smooth and creamy. For thicker or thinner consistency, add or decrease the amount of water according to your taste. Adjust the sweetener if so.
Notes
Oats: You can opt to grind the oats into powder before adding to smoothie for a finer consistency. I just dump it whole because I'm lazy like that. Soaking or not soaking before hand is also a matter of preference.