Cookies for breakfast? Sounds delightful! Make a batch of these dairy-free breakfast cookies made with Oatmilk and without any added sugar that are perfect to start your morning.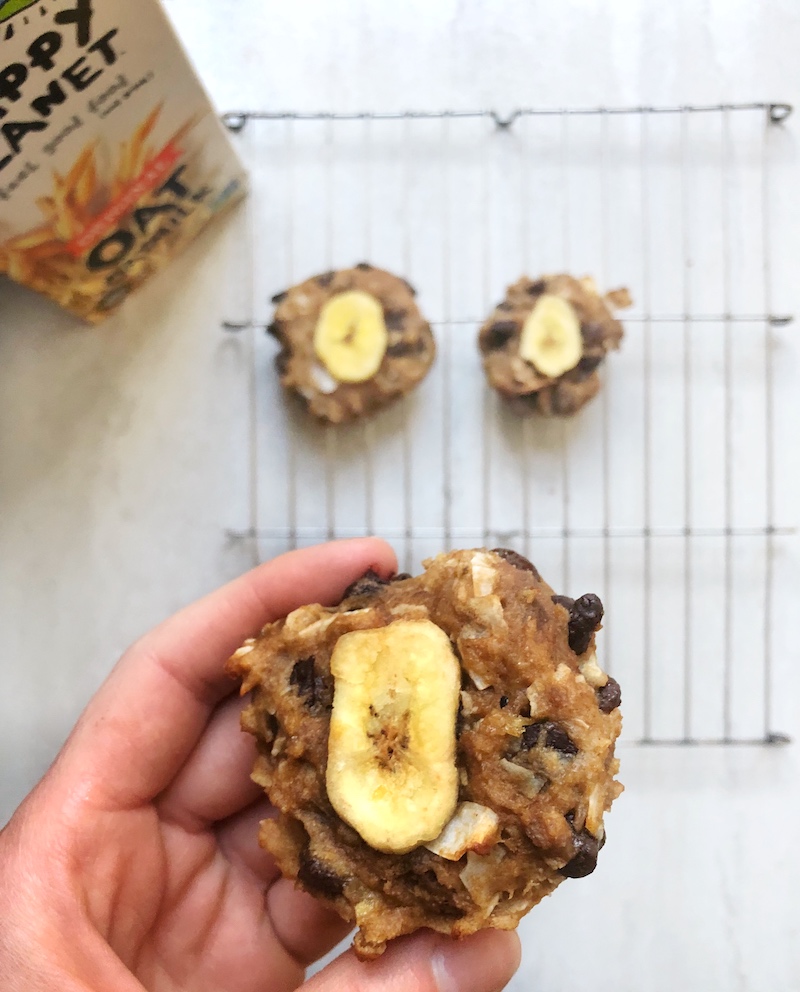 Have you tried oatmilk yet? Move over almond milk, it seems to be the new favorite non-dairy addition to coffees and more. We recently set out to make a dairy-free breakfast cookies that falls somewhere between a cookie and banana bread. It had to be delicious and filled with some protein, but still have minimal sugar.
For this cookie, we used Happy Planet Oatmilk. It's naturally sweet, with no added sugar, which we love. Pour it over cereal, use it in baking, or, our personal favorite, soak your oatmeal in it for the creamiest non-dairy overnight oats yet! Happy Planet not only wants to make great oatmilk, they want you to feel good about choosing oatmilk over other milks.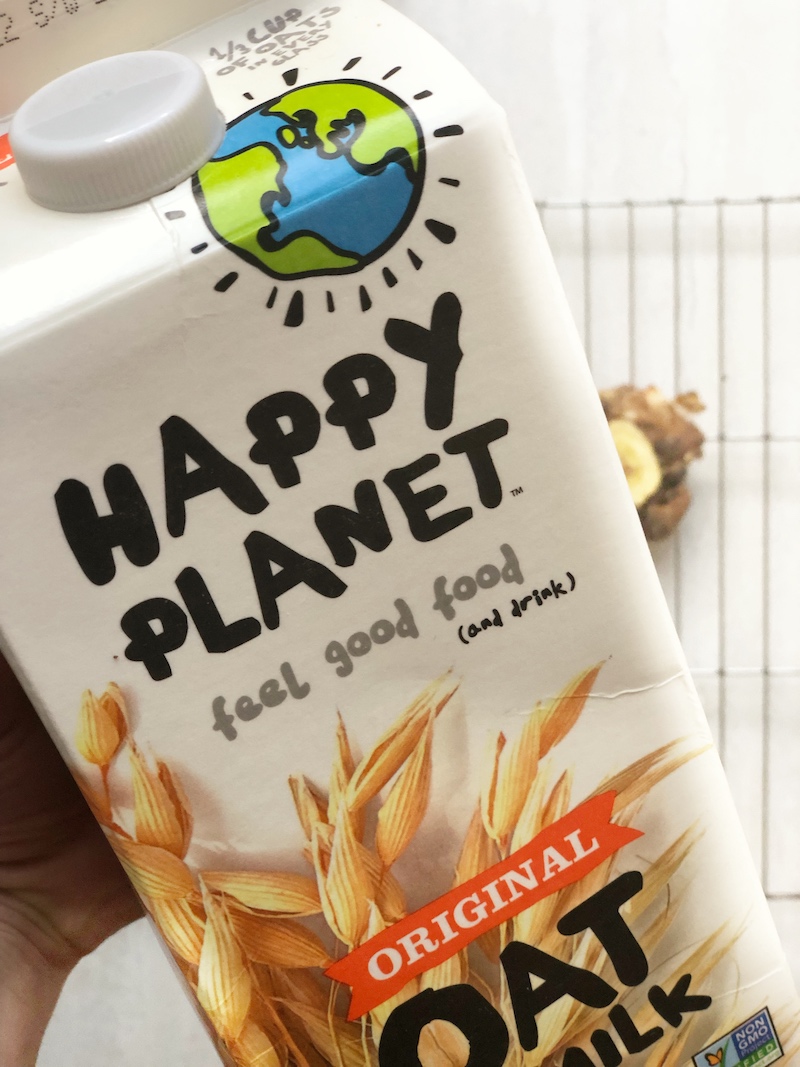 "The movement towards sustainable food options is not a quick-passing food trend," says Rex Sheehy, President of Happy Planet. "Our oats are grown using seven times less water than almond or cow's milk and our products are packaged in cartons made of plants, making Happy Planet the best choice for the planet."
There's a third of a cup in oats in every 1 cup serving of oatmilk and it contains more protein (3g per serving) and fiber (2g per serving) than almond milk along with nutrients such as Vitamin A, Vitamin D, Vitamin B12, and Calcium.
Disclaimer: We did not receive compensation from Happy Planet to create this recipe, but we did receive a free Happy Planet Original Oatmilk to create the recipe. We are excited to share with you delicious food products we love.
Back to the cookies! For a fun presentation and some crunch, we topped each cookie with a banana chip. Super easy and delicious. Feel free to adjust your mix-ins based on your flavor preference. And feel good in the morning when you reach for a cookie that was sweetened with just a banana.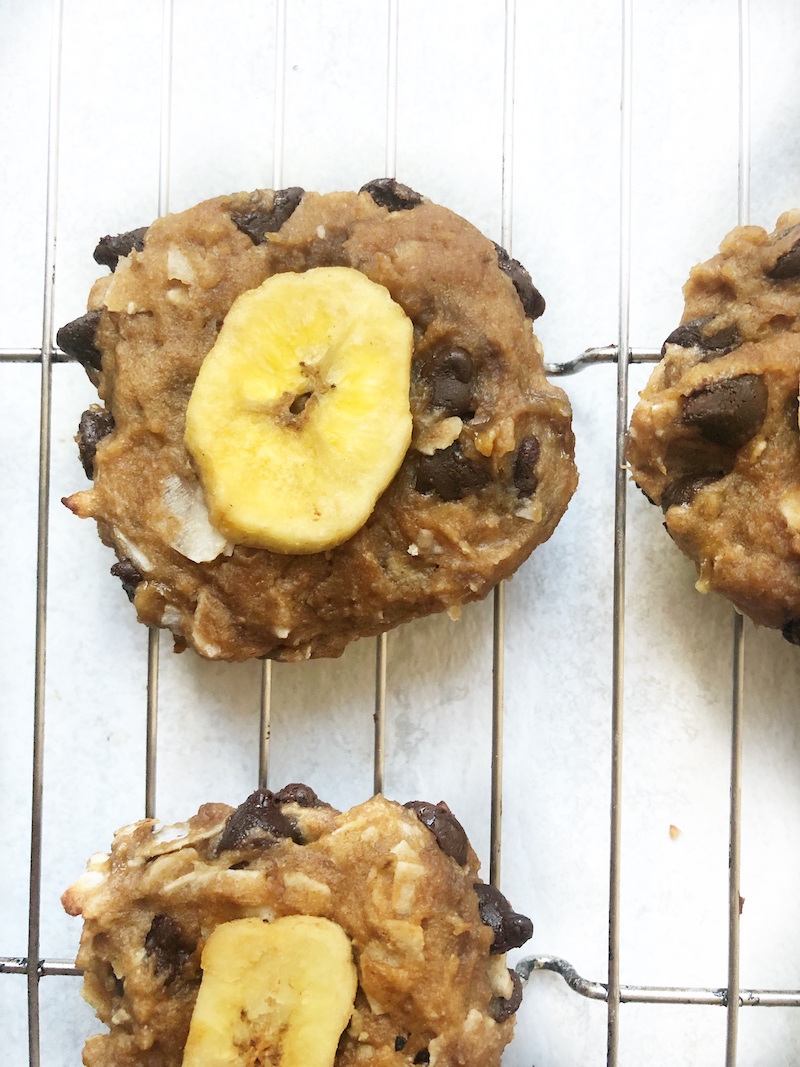 Print
Oatmilk Breakfast Cookies
Prep Time:

30 minutes

Cook Time:

15 minutes

Total Time:

45 minutes

Yield:

0

about

8

cookies

1

x
1

medium banana (ripe)

1/4 cup

natural peanut butter

2 Tablespoons

Happy Planet Oatmilk

1/2 cup

whole wheat flour

1/2 teaspoon

baking powder

1/2 teaspoon

cinnamon (optional)

1/4 teaspoon

salt
banana chips (to garnish)
Mix-Ins – Feel free to add whatever you like
handful dark chocolate chips (dairy-free)
handful chopped nuts
handful oats
handful coconut (unsweetened)
handful dried fruit (like raisins)
handful granola
Instructions
Preheat oven to 350F degrees.
Prepare a baking sheet with a non-stick baking mat or parchment paper.
Combine the banana, peanut butter, and Oatmilk in a large bowl and beat with electric beaters until smooth or combine with the paddle attachment of a stand mixer.
Add the whole wheat flour, baking powder, cinnamon, and salt and fold together until just combined with a spatula. Fold in your chosen mix-ins.
Refrigerate the dough for 20 minutes to allow it to become more firm.
Drop the dough (it will be sticky) into about 8 equal spoonfuls onto the baking sheet. Slightly press the mounds down so they are flat and top with the banana chip.
Bake for 12-15 minutes or until golden on the top and darker golden on the bottom. Remove from oven and allow to cool.