Hold on tight for a heck of a brunch ride at Magic Hour Rooftop Bar & Lounge in NYC.
Live and experience New York City's largest indoor/outdoor all-season hotel rooftop bar and lounge; Magic Hour Rooftop Bar & Lounge. Featuring an adult amusement park with top notch skyline views of the Empire State Building plus an insane brunch too. In case you missed it, brunch is a big deal in the big apple. When the clock strikes 12, residents of all five boroughs come alive. Post a rough week, patrons leave their homes together with friends to break a fast for one, two or three meals  complimented with  an overflow of booze.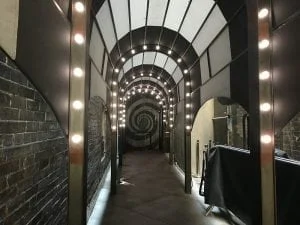 Brunchin' at the Magic Hour Rooftop Bar & Lounge.
With the obsession we all have for the social activity of sitting with friends to enjoy eggs and mimosas. It was only a matter of time before the TAO group (owners of Egghead, Legasea and most of NYC's social nightlife) to wow us with a bangin' brunch spot. Atop one of it's trendy hotels- the Moxy,  a few blocks south of Times Square, Executive Chef Jason Hall dishes out offerings such as @Egghead on the roof, lobster roll, coconut chia seed pudding and more.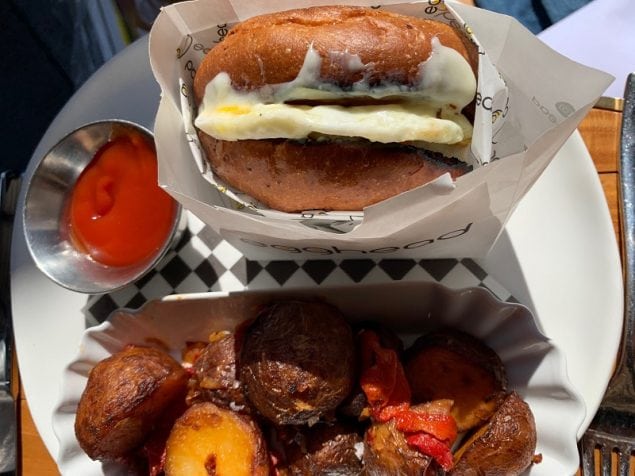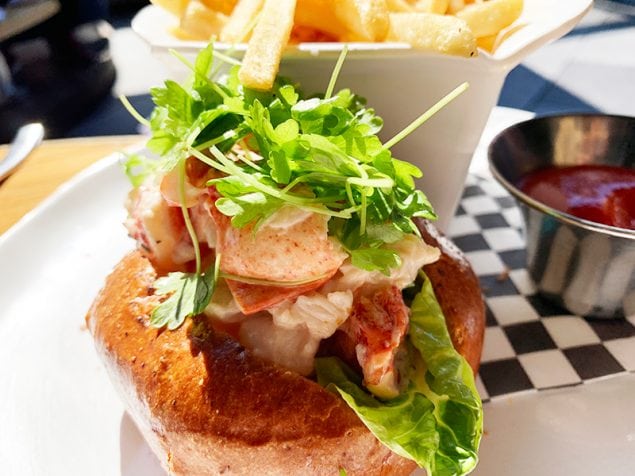 In the midst of the Magic Hour Rooftop's carnival-esque adult playground with  mini-golf,  garden, rotating carousel-style seating,  a  group of up to 15 pals can have a thrilling brunch ride experience without the roll-a-coaster.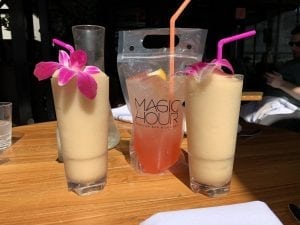 Beyond the single menu offerings like the Maine style lobster roll served on a brioche bun, or the @egghead on the roof.  Large groups can exhibit the shared menu ( also available at TAO's Legasea). Featuring glittering disco ball abounding with Absolut Elyx and Bajan Tiki Punch. Super stack of pancakes – topped with maple cotton candy, bananas foster, blueberries, apple compote. Pick Your Potion Spritz with Volcán De Mi Tierra Tequila Blanco Aperol, Prosecco, Owen's Grapefruit Lime Sparkler or Belvedere Vodka. Truly a one of a kind park for us to wallow in surplus portions of alcohol and carbs. Too much excitement for brunch? Healthy options are offered too; cold pressed kale and beet juices,  watermelon and chopped salads and an egg white frittata.
The Magic Hour Rooftop Experience.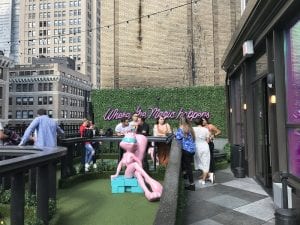 Imagine being a modern day Alice spinning down the rabbit hole until arriving in Wonderland. Magic Hour features over the top, whimsical decor such as bear cut statues, suggestive pink bunnies,  unique photo booth, elephant head lamps and more.
"In that direction," the Cat said, waving its right paw round, "lives a Carousel: and in that direction," waving the other paw, "lives a Sexy Hare. Visit either you like: they're both mad." "But I don't want to go among mad people," Alice remarked. "Oh, you can't help that," said the Cat: "we're all mad here."
Magic Hour brunch hours are  11:30am – 3:30pm. Winter included. Located on 485 7th Ave 18th floor, New York, NY 10018