Served warm with thick slabs of mustard-coated tofu, this is the sort of salad that will fill you up.
By Preethi Vemu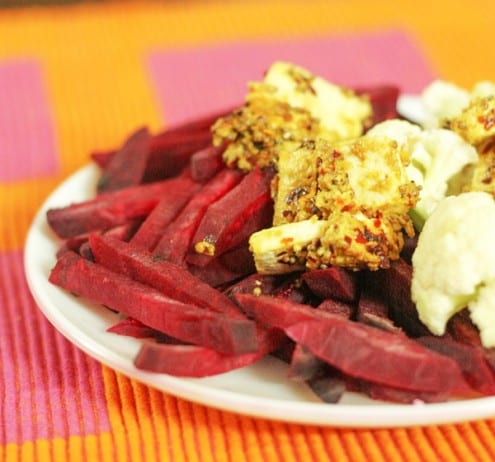 Mustard Girdled Tofu, Beet and Cauliflower Salad
Served warm with thick slabs of mustard-caoted tofu, this is the sort of salad that will fill you up.
Ingredients
Cauliflower florets – 1.5 C, blanched in salt water
Beetroot – 1 C, sliced long , steamed [I steamed them in a MW Oven for 5 min]
Tofu – ½ packet or ½ C, sliced long
Olive oil – 1 Tbsp
Mustard seeds – 2 Tsp [I used yellow mustard seeds]
Dijon mustard paste – 1 Tbsp
Red chilli flakes – ½ Tsp
Salt – to taste
Dressing
Honey – 2 Tbsp
Lemon juice – 1 Tbsp
Lemon zest – 1 Tsp, optional
Salt – to taste
Red chilli flakes – 1 Tsp
Instructions
Heat the oil in a pan, and pour the mustard seeds into it once it heats. Add the Dijon mustard paste to this and sauté for 2 min. Sprinkle the salt and red chilli flakes and then place the tofu slices one by one in this pan.
Mix carefully to not break the tofu slices and to ensure that all the tofu pieces are coated with the mustard paste. Let this cook on a medium flame for 5 min.
Plate the steamed beet slices and blanched cauliflower florets along with the mustard girdled tofu. Pour the dressing on top and serve hot.
Preethi Vemu
Preethi loves tea, animals, food and her Kindle. When she is not busy being a geek, she dreams about seeing her name in print media some day . An avid reader and an amateur food photographer, Preethi lives in Hyderabad, India with her husband who is subjected to all her culinary experiments.