Goat cheese and gouda pair perfectly for flavor and texture in this grilled cheese studded with wild mushrooms. Use your favorite bread and some thin sliced apples for the full effect.
By Vicky Cohen & Ruth Fox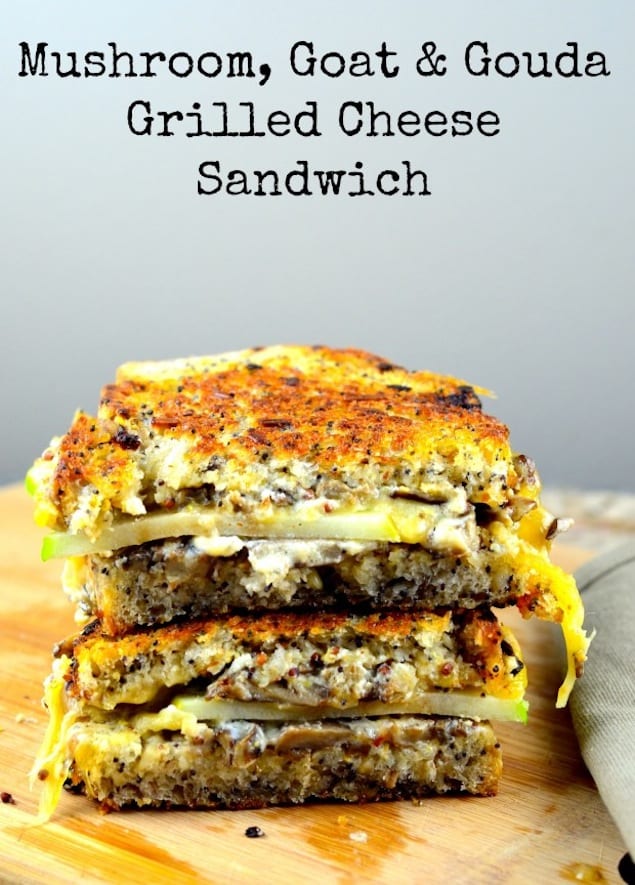 Growing up in our household, nothing screams "comfort" louder than crunchy bread and cheese. Now take that dynamic duo, fancify a little bit, and you'll take comfort to a whole new level. Crunchy bread, creamy goat cheese, nutty gouda, wild mushrooms and crispy apple. Add a touch of grain mustard, and you there you have it.

Mushroom, Goat and Gouda Grilled Cheese
Crunchy bread, creamy goat cheese, nutty gouda, wild mushrooms and crispy apple
Author:
Vicky Cohen & Ruth Fox
Ingredients
10 ounce Mixed wild mushrooms (oyster, shiitake, chanterelle) you can use any mushroom combination you would like
2 tablespoons Extra Virgin Olive Oil
5 ounce goat cheese
2 tablespoons Milk
⅛ teaspoon salt
⅛ teaspoon black pepper
1 garlic clove
6-12 teaspoons coarse ground mustard
6 Slices gouda cheese
Extra Virgin olive oil to drizzle on bread
6 Slices of Multigrain bread
1 large green apple sliced thin
Instructions
Chopped mushrooms
Heat 2 tbs olive oil add mushrooms, salt and pepper
Cook for about 15 minutes on medium heat until caramelized
Put goat cheese in a bowl and softened with a fork or spoon, add 2 tbs of milk one a time until you create a thick goat cheese cream
Add cooked mushrooms to the goat cheese
Toast bread and drizzle olive oil on the outside of each slice
Spread 1-2 tsp mustard on the inside of each slice of bread
Spread 2 tbs goat cheese and mushroom mix on each slice of bread
Add 1 slice of Gouda Cheese on each slice
Add 3 slices of green apple
Put the 2 slices of bread to form a sandwich
Heat a non-stick skillet on medium heat
Brown sandwich on both sides until golden, crunchy and gouda cheese is melted. About 3-4 minutes per slice
Vicky Cohen and Ruth Fox
We are two sisters born and raised in Barcelona, Spain, with Sephardic and Middle Eastern roots. We grew up eating the best, most flavorful, comforting home-cooked meals prepared by our mom, who taught us everything we know about cooking. When we moved here to the U.S. we felt it was really important to keep our traditions and background alive, and we've done so by sharing it with everyone we've met throughout the years. After all, what better way to make new friends and share our love and culture than through food, right? Our friends have come to enjoy our food and gatherings so much that are always asking us for our recipes. That inspired us to start a cooking blog called "May I have that recipe" where we share recipes we've created inspired by our multicultural background.