Tamara Novacoviç experiments with doughs and shapes, and ends up with a delicious recipe for Monkey Bread Muffins.
Text And Photos By Tamara Novacoviç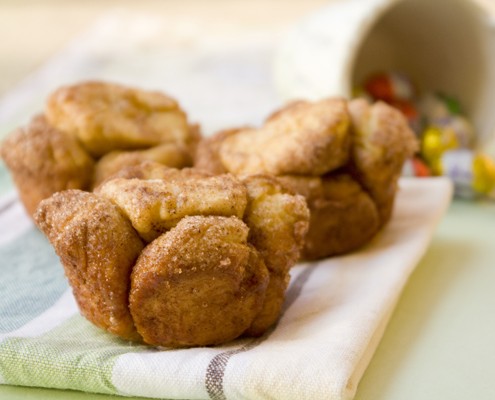 I decided to make my favorite orange-cardamom rolls. I made the dough and let it rise. I started thinking about how much I love this honey dough. Another thought crossed my mind-Why don't I use it for some other shapes and make something new? Somehow, I ended up with monkey bread muffins. I didn't want the classic monkey bread, I wanted individual, smaller buns. They turned out delicious and I will bake them again, for sure. They're quite fun to make and will make you feel like the kid who used to have tons of fun with leftover dough given to them by their mom or grandma.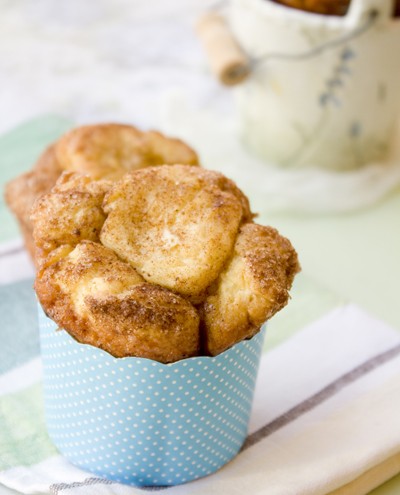 This delicious dough is made with honey and you can use it for some other sweet buns or rolls.
Do you remember when you were a kid playing with leftover dough? This recipe will take you back to those fun times. This is cinnamon monkey bread in individual muffin forms!
Ingredients
For the dough:
5 cups (500 g) all purpose flour
1 package (7 g) active dry yeast
¼ cup (60 ml) honey
¼ cup (60 ml) warm water
½ cups (120 ml) warm milk
¼ cup (55 g) butter, melted
1 tbsp sugar
1 tsp salt
1 tsp vanilla extract
zest from 1 orange
1 egg
For the cinnamon-butter coating:
3 tbsp butter, melted
1 tsp cinnamon
⅓ cup (65 g) brown sugar
Instructions
Combine dry yeast with sugar and water, leave for 5 minutes.
In a separate bowl, combine flour with salt, orange zest and egg.
Melt butter with honey, vanilla and milk, add to the flour mixture. Add yeast and knead until soft dough forms. Lightly oil it and cover the bowl with plastic wrap. Let rise for 1 h.
Combine sugar with cinnamon. Melt the butter.
Slightly punch the risen dough and take small pieces of it. Form them into small balls. Cover each ball in melted butter and coat with cinnamon sugar.
Butter muffin pan. Put 5 balls into each muffin tin: 4 to form the circle, and 5th goes in the middle. Lightly press it with your fingertips. Repeat until you fill all 12 muffin tins. Cover them with clean kitchen towel and let double in size, for 40 minutes.
Preheat oven to 355 Farenheit (180 Celsius). Bake them for 20-25 minutes. Let cool slightly and serve.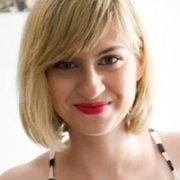 Tamara Novakoviç
Tamara Novakovic is a passionate self-taught cook, food blogger, freelance food writer and photographer behind bite-my-cake.blogspot.com. Her life journey has led her through Faculty of Humanities in Zagreb, Croatia to discovering passion for making cakes. She is currently a weekly food columnist for Croatian newspaper V magazine and food magazine Repete.