To Tamara Novacoviç, this is not an everyday cake, nor weekend cake. It's for those very special occasions.
Text And Photo By Tamara Novacoviç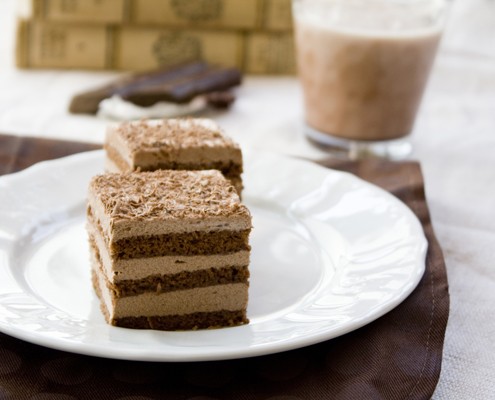 This recipe is a master creation of a friend of mine, Bojana.  She and I share the same passion for cakes (although I'm not a perfectionist like she is) and like the same kind of recipes. When it comes to creamy dreamy cakes, the most important thing to me is that they aren't dry (sponge layer) and I really, I mean really like to put rum in them. I put rum in almost everything. I have the same passion for garlic, but that belongs to another post.
This cake is pure chocolate bliss. Yes, I know you heard and read this countless times…but it is visible from the first look of it-it is moist and delicious chocolate overkill. This is not an everyday cake, nor weekend cake, it is for special occasions. One small slice of it is enough to satisfy your chocolate cravings for entire week, but you won't be able to stop yourself (trust me on this one). I made it for a friend's birthday. There were many cakes, but this one was eaten first, everyone loved it. And how wouldn't they? The filling is made with Milka Choco Drink and Milka Noisette chocolate. Have you ever tried any of these? If not, now is the time to do so, at least in this cake. The sponge layers are so delicate and soft, you will love them. Made of egg whites,a bit of cocoa powder, cornstarch and flour, with oil and vinegar to keep them elastic and moist.

Moist and rich chocolate heaven!
Ingredients
For the sponge layers
4 egg whites + pinch of salt
½ cup (100 g) sugar
⅓ cup (45 g) flour
0.7 oz (20 g) cornstarch
0.7 oz (20 g) cocoa powder
1 tsp baking powder
1 tsp vinegar
⅓ cup (80 ml) vegetable oil
1 tbsp rum
For the filling
2 cups (500 ml) milk
2 cups (500 ml) heavy cream
10.5 oz (300 g) Milka Noisette chocolate
3.5 oz (100 g) Milka Choco Drink powder
½ cup (100 g) sugar
7 oz (200 g) cornstarch
1.7 oz (50 g) butter
2 tbsp rum
2 cups (500 ml) whipping cream
2 tsp (10 g) powdered gelatin
Instructions
First you cook the filling: separate 300 ml milk. Combine the rest of milk with heavy cream, Milka chocolate, sugar and Milka Choco Drink powder. Cook on low heat until it dissolves. Combine those 300 ml of milk you separated in the beginning with cornstarch and add to the previous mixture. Cook on low heat, stirring constantly until it thickens (the consistency of pudding). Remove from heat and stir in butter and rum while hot. Cover with plastic wrap and let cool completely.
For the layers: Line a 32 x 34 cm rectangle baking sheet with parchment paper. Whip egg whites with a pinch of salt until firm, gradually add sugar and mix until it dissolves and they become stiff and shiny. Mix in sifted flour, cornstarch, cocoa powder and baking powder. Slowly add vinegar, oil and rum. Arrange this mixture over baking sheet and bake at 150/160 Celsius for 10 minutes. Repeat for all layers. Let cool.
When the filling has cooled completely, mix it with your electric mixer. In a separate bowl, mix whipping cream until firm. Combine the two. In the end, dissolve gelatin and add to the filling.
Assemble: Put first sponge layer on serving plate, cover with ⅓ of the filling, put second layer, cover with filling, third layer and finally filling. Leave in fridge overnight.
The next day sprinkle with some grated chocolate and cut in small squares, serve.