Nancy Lopez-McHugh reveals her mother's secret recipe for red pozole.
By Nancy Lopez-McHugh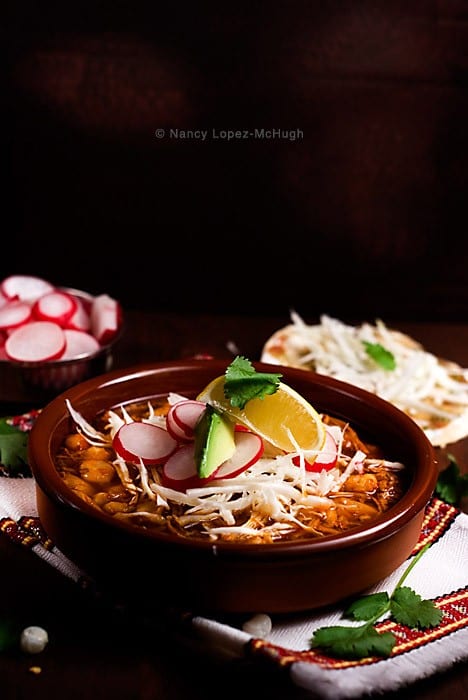 Pozole is a hearty Mexican stew traditionally made with pork, hominy and has either a red or green color depending on the chiles used for the soup base. Other variations also exist using chicken, beef, seafood, beans and there's even a white pozole. The pozole is served alongside shredded cabbage, onion, radishes, lime, oregano, salsas, sour cream and tostadas.
Corn was a sacred plant to Aztecs and the other indigenous peoples of Mesoamerica. One of the main components of pozole is the hominy, which is basically processed maize or corn. Aztecs, and the other indigenous peoples of Mesoamerica, cooked pozole only on special occasions. Now this is where things start getting weird and a bit gross. In a book called "General History of the Things of New Spain" written by Fray Bernandino de Sahagun, he describes pots of stew with corn and pieces of human flesh being eaten on special occasions. The human meat came from the sacrificed people, who's hearts were ripped out and offered to the gods, their bodies were chopped up and cooked in the pozole. After the Spanish arrived they banned cannibalism and pork became the meat used in pozole. Wait it gets even weirder, you're probably wondering how but it does. Apparently pork was the meat of choice because "it tasted very similar" to human flesh. This bit of history is probably something most of us Mexicans want to forget or ignore, so let's move on.
Thankfully the only thing that remained from the "special" ancient feast was that modern day Mexicans still celebrate special occasions with pozole. If you have Mexican friends or family you know that pozole is served at many special celebrations. My family was no different and so pozole was often the food we ate on special occasions.
My mami (mom) makes the best pozole rojo. A few months ago when I made pozole for the first time I called her and asked for her recipe. But I told her that I was going to make a chicken version rather than pork. I'm not the biggest pork fan to begin with and now after reading the story above I don't think I'll be eating pork anytime soon. Many of the ingredients she told me are ones that I can't find here. But I told her I would do my best to stick to her recipe minus all the pork meat.
While I prepared the pozole now and then I would get flash backs to my childhood home. As the pozole simmered and the scents filled the kitchen my excitement grew. It has been a really long time since I last ate pozole. A taste of the broth and my heart fluttered. Perhaps it wouldn't win awards but this pozole tasted great to me and most importantly made me feel like I was home. My heart and stomach were filled with joy.
Chicken Pozole Rojo (based on my mother's recipe)
broth:
1 whole chicken, quartered and skinned if desired
1 medium onion, peeled
enough water to cover chicken, I used about 10 cups
1. Boil the chicken until the meat is soft and falling apart. Drain reserving the meat and broth in separate containers. In total you should have 8 cups of broth to use. Set aside while you prepare the pozole sauce base.
chile and pozole base:
3 guajillo
3 pasilla
3 ancho
2 arbol, I added them for extra heat
4 garlic cloves
1 medium onion, peeled and halved
1 tsp salt
1-2 tbsp water
1 tbsp vegetable oil
1 large dried bay leaf
1 tsp dried Mexican oregano
salt to taste
1 medium can of Mexican hominy or maiz pozolero blanco, drained
topping options:
shredded white cabbage
slice radishes
lime, I used lemons
finely chopped onion
cilantro
avocado
crema or Mexican sour cream
salsa or hot sauce of choice
tostadas to serve on the side
1. Over a comal or griddle toast the chiles but careful not to burn them. Also toast the garlic and onion for 5 minutes. Remove from comal and allow to cool.
2. Once cooled place the chiles, garlic, onion and 1 tsp salt into a blender. You will need to add a tablespoon or two of water to help blend into smooth sauce. Strain the sauce through a fine sieve and discard seeds and any remaining chunks.
3. In a large pot heat the oil, once warm add the chile sauce and cook for a few minutes. Add the drained hominy, bay leaf, oregano and salt. Next gently pour the drained chicken broth, in total it was 8 cups of broth, give the soup a good mix. Allow to simmer for an hour over medium low heat and covered. While the soup is simmering remove the meat from the boiled chicken, discarding bones and skins. Shred the chicken meat then add to the simmering pozole. Continue simmering until ready to serve.
Serve topped with any or all of the suggested toppings.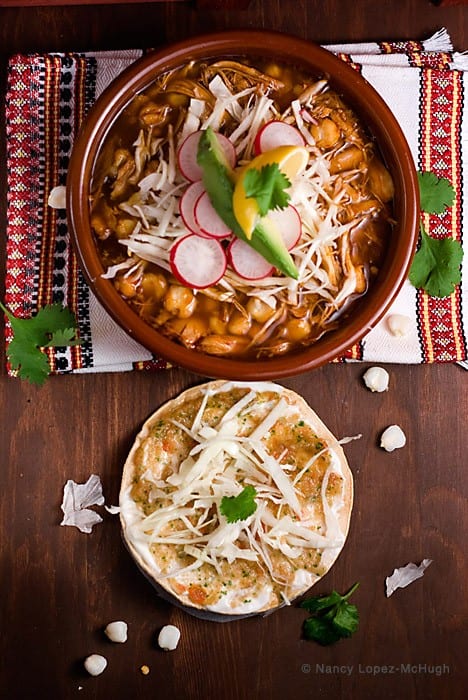 Nancy Lopez-McHugh
Nancy Lopez-McHugh is a food blogger, photographer and published author. Most recently she has published "Yummy Pics: A Food Blogger's Guide To Better Photos".